Windows 365 Cloud PC service is now live: here's what you'll pay
The new cloud-based Windows service is available to the public today. Prices vary based on cores, RAM and storage options.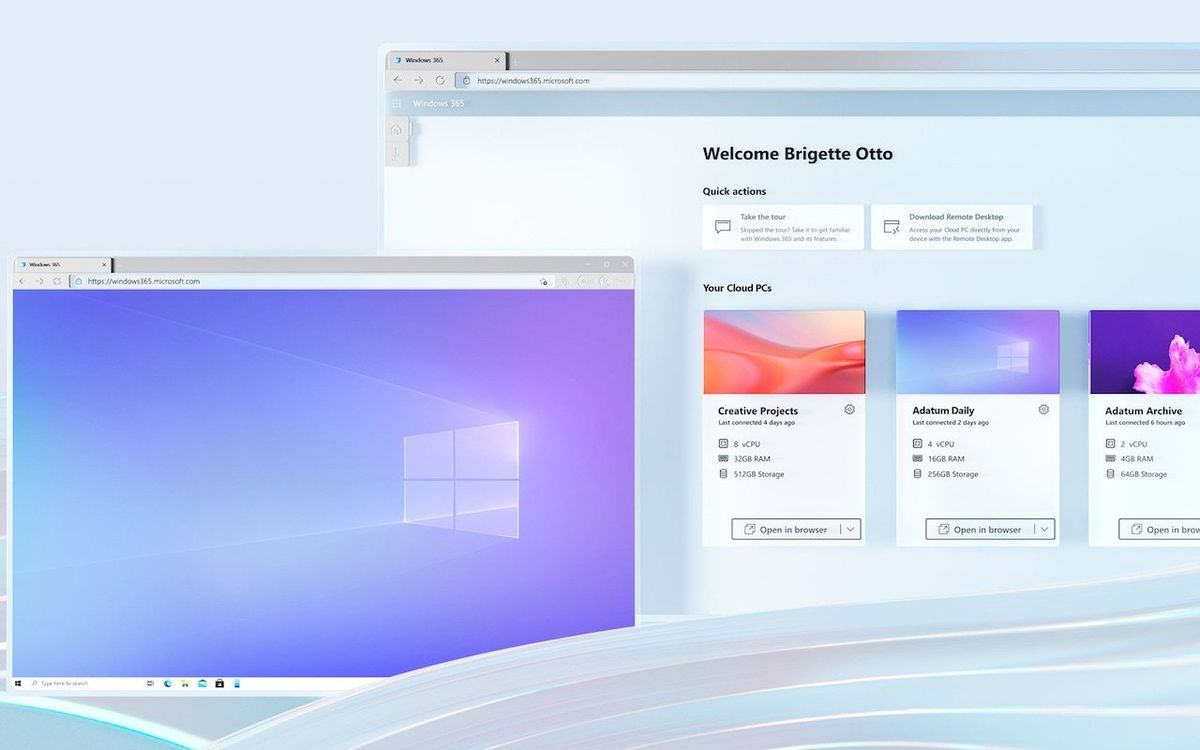 Last month, Microsoft announced its new Windows 365 Cloud PC service, allowing anyone to log into a Windows desktop running in the Azure cloud. And today's the day it went live. Accessible from any device, you can now run any Windows software in the cloud through a web browser.
But the big question has been – what will it cost? Today's full launch has the answer, and it's quite the grid of price choices based on how much processing power you want your cloud PC to have access to.
At the entry level, a single core machine with 2GB RAM and 64GB of storage will cost $41.20/month if you don't own a Windows 10 machine anywhere else. If you do, you get a discount to $34.30/month. (All prices I'm using are AUD).
You'll see 'Windows Hybrid Benefit' mentioned a lot on the site. This is the fancy way of saying you get a discount for owning a Windows 10 or Windows 11 machine that isn't just in the cloud.
After the entry-tier, you move to 2 vCPU machines with 4GB RAM, with three options for how much storage you want included in the deal. 64GB storage in this tier costs $54.90/$48.10, 128GB is $60.10/$53.20, and 256GB storage is $75.50/$68.70 per month.
The idea of having a virtual Windows PC is great, but these prices do feel like the cost of storage is being seriously inflated, especially when compared to a Microsoft 365 license that includes 1TB of storage for as little as $6.90/month. The information is a little confusing but does suggest the licenses build on each other, so I would hope my 1TB of storage via Microsoft 365 is available here in my Windows 365 Cloud PC, but the pricing really suggests it's hoping some people don't notice and just pay these inflated prices instead?
For those eager to run high-end graphics or video software in their Windows 365 Cloud PC, there's an 8 vCPU machine with 32GB RAM for you. With a base 128GB storage this goes for $218.00/$211.10 or $278.00/$271.20 per month for 512GB storage if it really does turn out that you must buy this overpriced storage add-on.
Here's the full chart of business prices, with the Enterprise prices aligning with the Windows Hybrid Benefit column.
| Processor | RAM | Storage | Monthly sub | Monthly with Windows Hybrid Benefit |
| --- | --- | --- | --- | --- |
| 1 vCPU | 2 GB | 64 GB | AU$41.20 user/month | AU$34.30 user/month |
| 2 vCPU | 4 GB | 64 GB | AU$54.90 user/month | AU$48.10 user/month |
| | 4 GB | 128 GB | AU$60.10 user/month | AU$53.20 user/month |
| | 4 GB | 256 GB | AU$75.50 user/month | AU$68.70 user/month |
| | 8 GB | 128 GB | AU$77.20 user/month | AU$70.40 user/month |
| | 8 GB | 256 GB | AU$92.70 user/month | AU$85.80 user/month |
| 4 vCPU | 16 GB | 128 GB | AU$120.10 user/month | AU$113.30 user/month |
| | 16 GB | 256 GB | AU$135.60 user/month | AU$128.70 user/month |
| | 16 GB | 512 GB | AU$180.20 user/month | AU$173.30 user/month |
| 8 vCPU | 32 GB | 128 GB | AU$218.00 user/month | AU$211.10 user/month |
| | 32 GB | 256 GB | AU$233.40 user/month | AU$226.50 user/month |
| | 32 GB | 512 GB | AU$278.00 user/month | AU$271.20 user/month |