E3 who?
Reports of E3's death have been greatly exaggerated.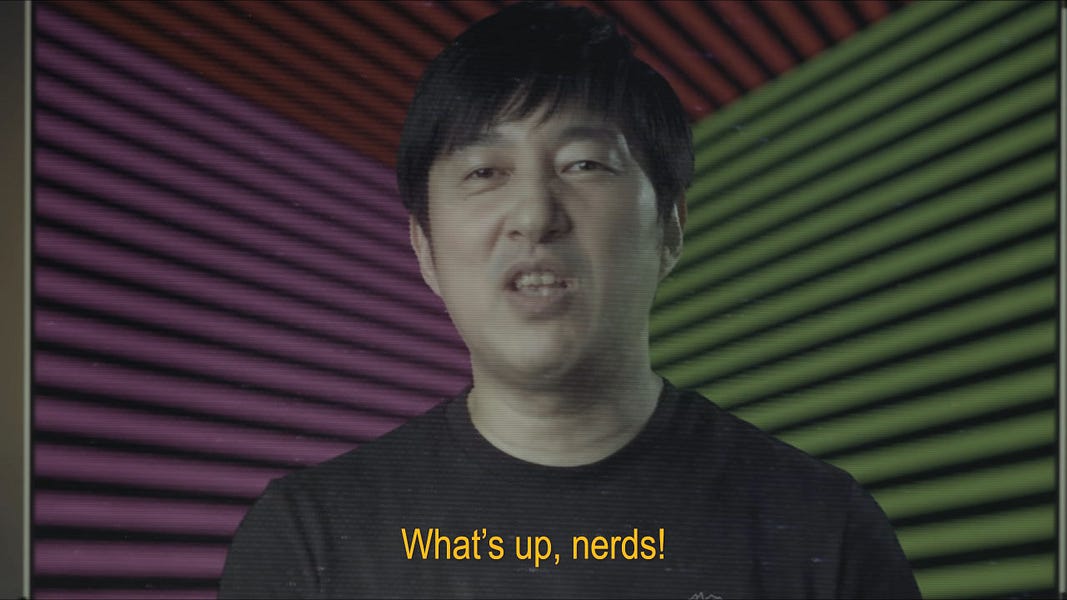 The Electronic Entertainment Expo, better known as E3, didn't happen this year. You wouldn't know it judging by the veritable tsunami of game announcements over the past couple of weeks.
E3 will supposedly return next year, but why would major game companies want to? In lieu of a physical exhibition, the major players such as Sony, Nintendo, Microsoft and more have happily done their own thing. Instead of awkward and stilted on-stage interactions, they can produce slick sizzle reels anyone can watch from home.
Love or loathe him, Geoff Keighley — the Energizer Bunny of videogame presenting — has filled the E3 void in recent years with the Summer Game Fest and its countless publication-specific spin-offs. The formula hasn't changed much: lots of trailers and game announcements mixed with a few weird celebrity cameos.
Once you throw in a State of Play here, an Xbox Showcase there, and a few others along the way, it's as if E3 never existed. Videogame companies get full control over messaging and don't have to pay out the wazoo for precious show floor space.
One downside from a journalistic perspective is there are fewer opportunities to preview in-development games, ask questions, and critically engage with each announcement. Not that the game companies would complain, mind you.
From a consumer perspective, it's easier than ever to stay up to date with your favourite developers and succumb to the hype machine. Speaking of which, make sure you watch the latest Devolver Digital presentation — they've really outdone themselves this year with their ongoing industry satire series.
If you think I'm salty that I never experienced an E3 at its peak: you'd be partially correct. The event's cultural impact will last forever, but its relevance has dwindled — even before a global pandemic sparked a digital revolution.
If E3 does, in fact, return in 2023, its presence will be far smaller. When all the major participants can comfortably whip fans into a frenzy in-house, there's little need to look elsewhere.
It's not personal: it's simply business.
---
More on that…
Devolver Direct 2022 - a videogame singularity
I won't try and cover all the not-E3 news in this newsletter. Instead, I'll point out what you may have missed in between.
---
Brain food
Taika Watiti wants to focus on new characters for his Star Wars story, not old legacies (Gizmodo) :: Encouraging words from the talented director. Star Wars is at its best when trying new things or twisting familiar narratives.
Inside the $100K+ forgery scandal that's roiling PC game collecting (Ars Technica) :: No community is free from scandal, it seems. Check out what's rocking the world of game collecting.
Starfield has more 'handcrafted' content than any previous Bethesda game (Polygon) :: People got nervous hearing about Starfield having 1,000 planets. Would it all just be procedurally generated? The folks from Bethesda explain their approach.
Diablo Immortal: A Curious Case Of Hellish Hyperbole (WellPlayed) :: Diablo Immortal's in-game monetisation has ruffled feathers. Here's one take from someone who hasn't spent a cent and thinks many of the headlines oversell concerns.
---
Play
Why is the vampire survival RPG V Rising such a hit in Early Access? (Sifter) :: V Rising has smashed through the Steam charts lately, but what has attracted so many people to it? Who better to answer that question than the developer Stunlock Studios!
Teenage Mutant Ninja Turtles : Shredder's Revenge is nostalgia done right (Polygon) :: Lots of people really dig the latest 80s-styled beat-'em-up, so here's a good explainer about what works so well.
Xbox continues its cloud gaming future with Samsung TVs (Mashable) :: By the end of June, several recent Samsung TVs will get an Xbox app for console-free gaming.
This Vincent Gogh Lego set is incredible (Open Culture) :: Wow. Recreate Starry Night with a Lego set and be amazed.
---
Watch
Netflix Is Turning 'Squid Game' Into a Real-Life Competition With a $4.56M Prize (CNET) :: Sure, it sounds fun, but isn't it missing the point of the show?
Nope is Jordan Peele's next spooky project.
HBO has cancelled Raised By Wolves, what some believe to be the best sci-fi currently on TV (Forbes) :: Yet another show on my to-watch list. Here's an impassioned plea for another platform to pick up the show.
Cyberpunk goes anime with Edgerunners (AusGamers) :: Looks stylish! It'll be a standalone 10-episode series coming to Netflix. Notably, it's from Studio Trigger, the folks behind the ridiculously over-the-top anime Kill la Kill.
---
---
Thanks for reading Byteside! Subscribe for free to receive new posts and support our work.
Byteside Newsletter
Join the newsletter to receive the latest updates in your inbox.