Bigger isn't always better
Rolling around at the speed of a brisk walk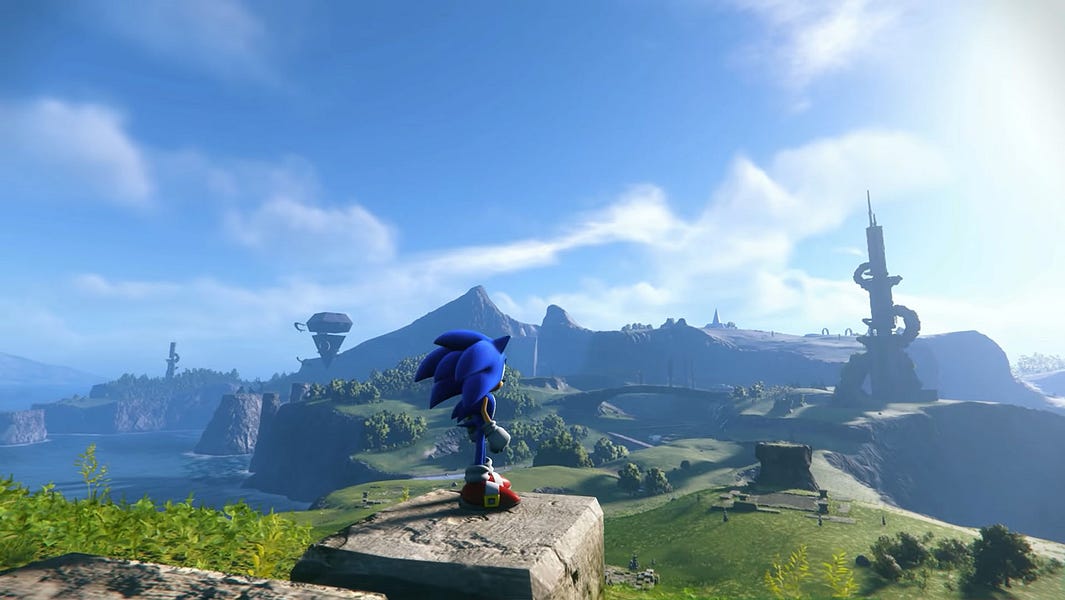 Open world games are a fickle beast. Since the genre's popularisation in the early 2000s, few games have truly nailed what makes an open world important to the gameplay while being engaging to explore.
If an open world is too big and sparse, it feels like it only exists to arbitrarily pad out playtime. Fill an open world with too much, and every in-game action becomes tedious busywork. Games that deftly balance scale and purpose in their open worlds are rare.
2017's Nintendo Switch launch title The Legend of Zelda: Breath of the Wild is highly regarded for its grand setting, one that invites and rewards exploration in equal measure. It also cleverly ties into the minimalist story, leaving you to piece together remnants of a long-dilapidated civilisation.
Despite Halo Infinite garnering criticism over its scarce content offering at launch late last year, I genuinely enjoyed its single-player campaign. Featuring a compact open world setting, Halo Infinite made traversal fun through a combination of signature vehicles from the series and Master Chief's shiny new grappling hook. It didn't hurt that there were plenty of tightly designed linear missions to properly pace the exploration and combat sections, either.
Many games since Breath of the Wild have attempted to emulate its open world philosophy with varying levels of success. Pokemon Legends: Arceus is one of the better recent examples, adopting a historical approach in justifying the minimalist open plains. Akin to Halo Infinite, Pokemon Legends: Arceus executed its vision effectively because it didn't go full open world; it varied its pacing through a Monster Hunter-like hub structure, where you explored discrete areas directed by missions.
I'm fascinated to see how the Pokemon series iterates on this approach with Pokemon Scarlet and Violet later this year. A fresh trailer showcased its version of an open world, with subsequent information revealing you can explore anywhere unbound by story constraints.
Conversely, there are many open world games better suited to a more linear approach. IGN debuted footage of the upcoming Sonic Frontiers game and the reception has been tepid at best. Sonic games are about speed, and Sonic Frontiers appears to be… not that. It's tricky to fairly assess a game without playing it, but early signs aren't encouraging.
In this morning's PlayStation State of Play presentation, a surprise open world entrant emerged: Street Fighter VI. Its first gameplay footage revealed the World Tour mode, seemingly including city exploration elements in between belting the crap out of each other. Keep an eye out for that one.
For most announcements of games with open worlds, I commonly wonder "okay, does this actually need an open world?" Few games are made more interesting by virtue of having one. I'd argue most games are actively hampered by adopting an open world as a core element. When it fits the gameplay loop and narratively makes sense? Sure, go right ahead.
If you need me, I'll just be over here waiting for Breath of the Wild 2.
---
We're cleaning our email list at the end of June. Clicking any link will confirm you're still interested. Here's an easy one to confirm you're paying attention.
---
Brain food
Character diversity is more involved than just ticking boxes (GamesHub) :: Great article from Percy Ranson analysing the fallout from Activision Blizzard's controversial in-house diversity tools. If you want a better understanding of intersectionality and why AB's methodologies were flawed, give it a read.
Parlez-vous français? French language watchdog cracks down on English gaming slang (The Guardian) :: New jargon pops up what seems like daily thanks to social media, which creates a divide between those in the know and others on the outside looking in. The Académie Française is going as far as banning anglicised gaming phrases within government organisations, replacing them with new French versions. How do you say esports under the new guidelines, I hear you ask? Repeat after me: "jeu video de competition".
---
Play
There was lots of good stuff in the latest PlayStation State of Play stream. Resident Evil, Street Fighter VI, upcoming PSVR 2 games, and a fresh look at Final Fantasy XVI. Most importantly, cat exploration game Stray launches on 19 July. I can't bloody wait.
Microsoft continues to iterate on console-less cloud streaming dongle (Windows Central) :: It's no secret the Xbox team is striving for a platform-agnostic future. What is remarkable, however, is Microsoft providing public comment on a yet-unfinished device. Will a dongle still be required if most smart TVs already support native cloud streaming?
Diablo Immortal not launching in Belgium and the Netherlands due to "current operating environment" (Eurogamer) :: Intriguing to see Activision Blizzard's major mobile game not launching in countries with strict loot box regulations. Byteside founder Seamus said he hadn't encountered any loot boxes in his pre-release sessions, although there could be other monetisation elements at play.
---
Watch
Learn about the legendary Star Wars VFX studio Industrial Light and Magic in an upcoming doco (Gizmodo) :: Called Light & Magic, the six-part Disney+ doco will look at what makes the production house so special. Directed by longtime Star Wars contributor Lawrence Kasdan, it will no doubt be special viewing for fans come 27 July.
Bo Burnham drops an hour of cut Inside content for free on YouTube (CNET) :: Inside was a compelling reflection of our collective lockdown psyche in 2021, filled with witty and poignant songs and sketches. Now there's more from Burnham's Inside sessions. One clip I've seen doing the rounds includes a searing takedown of edgy podcasters. I wonder who fits the bill?
Rejoice, for Our Flag Means Death gets a second season! (Vanity Fair) :: About damn time. The HBO pirate rom-com, starring Taika Watiti and Rhys Darby, is a gorgeous story about love in unexpected places. With the first season ending on a brutal cliffhanger, and not knowing if the show was going to continue, this is very welcome news. Happy Pride Month, folks.
---
Thanks for reading Byteside! Subscribe for free to receive new posts and support our work.
Byteside Newsletter
Join the newsletter to receive the latest updates in your inbox.