The quality of our questions
Back to basics for the media industry - or is it too late?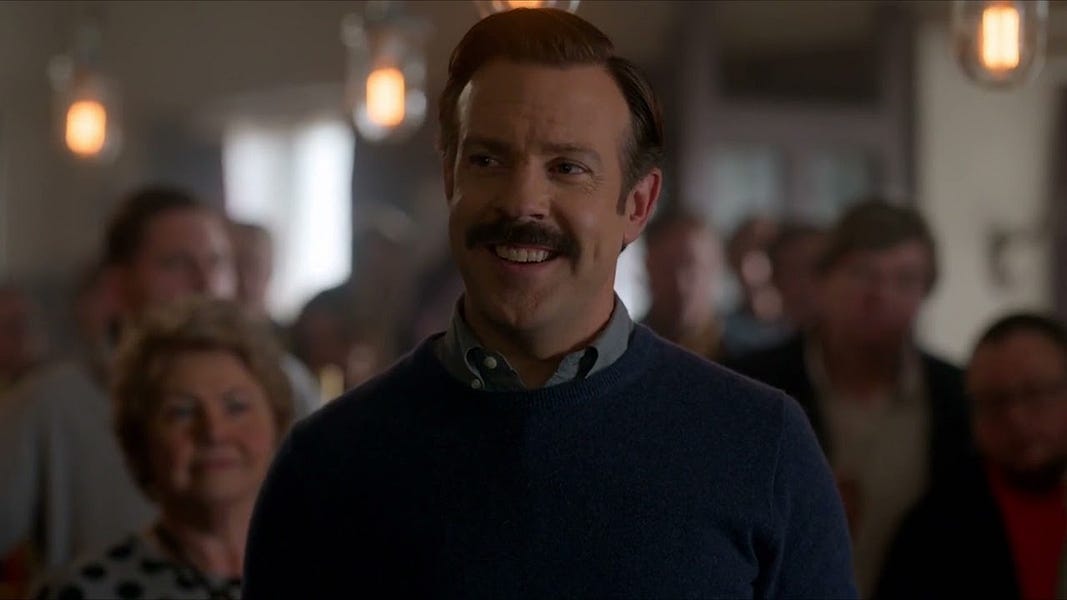 Anyone who has watched Ted Lasso knows the scene. I'll avoid spoiling it, but you can watch it below.
He quotes Walt Whitman: "Be curious, not judgmental"
It's a great lesson for anyone. But it's especially critical after watching the state of journalism during this past federal election cycle.
A focus on trivia questions and haranguing more than querying the opposition leader spoke to a 'blood in the water' attitude filled with pre-judgment of where a journalist could or could not get a juicy headline. Mixed in with the "we have it all figured out" approach from most Murdoch outlets and Sky News and there was a narrative they had already decided upon to be the frame of reference for how to tell the public about what was going on.
As the results are showing, these journalists lacked the curiousity to wonder whether the public was more concerned with bigger issues than whether Anthony Albanese stumbled on a few statistics.
That all that bluster continued even after Adam Bandt so successfully told a press club journalist to "Google it, mate" speaks to a void in journalistic leadership. Zero self-reflection. A clear decision to stay the course because they thought they knew better than the public about what was important in what they all too often treat as a horse race.
To toot my own horn a moment, it's only recently that I started to acknowledge that one of my strengths as a journalist has been to ask better questions. How many minutes do I have with a contact? How do I help them to express something original and interesting in that amount of time? Which basic questions will everyone else ask that I can ignore in favour of digging deeper right at the start?
As I shift toward more corporate work where interviewing is at the heart of the task, being able to help a subject tease out the best parts of their thinking and help them show off the best of what they know is a very valuable skill.
The overly media trained era of political and corporate leadership has led to a place where many struggle to say anything meaningful anymore. The effort to basically ignore actual questions and just stay on message has broken the fundamental 'good faith' aspect of asking meritworthy questions and having them answered. No doubt that's part of the problem that has led journalists toward a combative stance.
But the answer always lies in the quality of our questions.
If the politician has stopped answering with value, stop asking them questions.
Go speak to people in the fire ravaged communities about how they feel to still be living in caravans three years on.
Go ask staff at one of the worst COVID-hit aged care facilities how they feel about the future of aged care.
I'm amazed we didn't see more on the failings of government from throughout this past term. If Morrison is too 'clever' to answer, go ask those impacted and centre them in the story.
Perhaps one of the biggest shifts in this election was where voters sourced their information. There's a good chance a majority of voters hardly saw a 6.00pm news bulletin and couldn't care less who a Chris Uhlmann thinks 'won' the cut and thrust of the daily quotables, let alone what a Rowan Dean has to say.
Like Twitter being called a bubble, there's a dynamic in media to contextualise what's happening only through the lens of other journalists and the politicians themselves. And while they live in that space, many voters now get their analysis from a growing band of voices on YouTube, Instagram and TikTok.
These voices don't get access to the election media buses – and that's probably a good thing. They're watching with enough distance to stay curious about the bigger picture.
– Seamus
---
More on that…
Just in case you're yet to have the Ted Lasso experience. (Spoilers)
---
Newsworthy
You can opt out of the legacy Google Suite shutdown if your account is for personal use (Ars Technica) :: Great news for those struggling to work out where to move a custom email address they've been using on Gmail for 15 years.
US Homeland Security pauses Disinformation Board initiative (Gizmodo) :: And you'll never believe that it's partly due to a massive troll campaign against it by some people notorious for spreading disinformation…
US Dept of Justice won't prosecute white hat security researchers anymore (Vice) :: A very big announcement for global security research and welcomed widely by digital civil liberties folks – we need researchers to identify where our wider privacy and security is at risk! There's usually a clear 'good faith' hacking distinction and this supports those operating to find problems for the right reasons.
---
---
Brain food
Two interesting stories on the future of cars – some we own, some we don't. I've often wondered if my kids would grow up to be the last generation to learn to drive or the first to never need to. One now has a driver's license so the changes are coming slower than we thought they might ten years ago.
As people change the way they buy cars, some dealerships are changing too (Wired)
The era of cheap Uber may be coming to an end (Slate)
---
---
Shiny and new
The Rodecaster Pro II has been announced (Rode) :: The original Rodecaster has been a massive part of my professional life since the start of the pandemic, replacing my Zoom recorder (from when they were the 'real' Zoom, not the video conferencing Zoom) as everything went remote. This feels like a very nicely timed upgrade five years after the original launched.
It's evolved to become a studio, with inputs accepting instruments as well as microphones, and additional USB inputs and a wideband voice calls over Bluetooth for a wealth of input options and loads more customisation on the desk.
And they're Aussies creating some of the best audio equipment in the world. Win.
LG DualUp monitor is an ultrawidescreen alternative (LG) :: I've been considering a jump to an ultrawide monitor setup for quite a while now. All that extra real estate on a single connector is a very good idea. But this LG option might win me over, effectively stacking two 2560x1440 monitors on top of each other. It feels more space efficient and that glance up/down feeling seems more helpful than going wide.
I've used rotated monitors regularly to have a big 'reading' screen and it's good, but this seems to take that form factor and make it even more flexible.
Sonos Ray is a sexy entry level soundbar (Sonos) :: Big fans in this house, so great to see a new Sonos soundbar to give many more households a chance to dive into the Sonos streaming world. With their auto tuning system to get the sound 'just right' for the room it's in, I'm betting this will outperform the old Playbar that used to cost 2.5x the price. (It's $399). And you can add two Sonos One SL speakers to get an excellent surround sound setup for $977.
---
Byteside Newsletter
Join the newsletter to receive the latest updates in your inbox.