Mise-en-scène
Enjoying Japanese cinema through videogames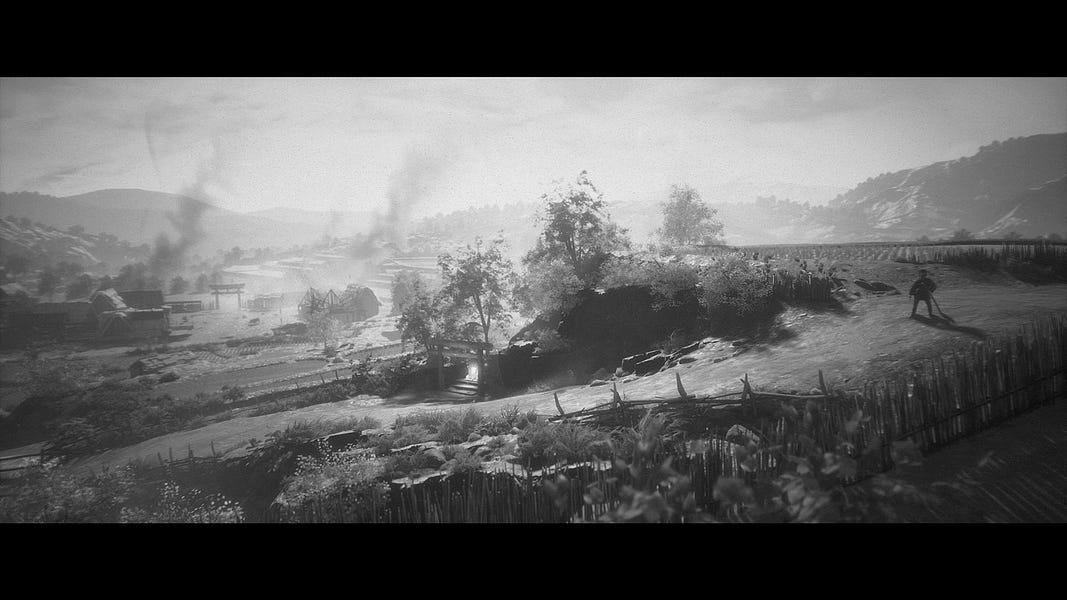 Last week, I wrote that there's more to videogames than pretty pictures.
Sometimes — and I'm prepared to make a hypocrite of myself — pretty pictures maketh the videogame.
To illustrate my point, I recently played Trek to Yomi on Xbox Game Pass. In it, you play as budding samurai Hiroki tasked with fighting off bandits and protecting his community.
Inspired by classic Japanese cinema, Trek to Yomi is immaculately presented entirely in black-and-white. I love how each screen is beautifully composed, with the camera tracking Hiroki's movements to reveal grand vistas. The cinematography is exquisite, with foreground and background elements thoughtfully placed to create a great sense of depth with every shot.
Although the combat in Trek to Yomi is completely serviceable, making for some tense and bloody encounters alongside the occasionally frustrating boss fight, it plays a supporting role to the visuals. Trek to Yomi is an experiential game, combining meticulous visuals with evocative sound design to terrific effect. Even if you're not an action game fan, it's worth checking out for the experience alone. At only a handful of hours long, your time is fully respected, too.
My partner even commented that she enjoyed watching Trek to Yomi as much as I did playing it. Many individual elements make up the modern videogame, so even when the gameplay isn't the most compelling aspect, there are still plenty of reasons to enjoy the experience. Especially with a cinematic, narrative-centric game like Trek to Yomi.
Now if you'll excuse me, I have a big folder of screenshots to sort through…
— Chris
---
Brain food
The 21 Absolute Best Sci-Fi Films of the 1990s (Gamespot) :: Look, there's an egregious omission of Strange Days and it's a questionable ranking, but there's no reason not to watch everything on this list.
The Land of Boggs gave up on YouTube. Then they hit 300M views (Tubefilter) :: An interesting look at an animation team's efforts to win at YouTube, and that it only worked out when they'd given up. All hail the algorithm?
The ABC Classic 100 is "music for the screen", including videogames (ABC) :: It's not too long since they last made 'film music' a focus, so this is a big deal to specifically return to the idea and open the door to all screen music – film, TV and videogames. You can vote for your top 10!
---
Play
PlayStation's new subscription service launches 23 June locally, included games revealed (GamesHub) :: Three different tiers of PlayStation Plus will be here soon, along with access to various PS1, PS2, PS4, and PS5 games. No PS3 games because we don't have streaming service PlayStation Now. As an added bonus, some Ubisoft+ games will be available to PlayStation Plus Extra and Premium subscribers.
Fall Guys goes free-to-play, bounces onto Xbox and Nintendo Switch 21 June :: Pandemic party sensation Fall Guys, the Takeshi's Castle-inspired battle royale from 2020, is finally coming to all consoles after an initial Steam and PS4 release. Interesting to note that with the move to free-to-play, Fall Guys is leaving Steam (Epic Games bought developers Mediatonic last year).
---
Watch
Dear Lucasfilm: ask Bryce Dallas Howard to make a Star Wars movie (Gizmodo) :: Hell yes.
She-Hulk smashes onto Disney+ from 17 August (Gizmodo Australia) :: I too would like to be cradled by She-Hulk.
A new series of Black Mirror is on the way to mess with our minds once more (Variety) :: It'll be the sixth season of the Netflix tech dystopia drama. Apparently, this upcoming series will be more cinematic in scope.
Next Pixar film, Elementals, announced for 16 June 2023 release (Polygon) :: Inspired by multiculturalism in New York, Elementals features anthropomorphised elements, not Avatar benders.
Local Disney+ content announced: drama, sport, lifestyle and more! (ScreenHub) :: Lots of cool Australian-made series to look forward to, including a Toy Story-themed creativity show hosted by Rove McManus, What's Your Toy Story? I'll definitely tune into the sports docu-series capturing behind-the-scenes looks into the AFLW and Matildas national women's soccer team.
---
Quality tweets
---
Thanks for reading Byteside! Subscribe for free to receive new posts and support my work.
Byteside Newsletter
Join the newsletter to receive the latest updates in your inbox.