Marvelling at the horizon
Learning more about a game helps deepen the enjoyment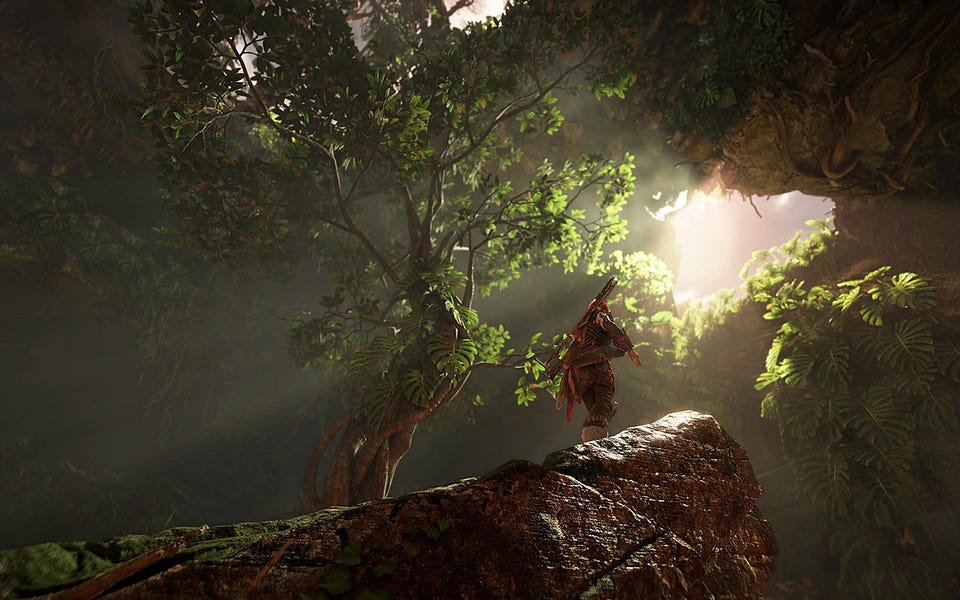 Welcome to Downtime, the Byteside newsletter examining all things screen culture! For those who don't know me, I'm Chris Button, content producer for Byteside and videogame writing specialist. I'll share plenty about videogames here along with any interesting film, TV, and streaming culture analysis I find along the way.
To start things off, I recently mused on the technical craft of videogames from a development perspective. Sure, a big-budget triple-A game looks gorgeous on big ol' TV, but there's more to gaming than pretty pictures. I firmly believe learning more about how games are made enhances the experience, because you can better appreciate every detail on display.
Through this newsletter and the High Resolution podcast, I hope to share with you what makes the videogames industry so fascinating. Alongside a dose of wider screen culture too. A healthy media diet includes many different mediums, after all!
With that, enjoy the news and analysis we've curated for the debut of Downtime. Thanks for tuning in.
- Chris
---
More on that…
Understanding the magic of Horizon Forbidden West makes it more special (Byteside) :: Exhibit A right here. If you want to learn more about how games are made at a technical level, Digital Foundry is a great starting point. Gee whiz, Horizon Forbidden West is a beautiful game.
---
For your ears only
Mighty Kingdom devs share their journey of making chaotic roguelite Conan Chop Chop. After multiple delays, Conan Chop Chop launched earlier this year from one of Australia's fastest-growing studios. Developers Kim "Kimbo" Forrest and Jeff Wong share the inside word on how it got made.
ICYMI: How to create a culturally diverse and cosy farming game. Wylde Flowers is an early 2022 hit for Apple Arcade (available on more platforms later this year) thanks to a clear focus from its former EA dev team. Amanda Schofield reveals what differentiates it from others in the increasingly popular cosy games space.
---
Games News
Games industry unionisation push commences in Australia (WellPlayed) :: Earlier this month, Game Workers Australia formally launched as the country's first official games industry union. From beginnings as the volunteer org Game Workers Unite, the union formed in partnership with Professionals Australia, an 18,000-strong union for different sectors including engineers and IT workers.
FIFA and EA Sports split, ending the FIFA franchise as we know it (The New York Times) :: After negotiations broke down, EA decides to end the long-standing (nearly three decades!) agreement. The iconic series will rebrand as EA Sports FC. If we're being honest, FIFA needs EA more than the reverse.
Nintendo unleashes indie goodness with Indie World showcase (Vooks) :: Overnight, Nintendo showed off a lot of awesome-looking indie games from developers around the world. Wayward Strand and Cult of the Lamb carried the Australian torch, plus NZ-made Mini Motorways shadow-dropped on Switch.
Fortnite free again on iPhone via Xbox Cloud Streaming (Byteside) :: Relentless in its pursuit to avoid the 30% App Store cut, Epic Games has now made Fortnite available for free using the Xbox Cloud service. Crafty folks.
D&D Direct showed off everything cool about tabletop RPGs (Byteside) :: Wizards of the Coast recently held its first online D&D Direct presentation to share what Dungeons & Dragons fans can expect through the back half of 2022 and beyond. From Spelljammer to Dragonlance and more, there's a lot to look forward to.
Gotham Knights drops previous-gen support, now only releasing on modern hardware (Press Start) :: It begins. Supporting multiple platform generations was always going to be a big ask for developers. Almost two years in, Gotham Knights sets the new standard. It's only gonna get tougher if you're struggling to get the latest consoles.
Also in the news:
---
---
Worth checking out
Winning Time documents the LA Lakers showtime era with pizazz (Rolling Stone) :: The HBO semi-fictional dramedy has been my weekly viewing lately, with magnetic performances across the court. I agree with the Rolling Stone take: it's occasionally messy and stretches itself thin between plotlines. But damn, it sure is compelling.
Severance dramatically changes the TV office formula (ScreenHub) :: Despite rave reviews and recommendations, I'm yet to watch Severance. But it's nifty to see how the change in depiction of a workplace impacts narrative.
---
Thanks for reading Byteside! Subscribe for free to receive new posts and support my work.
Byteside Newsletter
Join the newsletter to receive the latest updates in your inbox.