Editing on Twitter is a fraught idea
Does that retweet you said you loved still say what it said when you retweeted it?
Elon Musk is suddenly the biggest Twitter shareholder and now the company is talking about edit buttons. Quite the disturbance in the force in just a few days.
There's so much love for an edit button. And it baffles me. If it's one kind of button and not the other…
I'm all in on adding the ability to quickly fix a typo or add that image I forgot to add within 60 seconds of posting a tweet? I've had a lot of those. That would be nice. But anything more is the domain of trolls and manipulators.
In a world where every tweet can be edited months or even just hours down the track? Better be careful about quote tweeting something and saying "this is great" out of context of its contents. Who knows what it could say next time you check.
I just wonder if the cries for an edit function from users are understood to be more like the 60 second tweak request and not as some word processing feature that turns the site into a completely different concept to what it is today.
Fingers crossed.
---
Newsworthy
Micro-targeting social media advertising is a big issue in the Australian election (ABC) :: The horror of micro-targeted political advertising is that it is not transparent. It is hard to monitor and identify misinformation and by the time it's noticed it can be too late.
An official F1 NFT racing game ended its F1 license (Kotaku) :: The great drawcard for many to play NFT-centric games is the ability to buy and sell in game items and 'play to earn' things that have real value. NFT F1 cars are a great example. Some people bought and sold these cars for prices in the US$100,000 range. But now the game has ended its F1 license and the game is shutting down. And all those NFT F1 cars disappear with the game. If people grasped these NFTs were just in-game items that would die with the game, do you think people would have ever paid crazy prices?
Meet DALL•E 2 is an AI model for making art from text descriptions :: This is a spectacular tool for turning a concept into an image. From photorealism to artistry, DALL•E 2 creates wildly creative images that follow artistic suggestions amazingly well. There's a waitlist because these AI tools from OpenAI (like language model GPT-3) are thankfully being monitored carefully for abuse.
---
Anyway, here's some mad scientist steampunk teddy bears.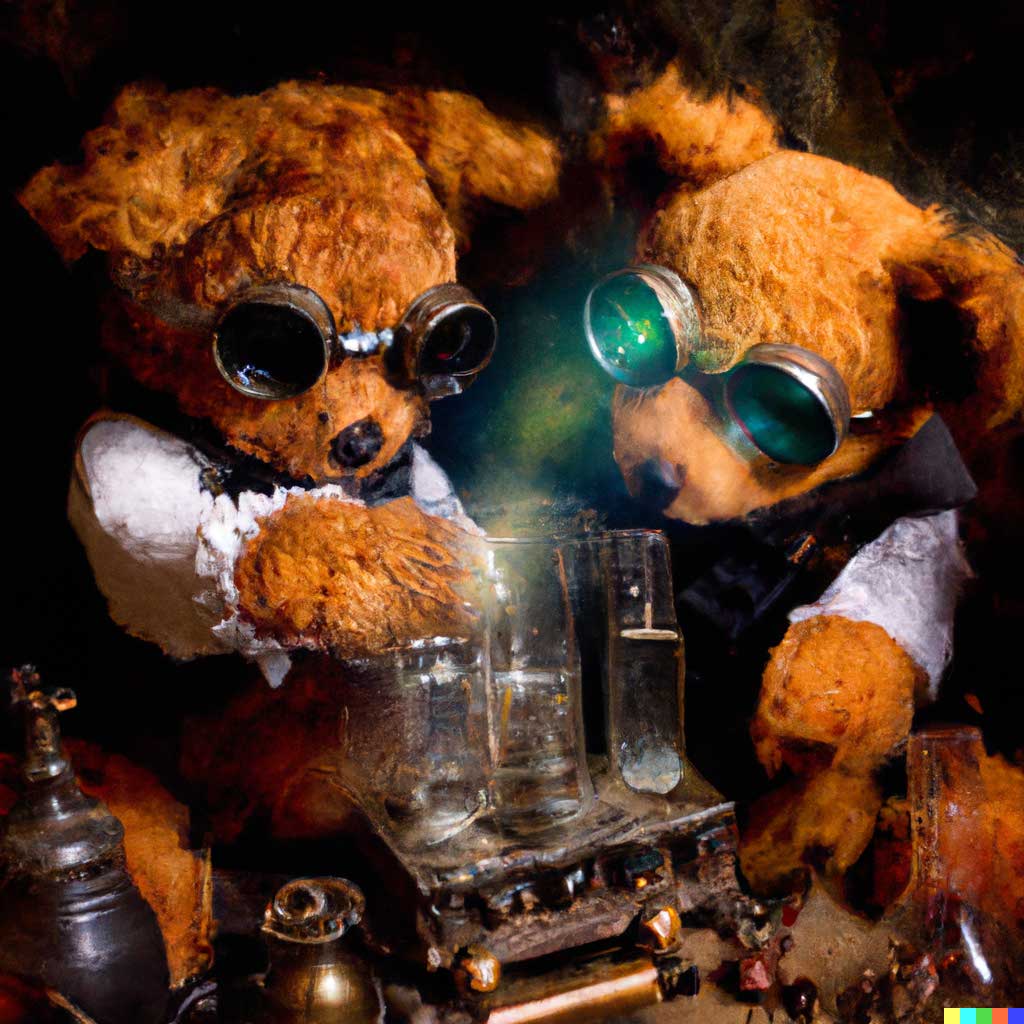 ---
Also in the news:
---
Brain food
Plumbing the depths of Wikipedia's weirdest content (New York Times) :: Curation is a fascinating art when executed well, and this is a great article exploring one woman's journey into rarely observed corners of Wikipedia to find fresh gems worth sharing.
Data science reveals how our values and the way we communicate have changed (The Conversation) :: Fascinating insights revealed by looking closely at data. Some really interesting ideas in here.
"It's an existential moment": Maria Ressa's plan to defend facts against lies (Niemen Lab) :: There's an election in the Philippines again, which raises a fresh round of attacks on Ressa, Rappler, and the fight to hold President Duterte accountable.
Meet the unsung forces shining a light on misinformation (CNET) :: A long read that looks at people now studying and sharing insights into the way the various online misinfo and disinfo conspiracies weave together and follow the latest trends. What a mess this all is. Some great local researchers are out there following similar paths in academic analysis. Tim Graham and Ariel Bogle are worth following on the tweets.
Cage Gauge: Every Nic Cage movie ranked (Flicks) :: 98 movies. One list. Enjoy.
---
Hot deals
51% off Logitech G Pro Wireless Gaming Mouse $136.25 (was $279.95) via Amazon.
---
Downtime
Weird West is an awesome, appropriately-titled immersive sim RPG. From the creators of Dishonored and Prey comes Weird West, a top-down immersive sim that totally sucks you into its strangely spooky wild west setting. It features multiple protagonists whose storylines converge, you can take any approach you want. Prefer to sweet-talk through quests, sneak under cover of night, or gun down anyone in your way? It's all on the cards. Some of the UI and controls are a bit fiddly on console, but Weird West's story and fascinating world make it one of the early indie hits of 2022.
Our Flag Means Death is a bittersweet pirate show like you've never seen. Taika Watiti and Rhys Darby star as pirates at distinctly different stages of their seafaring careers, with the latter giving up a comfortable life of aristocracy to become a pirate. Airing on Binge and Foxtel in Australia, Our Flag Means Death is a funny and surprisingly touching series about searching for one's purpose in life. Also, check out this lovely interview with non-binary actor Vico Ortiz about playing the complex character, Jim.
Point-and-click adventure fans rejoice, Return to Monkey Island is sailing for 2022. Speaking of pirates, legendary Lucasfilm adventure game developers Ron Gilbert and David Grossman have teamed up to create a direct sequel to 1991's Monkey Island 2: LeChuck's Revenge. Devolver Digital is set to publish, and Guybrush Threepwood's voice actor Dominic Armato will return to the iconic role.
More Downtime:
Byteside Newsletter
Join the newsletter to receive the latest updates in your inbox.