Stu-Stu-Studio
Apologies to Phil Collins...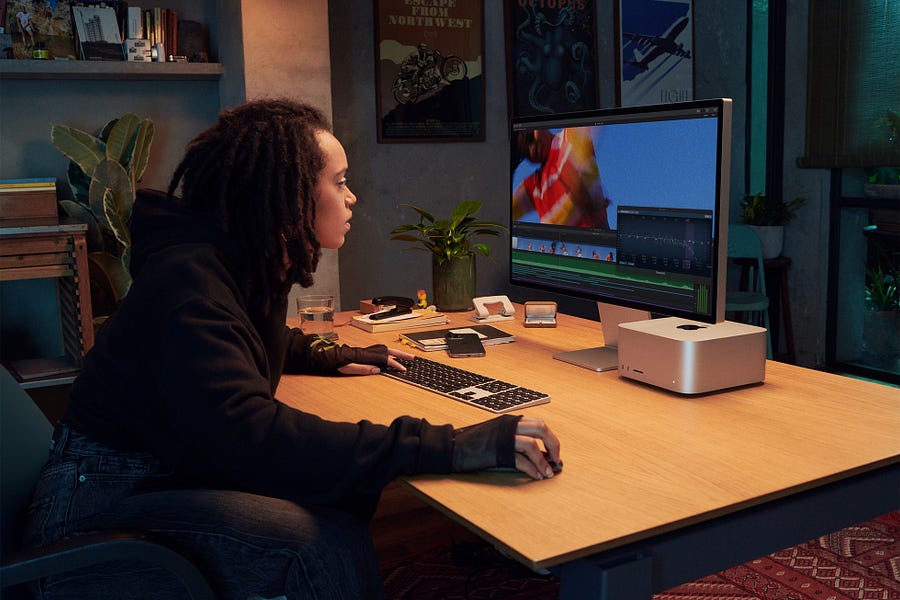 A few weeks ago I thought I was probably going to get a new iMac Pro when a more powerful iMac arrived this week. Instead, Apple launched its new 'Studio' tier of products – a souped up Mac mini called the Mac Studio and a fancy new 27-inch 5K Apple Studio Display that has lots of bells and whistles but not quite as many as the far more expensive 32-inch 6K Pro Display XDR screen.
I can't help but get flashbacks to the Apple G4 Cube from the Year 2000, a tidy little unit that will sit on the desk like a miniature monolith. And with the Mac Studio it feels like the iMac will go back to its traditional role as a pretty all-in-one designed for use in homes and offices where upgrading parts isn't a core concern.
My own thoughts on an iMac Pro were already based on the idea I could not afford a next-gen Mac Pro but I would rather have a monitor (or three) of my choice on my desk. The Mac Studio seems to acknowledge this mid-tier – but saying 'mid-tier' undersells how powerful they're saying this new machine will be.
I think I'm heading down the 34-inch ultrawide monitor route when I do pull the trigger on a new machine. The toss up was whether I'd get a Mac mini or an iMac… the Studio gives me a very nice slot in the middle that gives me a smarter path to invest in a great monitor that can keep being a great monitor long after the Mac Studio is in need of an upgrade.
I'm sure many folks are going to argue the new Studio Display is overpriced. Sure, if you ignore the fact it's got an iPhone 11 chip inside it along with a solid webcam, a six speaker audio system, three USB-C ports and a Thunderbolt 4 port for direct connection and powering of a MacBook Pro.
For comparison, this 27-inch Dell Ultrasharp is $2,200 and has no speakers, no camera, and only Thunderbolt 3. At $2,499 my biggest peeve with the Studio Display is the fixed height and fixed rotation mount.
---
More on that…
There's an iPhone SE with an iPhone 13 chip in it now too. The most powerful phone chip on the market is now in the body of an iPhone 8 for those who still love the smaller size and a Touch ID button.
A rare foreshadowing of the Mac Pro. At the end of the presentation, Apple said the only machine that hasn't been moved to Apple Silicon is the Mac Pro. "But that's for another day…" was a very unexpected signal given how rarely they mention anything ahead of time. But it makes sense. The Mac Studio smoked the current Mac Pro by most every metric, so it wouldn't have been crazy to wonder if this was effectively the new Mac Pro. By giving it a nod, it shows they've got another even fancier chip upgrade on the horizon when they're ready to give people the craziest priced Mac of all time.
Women devs aplenty. I wanted to run and grab my daughter and get her to watch the section where they showed developers talking about what they could do with the new M1 Ultra chip. Because every dev was a woman, and no one was making a big deal about the fact they were women. They were just talking about a new chip and what that means for their work. AAA+++.
Apple's new M1 Ultra processor is a chunky chip. Among Apple's newly announced products, its new top-of-the-line processor has garnered attention for its weight. It's all about a shift to copper to deal with the heat more effectively than aluminium.
The best alternatives to the Apple Studio Display. There really are some great screens on the market right now, so this is a good look at a few other great monitors to pair with a Mac Studio if you're going that path.
---
Newsworthy
Australia's national screen agency announces $6 million in funding for games. Another positive step for this century's leading creative industry. Screen Australia is offering up to $150,000 for digital game projects with budgets less than $500,000, which appears to fill a gap left by the Digital Games Tax Offset announced last year targeted at larger projects. Most state-based screen agencies (finally) have their own funds too, so the increasing government recognition and support of Australian game development could signal an upcoming golden era for the local industry.
Twitter is rolling out new alt text accessibility features for a small number of users. For the next month, three percent of Twitter users across Android, iOS and web will be able to see a black ALT badge on images with alternative text. By tapping the badge, users will see a pop-up to view the alt text. When an image can't be viewed, whether due to disability or technical issues, alt text provides an explanation that can also be read by screen readers, making for a more accessible internet experience.
The US has been helping with Ukraine's cybersecurity since before Russia's invasion. Interesting to look at preparations for potential cyber attacks to ensure critical infrastructure stays live.
Substack gets a reader app. We're on Substack now, so if you're so inclined you could get the app to read us instead of using email. It also basically an RSS reader app, letting you add any RSS feed into the mix alongside your Substack subscriptions.
Snoop Dogg joins Faze Clan board. An esports brand has built such a vibe around it that Snoop is getting in on the action.
---
Play time
PlayStation's latest State of Play presentation featured a lot of Japanese-published games. Highlights included reveals of Capcom's flashy dino horde-hunter Exoprimal, and two new entries from Square Enix due out this year: a strategy RPG named The Diofield Chronicle, and the more action-focused Valkyrie Elysium. Extra looks at pre-announced games like Ghostwire: Tokyo and Stranger of Paradise: Final Fantasy Origin —both out this month — also featured, plus a free update for PS5 exclusive Returnal adding campaign co-op and a survival mode this month. If you haven't played it yet, Returnal rules.
However, it's tough to get too excited for these announcements when a fresh round of sexism allegations at several US-based PlayStation offices emerge.
Itch.io's Bundle for Ukraine includes nearly 1,000 games from over 700 creators. The proceeds go towards the International Medical Corps and Voices of Children organisations. Aside from helping those in need, the bundle includes plenty of terrific indie games, including Celeste, Wandersong, and Superhot.
---
Great reads
The relationship between aspect ratio and cinema is fascinating. Many rolled their eyes when the Zack Snyder cut of The Justice League was revealed to be 4:3 instead of the widely adopted modern film widescreen convention of 16:9. However, it's a legit artistic decision, not just being different for different's sake! Team 2 Films' video essay examines how aspect ratio influences much more than how it looks on your TV.
Scientists are exploring temperature change in touchscreens as a way to create the feeling of friction. Presenting shapes with frictional experiences by shifting screen temperature. Clever, clever stuff.
I had no idea there was an era of vinyl video discs. Now I know all about it. Wild.
---
Quality tweets
---
Thanks for reading Byteside! Subscribe for free to receive new posts and support our work.
Byteside Newsletter
Join the newsletter to receive the latest updates in your inbox.