5 weird and wonderful Nintendo Direct highlights
Five weird and wonderful things from the February 2022 Nintendo Direct, including Mario Kart 8's endless run and Kirby's bizarre new ability.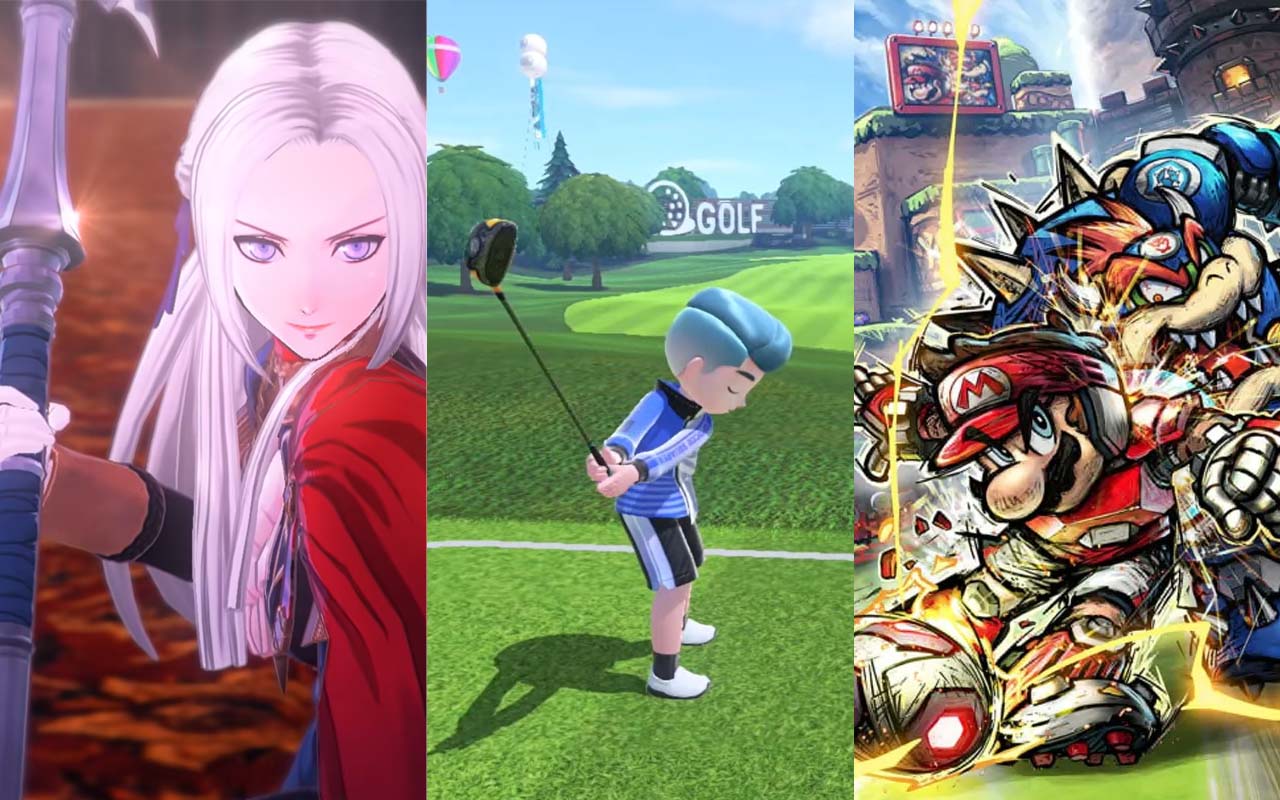 February has long been the prime time for Nintendo to show off its latest games, and this year's first Nintendo Direct was no different.
40 minutes of gaming goodness graced our screens in today's Nintendo Direct, with plenty of love shown for fans of sports games and JRPGs in particular.
Here's a rundown of five weird and wonderful highlights from 2022's February Nintendo Direct – strap yourselves in.
Mario Kart 8 Deluxe will never die
Mario Kart 8 Deluxe clearly has the elixir of life. If today's Nintendo Direct proved anything, it's that the arcade racer originally released on the Wii U is hanging around for years to come.
With the Booster Course Pass, Mario Kart 8 Deluxe is getting 48 additional tracks over the next year-and-a-half in six waves. Included are remastered tracks from the Mario Kart series, including some that have appeared in the mobile game Mario Kart Tour.
It feels similar to what Nintendo did with Super Smash Bros Ultimate, in having as much of the series' past content as possible in the one place, and I'm all here for it.
Mario Kart 8 Deluxe's Booster Course Pass costs $37.50 in Australia, with the first wave of eight tracks arriving on 18 March.
Alternatively, the Booster Course Pass will be included as part of the higher-priced Nintendo Switch Online Expansion Pack at no additional cost – adding more value to the subscription offering that also includes access to Nintendo 64 and Sega Mega Drive games.
Kirby has strayed from God's light
We all knew about Kirby's copy abilities and penchant for inhaling everything and everyone in sight, yeah? We'd all grown used to it and accepted it as a bit weird but still accepted Kirby for who he is.
Today's new trailer for Kirby and the Forgotten Land took things too far.
In new gameplay footage, Kirby now has the ability to half-inhale inanimate objects like vending machines and traffic cones and then use them in strange ways.
Of most concern is when Kirby tries to inhale a rusty ol' car. He can't quite fit it all in his gob, so the rest of the pink fuzzball's body graphically contorts and stretches around the vehicle, allowing him to speed around on its four wheels.
Frankly, it's quite disturbing stuff. I love it.
Kirby and the Forgotten Land isn't far away, with a 25 March release date.
My queen Edelgard returns in Fire Emblem Warriors: Three Hopes
Fire Emblem: Three Houses is my favourite entry from the Japanese tactical strategy series, and I wasn't the only one enamoured by its school life setting. In selling more than three million copies, it became the most successful Fire Emblem game of all time.
So it's no wonder they're revisiting the Fodlan setting with Fire Emblem Warriors: Three Hopes, led by the popular cast of characters including Byleth, Dimitri, Claude, and the objectively infallible Edelgard, my axe-wielding queen.
This is the second time the Fire Emblem series has deviated from the traditional turn-based gameplay and moved towards the mob-battle Musou stylings of the Warriors series, similar to what Persona 5 Strikers did for its respective franchise.
With vague details as to Three Hopes' setting or plot, my speculation is that it would be set prior to the midpoint of Three Houses, telling the stories of what led to all-out war across Fodlan. Given Three Houses' multiple endings, it would be tricky to envision a game set after its events, unless the developers want to declare one ending canon and move on from there.
Regardless, Edelgard's back. That's all that matters.
There's a lot of love for old-school gaming this Nintendo Direct
Fans have requested an easy way to play the SNES classic Earthbound for ages, and now anyone with an active Nintendo Switch Online subscription can.
Both Earthbound and Earthbound Beginnings are playable from today through the classic NES and SNES classic game libraries.
Of course, there were plenty of new takes on classic games on display, too. We saw another peek at Advance Wars 1+2: Re-Boot, the remake of the brilliant Game Boy Advance tactical series, on track for an 8 April release.
Platforming series Klonoa is returning with Klonoa Phantasie Reverie Series, Chrono Cross has a remaster coming 7 April, and a port of the Wii version of Star Wars: The Force Unleashed is on its way 20 April – with development assistance coming from Aussie studio Krome, who worked on the original.
One of the coolest announcements was a remake of Live A Live, a Square Enix JRPG previously exclusive to Japan on the SNES. It features the nifty "2D-HD" visuals games like Octopath Traveler and Triangle Strategy have pioneered.
Getting games previously locked to specific regions is always a treat, and Live A Live is out 22 July.
JRPG fans are getting fed
Not only is there a lot of JRPG goodness in the old-school games coming to Switch, but there are also a couple of new games to look forward to as well.
While we already knew about Square Enix's JRPG-infused tactics game Triangle Strategy (seriously, that's the name they settled on?), some new stuff got shown off in the final trailer ahead of its 4 March release.
It even has a new demo available now, which lets you play up to the end of chapter three and transfer your progress to the full game – generous!
The announcement of Xenoblade Chronicles 3 excited many JRPG fans, with not long to wait until a September release. This marks the fourth entry in the Xenoblade series – factoring in Xenoblade Chronicles X alongside the three numbered games.
Xenoblade Chronicles 3 reportedly ties together the events of the previous two games, which is an exciting prospect. The series is known for its sweeping environments and deep combat mechanics, so look forward to dropping plenty of hours into this one.
Switch Sports sensations
Nintendo did it, they finally bloody did it. They've announced a new spiritual successor to the Wii Sports series: Nintendo Switch Sports.
At first, it looked like the beloved oddball Mii avatars had been tossed to the curb, with newer, more anime-styled characters taking their place, but the classic player-created characters made an appearance later in the trailer.
Nintendo Switch Sports will include six sports when it launches on 29 April: tennis, bowling, Chambara (think the sword-fighting game from Wii Sports Resort), badminton, soccer, and volleyball.
As the trailer progressed, I was indignant at the lack of golf, only to be quelled by the announcement that it would come in a free post-launch update.
Not the only classic sports series to get a revival, Mario Strikers: Battle League Football – the Mushroom Kingdom-themed soccer series from the GameCube and Wii – is back.
Known for displaying a ridiculously strong attitude for a Mario game, the Mario Strikers series is bloody brutal in its blatant disregard for the rules of soccer. Body checks and handballs are in abundance – which I'm fully in favour of, just so we're clear.
Mario Strikers: Battle League Football also includes light-RPG elements, with characters acquiring different sets of gear, like Mario wearing a RoboCop-esque helmet, to specialise in different stats and play styles.
You'll be able to play what is unquestionably the ultimate version of soccer on 10 June. Oh, and the highly-acclaimed baseball sim MLB: The Show 22 is coming to Switch, which is pretty cool.
Byteside Newsletter
Join the newsletter to receive the latest updates in your inbox.