Yes, Microsoft's Activision Blizzard moment is a confusing emotional rollercoaster
Business is business in the buyout of Activision Blizzard, but it makes sense fans and staff could be feeling a mess of emotions about what comes next.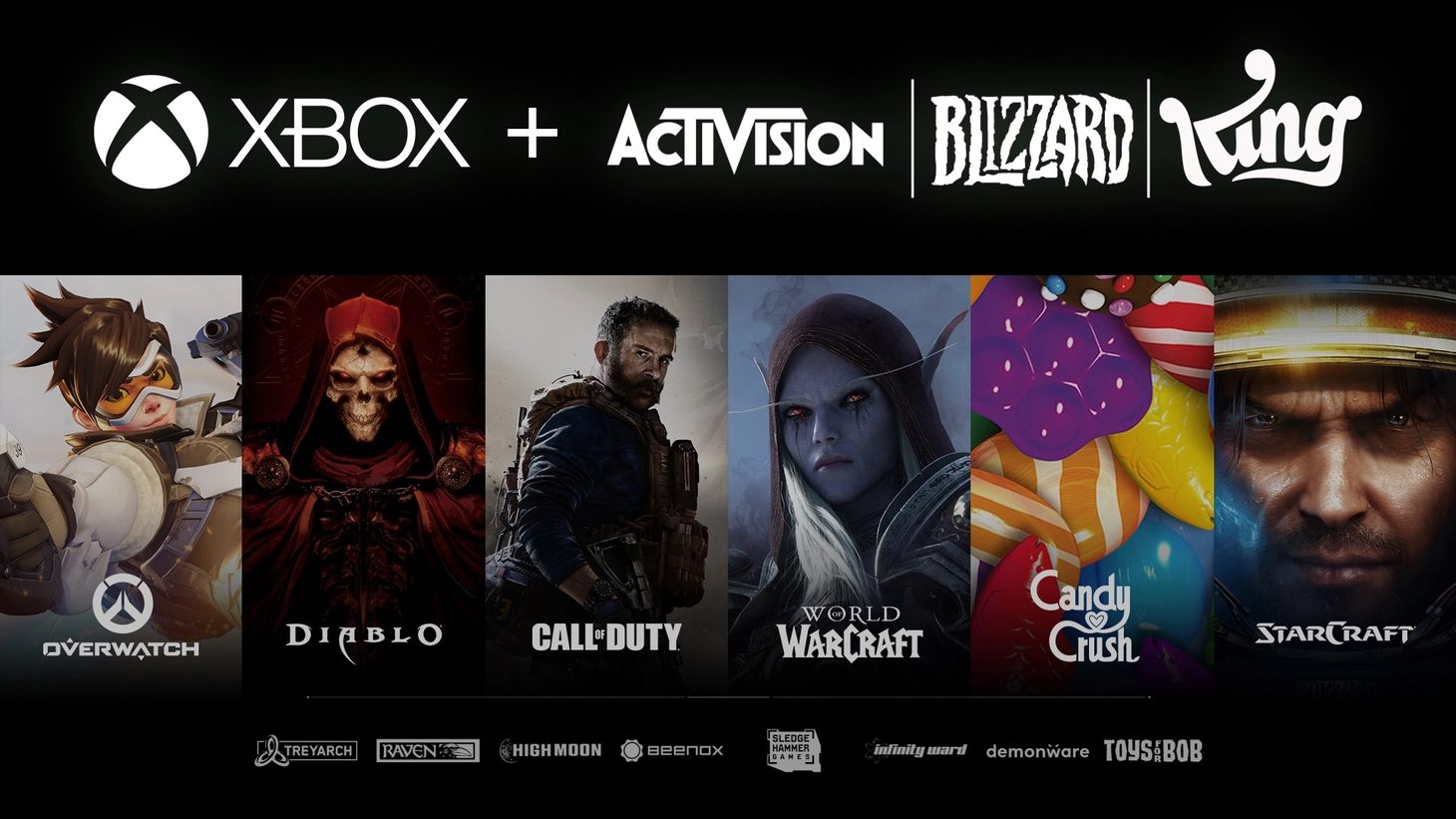 Today, Microsoft announced it intends to buy Activision Blizzard for a whole lot of zeroes. $68.7 billion. Half a Bill Gates bank balance is big money. And not the pretend money that comes through stock deals – cash money.
When we lived through the Bethesda buyout, which concluded in March 2021 at $7.5 billion about 10% of the price of the Activision Blizzard deal, it felt a certain kind of OMGWTF. It felt weird and worrying for the state of balance across the Xbox / PlayStation divide, but there was a certain kind of fit across the way Bethesda approached making big games and the way Phil Spencer's Microsoft Game Studios approached them too.
It felt like nice people were getting together. As far as we can know they're nice people from the outside. Nice people who happened to also be business people making big business decisions and fingers crossed the game devs behind the scenes would all get treated fairly in the end.
For a long, long time, the image of Activision Blizzard - especially its Blizzard silo - was one of nice people working to make beloved games. That image was shattered in July 2021 when California revealed a years long investigation into sexual harassment and bullying at Blizzard and across the wider Activision Blizzard organisation. Employees past and current started to speak up about terrible situations there, and demand the company stands for the ideals it has always represented to its adoring fandom.
Amongst the people that did start losing their jobs, the CEO of Blizzard, J. Allen Brack, stepped down, with one the co-CEOs that followed leaving just three months into the role revealing there had been a refusal to put her on equal pay with her male co-CEO. This and other incidents put the demands for change squarely at the feet of the big boss of Activision Blizzard, Bobby Kotick. Notorious as an ultimate bottom line business man, it seemed that few would believe real change was possible under his ongoing leadership.
Many Activision Blizzard partnerships were up in the air due to these issues. Even Lego was revisiting the launch of new Overwatch sets. In recent weeks, Phil Spencer himself said that Microsoft was "evaluating all aspects" of its relationship with Activision Blizzard in light of the problems at the company.
Who would ever have read that message as "we're negotiating a buyout"?
In the midst of all this, it makes sense that the announcement has a real rollercoaster of emotions attached for many of those involved. A buyout would usually bring a great deal of uncertainty for every employee of an organisation. But when you've been demanding change at the top, and you're being told you're about to become a part of Microsoft Game Studios and its comparatively glowing reputation for promoting diversity and positive practices in game development? It probably feels like there's a real chance of that Better ABK you've been asking for.
Some key reports suggest that Bobby Kotick will depart Activision Blizzard at the completion of the buyout if it passes regulatory approvals. And a Microsoft controlled Activision Blizzard could make room for the smaller games from the many studios ABK owns get more room to have fun and be creative instead of chasing the billion dollar franchise targets that Kotick has always emphasised.
It reminds me a little of Lucasfilm being purchased by Disney (eight years ago!). Scary on some levels, but the potential for unleashing new creativity under poorly used IP is a tantalising prospect. New games set in the Starcraft universe? Yes, please! Same goes across the wealth of sub-studios and teams, and the potential for a new leader asking them "what's the thing you've always wanted to make but were told it didn't fit the vision here?"
While the merged entity will be huge, it still won't be as big as Sony. Is that enough to give it the all clear? In the wars over a metaverse that does not exist (really, the said 'metaverse' was part of why this is all a thing) and cloud gaming services that are only just starting to give us a taste of playing anything, anywhere, anytime, it seems like one day there might be cause for regret if we look back and realise Xbox controls everything.
Right now I'm thinking about the folks at ABK who have been desperate for change. Imagining this may be that one shot at seeing Kotick depart the company where they've made games they love. And the mix of reactions they'd be seeing from fans and business analysts over whether this mega deal should be allowed to even happen or not.
What if the government says no? What then for a better ABK?
That answer, of course, would be actual results from the California lawsuit and real accountability for leadership. Consolidation, even into companies with better cultures, can ultimately lead to less jobs, less creativity across the industry as a whole, and less negotiating potential for the staff most impacted by poor work cultures.
But, you know… when's that likely to happen?
Indeed Kotick gets one hell of a golden handshake in this buyout deal if it all goes ahead. And he's been spruiking the success of his negotiations for shareholders in interviews.
Yesterday, Activision Blizzard announced that it has fired 37 staff since July 2021 and disciplined 44 more in response to the California lawsuit and its efforts to show it is cleaning house. Now we know why such an announcement was made yesterday. And that it is still not necessarily representative of the issues still behind the scenes. It wasn't just a random moment on a journey to being a better ABK. It was undoubtedly to show improvement ahead of the Microsoft announcement.
There's plenty of apprehension from workers at ABK today too. The hope for change steeped in fears of disappearing accountability for improvement.
Trying to interpret what comes next is a fool's errand. But when capital and creativity meet like this, the rollercoaster of emotions is very, very real.
Byteside Newsletter
Join the newsletter to receive the latest updates in your inbox.