There'll never be One True Metaverse
And that's a good thing.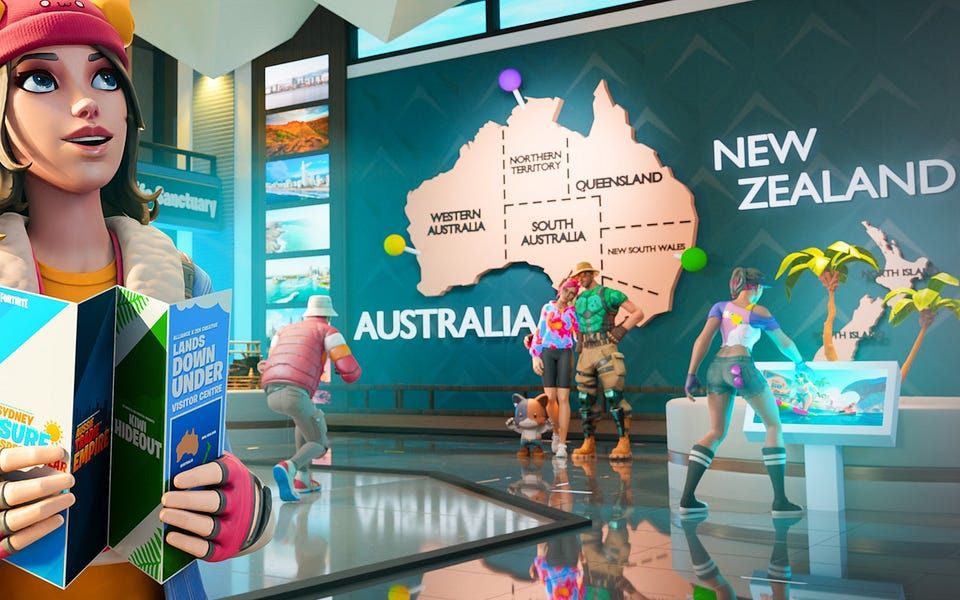 A lot has happened since the last newsletter. Our favourite foe, the company-formerly-known-as-Facebook, is now Meta, and in the process of changing its name and planting a very corporate flag on its vision for the future, it unquestionably fired the starter pistol on the metaverse becoming the Metaverse and making a lot of previously disparate ideas in networks, VR, and AR start using the word as a driver for what kind of experience they want to deliver in future.
Meta is not the company I want to see win control of a universal digital alternate reality, but it's quite possibly the only company that was capable of pushing everyone in the world to start chasing after the dream at a pace we'd never seen before.
At the same time the NFT discussion has turned into its own culture war of sorts. I'm no fan of the energy issues around blockchains today, but I also think a lot of people have dug their heels in so hard on the other side that they're refusing to see that even if 99.99% of today's NFT platforms and initiatives turned out to be scams or just poorly executed flim-flam, that 0.01% is going to define some very interesting ideas for the future of digital art.
Indeed NFTs will be a far more important concept in a metaversal future, where the idea of selling unique digital objects that can't be replicated might seem silly when we're discussing GIFs and JPEGs but will hold real weight hanging on the wall in the home of your VR avatar.
The biggest part of this fight for an equitable metaverse will be what kinds of standards wash out. Ideally, 'the metaverse' should be a federated concept – almost like email servers. Let anyone build a location in the metaverse based on universal standards, which knows how to open portals to other metaverses and allow for the transfer of avatars and their code-verified gear and currency.
Of course, all the big companies want to own it. Own the rails, own the platform, make the big money.
I'm betting on Fortnite and its maker, Unreal, to deliver the most equitable idea for how a metaverse will work. It has engine technology that underpins many existing games. Opening the door to allow those companies to share certain standards for avatars, objects and currencies makes a world of sense, and its approach to Fortnite has led to dozens of rival brands feeling comfortable sharing a virtual world together in the name of fun and no little profit.
I often think a lot of the business community is sleeping on what Fortnite represents. That "it's just a game" mentality that seems to miss how it has evolved to become a highly flexible social environment that is whatever its users want it to be while holding major events within its platform that deliver first rate moments that players talk about for years to come.
When Unreal flicks the switch on VR support it could easily become a far more compelling virtual presence platform than what Meta or HTC Vive or Teams has to offer because it knows how to feel joyful while also being functional.
But ultimately, just as we have macOS, Windows, Android, Facebook, Google, Bing, Teams, Zoom, Slack, email, HTTP, and all the rest, no one will be the Metaverse that wins whatever is coming next. There will be metaverses, and for the most part we will invoke spaces when we need them through whatever platform suits the purpose.
I think it's exciting there's some fresh momentum for the future of technology that was triggered by the Meta name change. It helps to see that a lot of what we've lived through over the past two years that is leading to hybrid work is also something that speaks to a desire for new concepts in digital presence and how we interface with online spaces.
The future's so bright, I've gotta wear a headset.
More on that...
So what is "the metaverse," exactly? Will we all live in the metaverse soon? Or is the idea just Second Life redux?
Is Fortnite a beachhead for the metaverse? We talk to Fortnite creative devs about the 'Lands Down Under' experience and their thoughts on the bigger potential for Fortnite as a metaverse platform.
What The Metaverse Means For Makers The metaverse is officially here, What does it have to do with making? Possibly a lot.
Teams enters the metaverse race with 3D avatars and immersive meetings Microsoft is entering the metaverse race with Teams. New 3D avatars and immersive virtual spaces are coming to Microsoft Teams in 2022.
Roll on 2022...
We'll be back in the new year with a regular newsletter once again.
The "What is Byteside?" debate has concluded as we adjust to life as a Content Studio that produces articles, case studies, thought leadership, ghost writing and podcasts for other media companies and communications agencies. If you need help, get in touch.
So that's what we sell now, while performing 'acts of journalism' through our own site with a pace and style of our own choosing. The studio model lets us generate revenue off-site and allows us to support interesting emerging writers to talk about the future of tech, digital culture and society on the Byteside website without trying to chase clicks and scale to make those words profitable.
We're excited and we hope you stick around for what's to come.
Brain food
New database for gaming accessibility launches A new database for gaming accessibility has been launched, allowing players to make informed choices based on accessibility options.
The Future of Digital Assistants Is Queer AI assistants continue to reinforce sexist stereotypes, but queering these devices could help reimagine their relationship to gender altogether.
Byteside
Interview: Siobhan Reddy on Dreamshaping for everyone Media Molecule Studio Director, Siobhan Reddy, joins the Byteside podcast to talk about creativity during the pandemic and the launch of new tutorials to help creators get started in Dreams.
Stephen Cornish, Pentanet Founder, on the future of networks We're talking to the founder of Pentanet, Stephen Cornish, exploring its Perth wireless network and its ambitions for networks everywhere.
WoW vs FFXIV vs Elder Scrolls Online: which MMO suits you? Having spent ample time across the three biggest MMOs, Seamus shares his thoughts on what style of fun lies at the heart of each game.
Cool
Forza Horizon 5 will get on-screen sign language for cutscenes Playground Games showed off a cool accessibility feature for Forza Horizon 5, the option to have on-screen sign language.
Radiohead is now in Fall Guys, Fortnite and Rocket League Radiohead is now in Fall Guys and Fortnite, and their surprising virtual exhibition - a collaboration with Epic Games - is also available.
3D-printed prosthesis helped dog who couldn't walk for over 7 years to run! This dog-friendly prosthesis prototype was 3D-printed and designed for a dog who previously couldn't run for over seven years. While dogs are some of the…
Jony Ive's first major design since leaving Apple isn't what you'd expect Ive spoke with Fast Company about how his design collective LoveFrom developed an intricate, organic logo mark and a new typeface called LoveFrom Serif.
Byteside Newsletter
Join the newsletter to receive the latest updates in your inbox.