Amazon Astro's sad destiny
Remember CLOi? Exactly...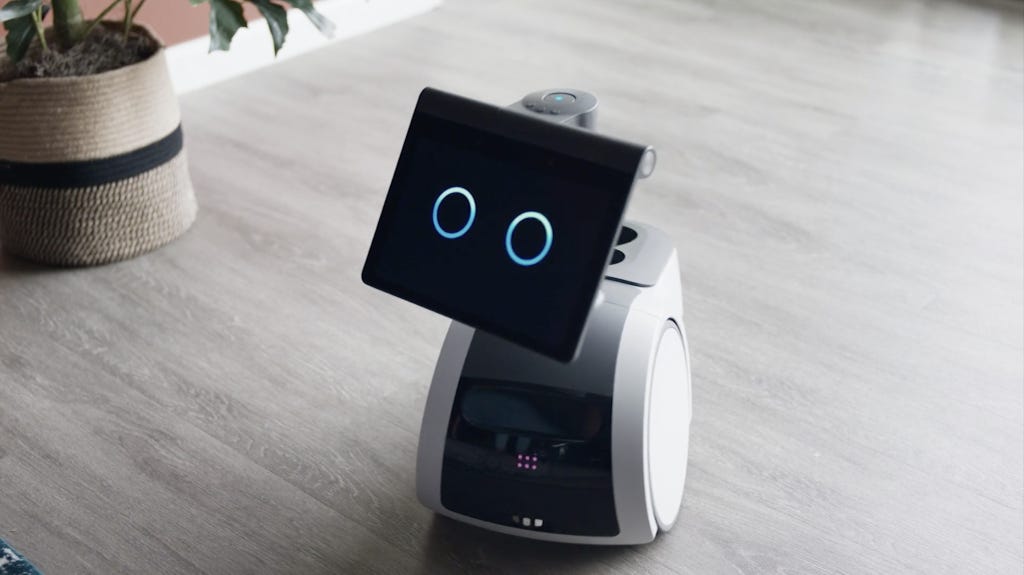 We've seen its kind before. Cute round eyes on a digital screen, attached to a small appliance-like body – more Roomba than Dalek.
Amazon this week launched a new set of smart home devices, and the Amazon Astro was the biggest surprise. A surprise because I'm amazed at the idea that Amazon thinks there is still a place in our homes for a smart roving robot with a camera on it in our homes.
I was there in Taipei when Asus announced the Zenbo in 2016, launched with similar fanfare and videos of how it would become another member of the family.
I saw LG CLOi selling a similar promise in 2018, this one based on a tabletop design with no wheels to let it follow us around the home.
I didn't see the Jibo launch. But I did watch it inform its owners that it was about to die. Get the tissues ready for that video below.
What is it about the effort to anthropomorphise smart home assistants? It's one thing to give them a voice on a smart speaker or phone – they literally need to speak to us. But to put fake eyes or faces on a screen as they roam around the house? I'd rather they just attached some googly eyes and called it a day.
I really thought this era was over. With the rise of smart speakers at cheap enough prices to have one cover every inch of a home so you could speak a command and have your queries answered audibly, this seemed like the comfortable compromise between surveillance and convenience.
You can listen, but don't look. And certainly don't follow.
Astro does have features like settings for 'no-go zones' and Do Not Disturb features, but it still doesn't answer the question of what this solves that a small fleet of Echo devices does not.
They like to use phrases like 'ambient intelligence' to describe the purpose of devices like this. It's a great phrase, and an idea that is definitely a big part of the future of computing. But again, a set of Echos feels like it solves the same problem without the weird pseudo-being rolling around the floor.
Even the new Ring Always Home camera, a flying drone that can zoom around your home for short bursts and capture live video so you can check why an alarm may have been tripped, makes more sense to me. It is far more agile than the Astro given it flies instead of trundles along the floor, and it is designed knowing it should go hide in its box when it is actively required.
If there's one big reason for launching Yet Another Anthro-bot, it's the media attention. A quick search shows that every major outlet on the planet has a story about the new Amazon Astro with a big face on its screen.
But come 2023, I expect to see Astro propping up a (very small) bar alongside Zenbo, Jibo, and CLOi as they share their stories of being promised fame and being quickly abandoned for the Next Cool Bot that comes along.
Sad jazz plays. Rain falls on the window. Fade to black.
---
---
Brain food
What social media needs to learn from traditional media A nice set of thoughts on how social media should build separations of 'church and state' like journalism did, so it can better serve societal needs around moderation and safety without being forced to always put 'growth' and 'engagement' first.
Fortnite maker believes Facebook and Google broke the Internet. This is Epic's plan to fix it. I've been frustrated seeing a few people say "Oh, another plan for a Metaverse" as if somehow Zuckerberg's recent use of the term in any way trumps the fact Tim Sweeney has been dreaming big on this front for a long, long time. This is a good piece looking into the Epic version of what it could be. And as a believer in open standards I have higher hopes this could be a path that goes somewhere very interesting one day.
Why captions are popping on TikTok: 'glasses for your ears' The written word is making a comeback in an unlikely place: TikTok. The reasons for that include accessibility concerns and changes in the way Americans consume media.
News
European Union announces plans to require all mobile devices to use USB-C Of all the efforts to standardise the world, this feels like one of the silliest mandates out there. The world has been slowly but naturally converging on USB-C, and I would expect Apple to land there in a few years anyway. But a legislated mandate to force this to happen? What happens if someone develops a smarter, faster, more efficient port in future? The EU says you're not allowed to do that anymore.
Now if only they could mandate every USB-C cable actually being the same so you know what you're getting when you plug it in.
Cambodia's prime minister is Zoombombing opposition meetings Hun Sen's government, which has shown little hesitation in quashing any sign of dissent, is taking control of user activities on the internet.
Facebook overpaid FTC fine by up to '$4.9bn' to protect Zuckerberg, lawsuits allege A whole lot of ███ in documents which finger execs.
Cool
1Password can now randomly generate email addresses for logins The Masked Email feature allows you to create unique email addresses for your logins. A really nice addition to using a tool like this for carefully managing and protecting your digital hygiene.
Netflix acquires its first game studio in deal with Oxenfree creator Night School Studio Netflix has acquired its first game studio with the acquisition of Oxenfree creator Night School Studio. The purchase price wasn't disclosed.
Byteside Newsletter
Join the newsletter to receive the latest updates in your inbox.