Get on the games: we chat with Mashd N Kutcher about their gaming-themed new track
From "Get on the Beers" to a Turtle Beach mashup, Mashd N Kutcher share their love of games and details about their new videogame-inspired track.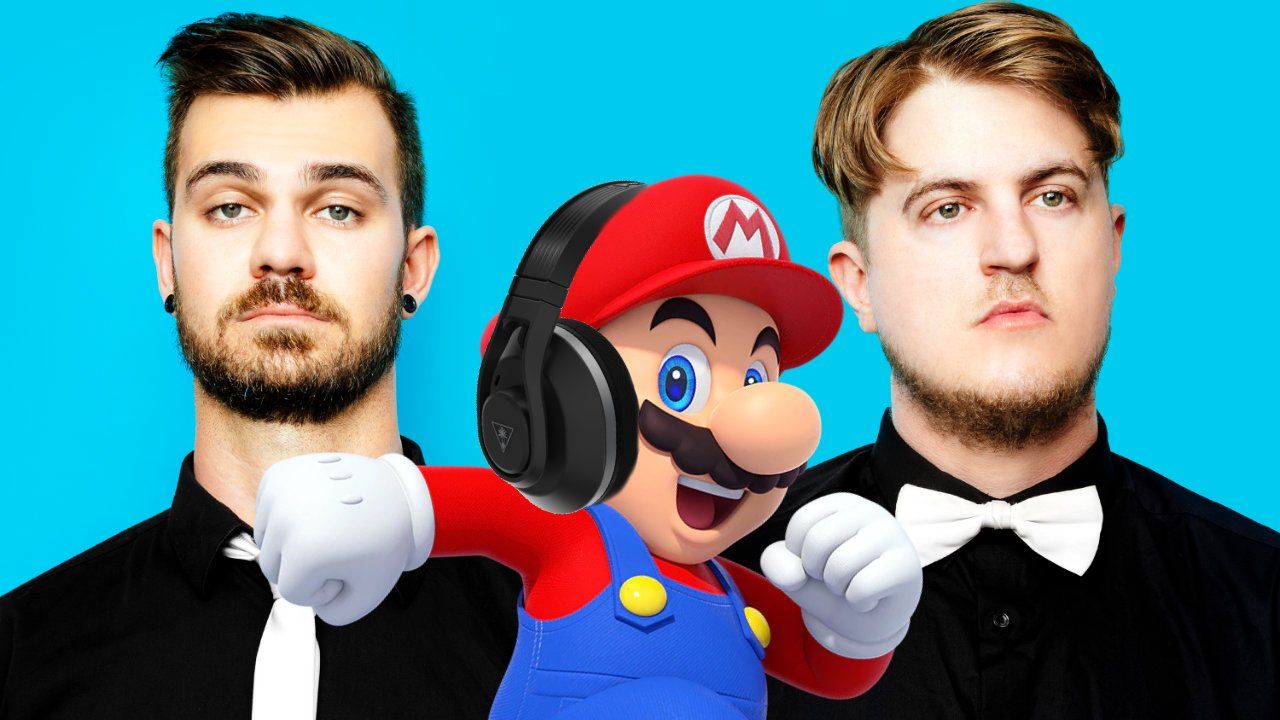 Fresh from charting in the nation's biggest music democracy, Aussie mashup kings Mashd N Kutcher has unveiled a new track sampling a catalogue of videogame sounds.
Entitled "When U Collab With Turtle Beach", Mashd N Kutcher's latest tune delivers exactly what it says on the neon-drenched tin: a hard-hitting electronic tune – that just happens to be made with the assistance of one of the world's biggest gaming accessory brands.
Masters of the mashup
Made up of the talented duo Matt Minor and Adam Morris — a classically trained pianist and drummer respectively — Mashd N Kutcher has cultivated a strong online following over the years thanks to their clever music production and impeccable comedic timing.
Many of their videos have amassed millions of views following the formula of sourcing unexpected samples such as in-flight safety demonstrations and pizza delivery workers, mixing it up in their favoured Logic Pro music software, and filming the results on a phone while bopping furiously to the beat.
The Brisbane lads' zany approach to making infectiously danceable tunes extends to their live shows, where Minor and Morris have built a reputation for trolling crowds with a strong appreciation for meme culture. Where many DJs pride themselves on crafting a mix that builds sweaty anticipation ahead of an almighty beat-drop crescendo, Mashd N Kutcher enjoys subverting audience expectations for their own amusement just as much.
Take this compilation of rave revellers reacting to Mashd N Kutcher's shenanigans, for example — the George Michael segue is a nice touch. Also, their love of sharing Australian icons in the vein of National Tiles' Frank Walker with the world is unparalleled.
Most recently, it's another prominent Australian figure Mashd N Kutcher has garnered notoriety for orchestrating 2020's lockdown anthem "Get on the Beers" featuring voice snippets from Victoria Premier Dan Andrews.
Charting at a lofty 12th place in Triple J's Hottest 100 countdown, the duo's call-to-beers mashup is equal parts catchy and hilarious in issuing a political directive millions of Aussies would only be too happy to oblige. It gained such popularity that Andrews himself acknowledged the song's success, giving a shout out to Mashd N Kutcher in the process.
All your beats are belong to us
For Mashd N Kutcher's latest project, Turtle Beach — a brand known for its gaming headsets — approached the pair to make a track inspired by videogames to coincide with the launch of the new Recon 500 headset range. Being gamers themselves, Minor and Morris jumped at the opportunity.
"A huge portion of our audience are gamers, so we've relished the chance to create music made from sounds they'd hear every day," Minor said. "When U Collab With Turtle Beach is, for lack of a better word, a banger and listening to it through Recon 500s is a real treat."
Made from an assortment of videogame sounds, including samples from Cyberpunk 2077, Call of Duty, and Mario Kart, plus keyboard clicks and clacks, "When U Collab With Turtle Beach" slaps hard. Dark synth arpeggios drive the track forward, accompanied by the cleverly edited samples Mashd N Kutcher recorded.
In an interview with Byteside, the duo shared an insight into the fast and loose approach they adopt when making their famous mashups, preferring to keep the process freeform, allowing the sounds to come to them as they experiment with recordings. As for how they source unconventional samples like the click of a computer mouse, anything resembling the sound of an instrument is on the table.
"[We look for] unique identifiable sounds but at the same time things that draw a comparison to a musical instrument," Mashd N Kutcher revealed via email. "[For example] dropping a keyboard lends itself to be a kick drum, the click of a key a hi-hat, etc."
"We throw all the sounds into Logic and then start to build an initial structure from there."
Alongside these gaming keyboard samples, another standout sound from the track is a high-pitched digital screech the DJs generated from the otherwise quiet whirr of inserting a disc into a PS5.
"We basically stretched the living daylights out of [the PS5 disc drive sound] using Logic's flex tool until the artifacts started to resemble something nasty we liked the sound of," Mashd N Kutcher added.
Roughly 10 gaming paraphernalia sound samples made the track's final cut, with the omission of the pair's Call of Duty banter which they labelled as likely being "NSFW" — something many could probably relate to.
Mashd N Kutcher's passion for videogames is well documented, with a couple of their earliest mashups using recordings from Call of Duty and Mario Kart respectively. Their dedication to gaming even extends to playing Nintendo Switch during a live set. Super Smash Bros. is a favourite among Minor and Morris, who have also recently ordered a multi-platform emulator to revisit classics like the original Metal Gear Solid.
Videogames provide ample opportunities for remixes and mashups, with memorable soundtracks and highly recognisable sound effects. The Mashd N Kutcher lads are fans of anything from "the Italian plumbers", and "the full array of Pokemon provide a pretty good soundboard".
For potential future projects, they have a couple of franchises they'd love to tackle, while revealing an appreciation for video composer David Wise's work — men after my own heart.
"Zelda would be great — we actually did one with the Pokemon series a few years back people loved," Mashd N Kutcher said. "Also Donkey Kong Country would be mad just for nostalgia."
Alongside the Turtle Beach collab, Mashd N Kutcher is embarking on a new live shows set to be the largest scale production-wise for the duo yet. Featuring moving stages, a full drum and a grand piano setup, it's set to be an epic gig of EDM, rock, hip hop, and more. No doubt we can expect more celebrity samples, beat drop fake-outs, and assorted shenanigans when Mashd N Kutcher hits the road.
Unfortunately, the pandemic is likely to wreak havoc with scheduling, but fingers crossed they can fit the shows in amongst everything else happening in the world.
In the meantime, you can enjoy the oomph-packed tune "When U Collab With Turtle Beach" right now with a preview live on YouTube and the full version on Turtle Beach's SoundCloud.
https://soundcloud.com/turtle-beach-official/when-u-collab-with-turtle-beach-mashd-n-kutcher-for-the-recon-500-headset
Byteside Newsletter
Join the newsletter to receive the latest updates in your inbox.