I built a tiny gaming PC and I'm never going back
It's a tough market for PC parts, but one intrepid gamer built an SFF PC and found it to be exactly the task he was looking for.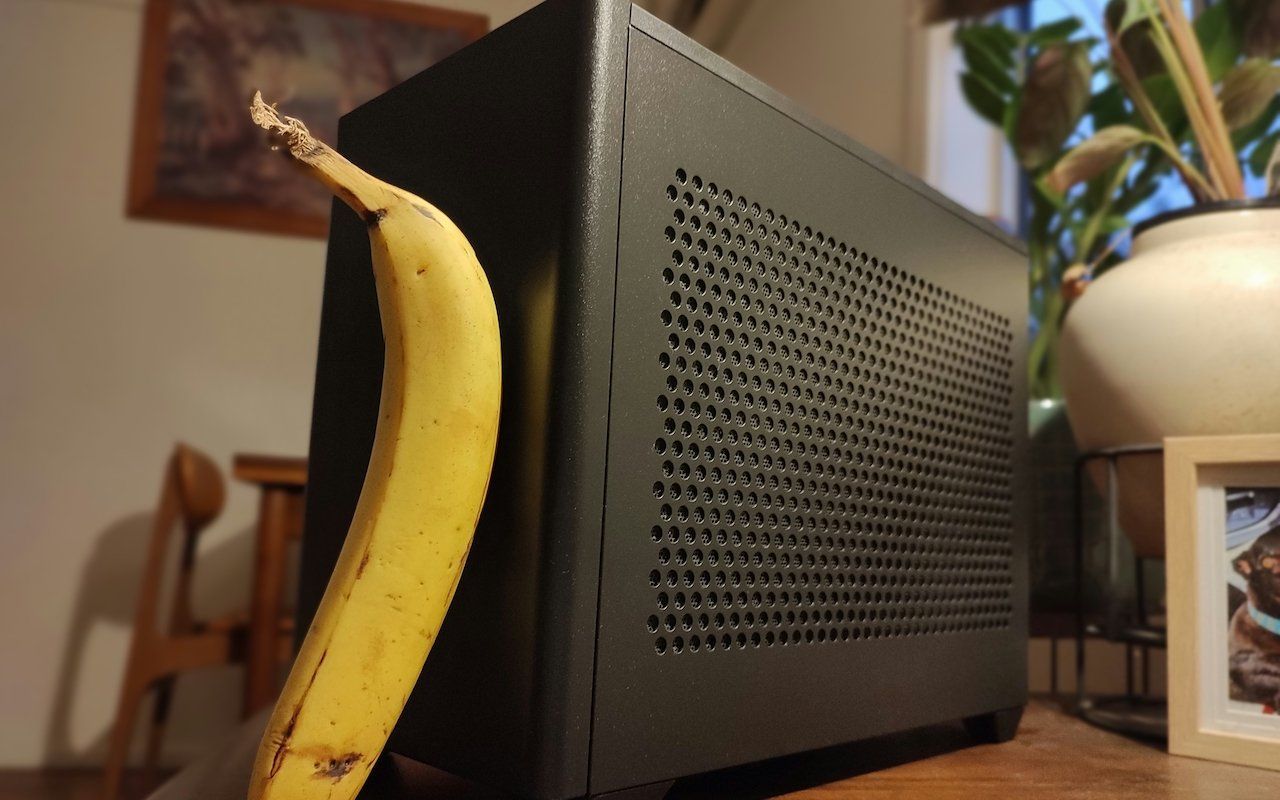 It's tough to be a PC gamer in 2021.
Covid hit the semiconductor supply chain hard, making it nigh impossible for regular gamers to secure the latest GPUs without auctioning off a kidney.
Add to that the millions of people forced inside by lockdowns, wanting to either game or work from home and needing the hardware to do it, and PC gaming isn't the value proposition that it has been in years past.
My most recent foray into the world of PC self assembly resulted in choosing a small form factor case (SFF) to house my precious components. At just 18L in volume, the Cooler Master NR200 is less than half the size of my old mid tower, and it's safe to say I had some concerns that this miniscule enclosure would give me all the functionality that I needed going forward.
Within the PC building community, SFF components have been around a long time but are a solid new trend, aligning with an increased interest in simplicity and minimalism over the last year.
While no two machines are exactly alike, it's also somewhat true that once you've built one PC you've built them all. In that sense, SFF presents a novel challenge for enthusiasts to maximise performance while creating a machine with the smallest possible footprint.
With that in mind, here's a rundown of the components I eventually settled on and how I sourced them. Hopefully it can provide some help (or hope) for those refreshing PCCaseGear looking for that elusive RTX 3080.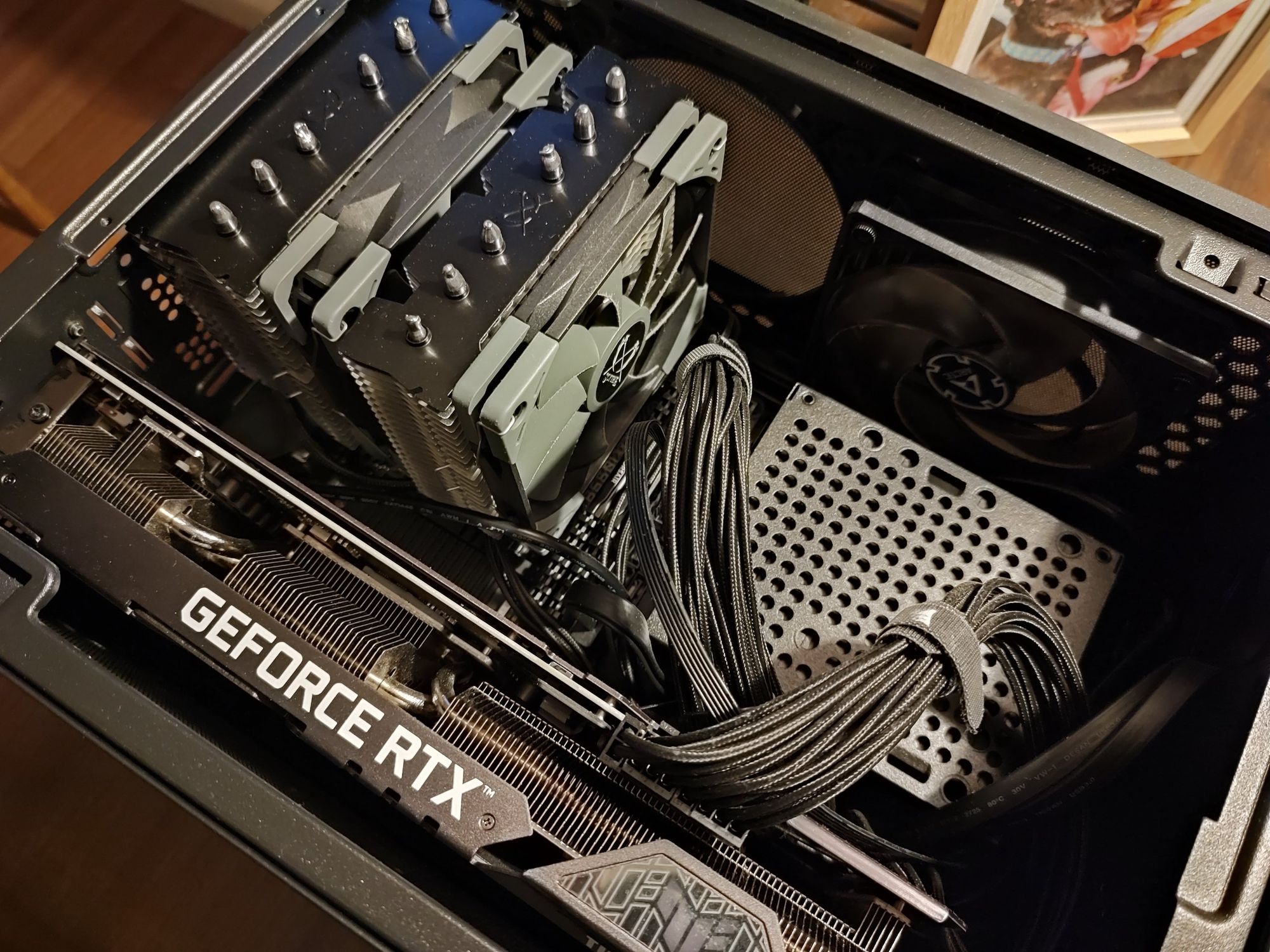 Prices are inclusive of shipping costs, but date back to earlier this year so are likely to be more 'ballpark guide' than definitive at this point. I made the decision to start building this in late October 2020 and didn't assemble everything until February 2021 so it's been a lot of research and trawling online deals to get the best prices. Most of the more accessible components have decreased in price as they are superseded, whilst GPUs continue to be as obtainable as Vibranium.
Motherboard
Gigabyte B550i Aorus Pro AX - $295 - This seems to be the best value AM4 socket B550 board from my research, which is required if you want to house the obligatory Ryzen 5000 series CPUs. I was able to nab it slightly reduced during a 10% off ebay sale.
Case
CM NR200 - $120 - The case everyone seems to be using at the moment for their SFF builds. I had built a few PCs before and was eager to try the challenge of building in a smaller form factor. Had to wait a couple of weeks for this one due to availability but seems to have cleared up now. I've found it to be stunningly quiet and cool for something that is about half the size of my old computer. Airflow wizardry.
PSU
Corsair SF600 Platinum - $215 - The best in class for ITX builds. Bought reduced on ebay via Scorptec, I believe Amazon has this down to almost $200 currently.
Storage
Kingston A2000 1TB - $140 - I got this from Centrecom, it was a toss up between the Crucial P1 and WD SN550 but this slightly edged it out based on my research. Pretty much retail price, these drives seem to often come on sale though if you feel like waiting.
Monitor
Xiaomi 34'' - $425 - Technically not part of the build, though I was eager to upgrade from standard 1440p 144Hz last time to an ultrawide. Very fortunate to find this on clearance at Kmart via an Ozbargain post. Called the store in Sydney and had them hold it for me. Usually retails for around $600, which is still a competitive price in this class. Despite some reviews of backlight bleeding and dead pixels on arrival, I've found it to be excellent and has completely changed my gaming and productivity workflow.
GPU
ASUS TUF 3070 - ebay (used) - $870 - The speed bump on most folk's hunt for components, this was a bit of a sketchy one. The guy had some suspect reviews on his profile regarding price gouging but I was willing to take a chance with PayPal backing me up in case something went wrong. It took a while to arrive (and I had to ask him twice for a tracking number!) but it works just fine. A good price for that card, which sells for approx. $1100 new (and some report they have gone up even more now), but I can understand some people not wanting to go down the used route.
RAM
Corsair LPX Vengeance 16GB 3600MHz C18 - $100 - Used again, I felt a bit better about this one because RAM is generally pretty hardy and the cost was low anyway. From my research 3600MHz is the sweet spot for Ryzen 5000. Retail is $130.
CPU
AMD Ryzen 5 3600 - $265 - This was pretty much the only concession I made with the build, which I'm pretty happy about. I had my heart set on a 5600x, but with availability and scalpers I got fed up waiting and pulled the trigger on this used 3600 from ebay. This rig is mainly used for gaming, for which these two processors are apparently quite similar in performance. It's price seems to fluctuate a bit because of its increased popularity due to 5600x shortages. You may also like to look for used 3700x as an alternative.
Fans
4 x Arctic P12 PWM PST - $60 - Excellent reviews for noise and thermal performance, in line with Noctua's offerings for a fraction of the price. I did run into some trouble with fan clearance (see below) but Artic offers a slim version now so you may want to look into that.
CPU cooler
Scythe Fuma 2 - $120 - Picked this up via Facebook Marketplace (please remember to always pay via PayPal or inspect thoroughly when dealing with people like this). It's most likely overkill for a 3600 but I was initially planning on an overclocked 5600x build so it made sense at the time. Probably one I can keep for a few builds to come. This is about retail price, you can get it on Amazon AU via US.
Total - $2610 (I also sold my previous build for $700 so that reduced the price somewhat)
Overall I was pretty happy with my purchases. I saved close to $500 compared to buying everything new at retail price, which brought me in line with my budget. I probably could have trimmed a bit more using the stock AMD cooler and going for a B450 board or lower tier PSU. My previous two builds lasted about 4 years each, so I'm expecting to get that kind of life from this one too.
A warning for new builders hoping to dip their toes into the SFF end of the pool however, the assembly process will at some point make you pull your hair out. The nature of these cases means that some of the component clearances will leave you scratching your head at how to fit this silicone jigsaw together. And keep in mind, the Corsair NR200 is on the larger end of the spectrum for SFF cases. The Velka 5, at just  25 x 17 x 12cm, is literally the size of a shoebox and can accommodate a full size 3000 series card (theoretically).
Some of the more memorable speedbumps that I experienced during the 5 or so hours of sweat inducing assembly included installing the beastly CPU cooler and then being unable to plug in the power cable underneath it, losing countless screws underneath the motherboard (please invest in a magnetic driver) and finally after all that, installing the graphics card to find that the case fans for intake didn't fit underneath it. It definitely pays to do your research and check real user reviews on Reddit and similar forums. The nature of this tech means that there are countless corner cases of incompatibility that you won't find on the spec sheet.
You might rightfully ask if all this heartbreak and stress is worth the eventual payoff of just having a slightly smaller than average computer? Why not just buy a console if you like simplistic and space efficient design from your hardware? The answer is twofold.
When it comes to a home office/gaming room, a small reduction in footprint can equal a big positive change in your overall setup. Instead of having the tower take up valuable space on my desk, it now easily fits in a small bracket underneath, leaving me copious real estate up top for the ultrawide monitor, the real star of the show. This monitor really is a game changer (pun intended), but having it, a set of speakers and a full size tower on my modest sized desk wouldn't have been possible.
The size also affords a certain level of portability. Smaller SFF cases are what the community likes to call backpackable. Mine isn't quite at that level, but even so, LAN parties are much more feasible now than with my old 15kg tower.
Secondly, PC building is just plain fun. By imposing these kinds of challenges on yourself, I feel that one gets a better appreciation for the parts that go into a computer rather than it just being a black box that makes graphics go brrrr.
Your mileage may vary, but the in-depth research and intricacies of assembly that went into this build were as much fun for me as actually using the PC, and feeds into other hobbies of mine such as programming and electronics soldering.
My overall takeaways for fellow builders are to set alerts for Gumtree, Amazon, Facebook marketplace, everything. Staticice is a great comparison tool for finding the lowest prices from Australian retailers. Ozbargain is a good up to the minute source of deals if you're always on your phone or computer. Don't be afraid to buy used sometimes (if the person seems legit and provides you with the info/warranty you need). Take your time and try to enjoy the building process rather than stressing out.
Most of all, don't forget to factor in the value of your time and sanity when looking for all this stuff. I spent three months scouring online and while I'm happy with the final result, I'm also a bit sick of the process and eager to play some games.
If you're a PC enthusiast tired of the same big ugly towers on your desk or a console gamer who wants a similarly slick design with the performance and customisation that only a PC can provide, I recommend your next big build is a tiny one.
Byteside Newsletter
Join the newsletter to receive the latest updates in your inbox.