TP-Link Deco AX3000: Simple, speedy, stylish
TP-Link Deco AX3000 Wi-Fi 6 mesh router kits are have a nice, subtle design with great features and solid performance.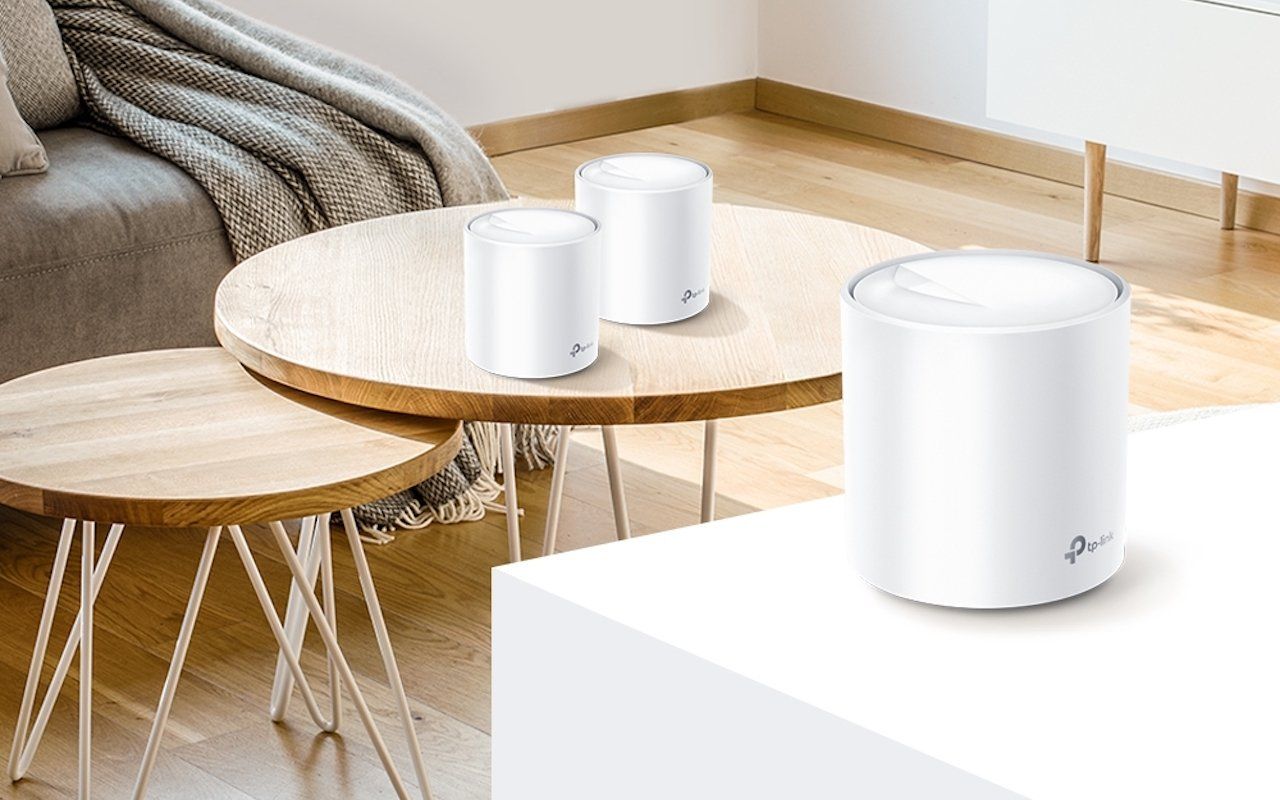 We're comfortably into the Wi-Fi 6 era of networking, which means if you've been thinking about it a lot or just holding out, it's a solid time to dive in. And if you're looking for the 'just right' solution, going with a mesh system is a smart choice that will serve well for years to come. Whether you're a renter who will have differing needs if you have to move or you're perfecting the setup in your long-term home, mesh solves a lot of hassles.
The Deco range from TP-Link stands out as a good choice for many kinds of users.
Deco style
I'm a big fan of the styling of the Deco X60 units (pictured above – though don't believe this lifestyle shot, cables are required and it's best to spread them around the house instead of putting them beside each other on your coffee table).
I get that everyone's take on style differs, but in the context of spreading Deco units around a home TP-Link has done a great job of creating mesh units that are simple enough to blend into most any home, small enough to sit on any shelf, and stylish enough to look pleasant when your eye falls onto one.
The X60 is like a novelty-sized mug or a fancy candle of some kind, and I've been testing a two-pack that sells for $499. There are also X90 units that are taller and look like miniature skyscrapers designed by Renzo Piano which kick speeds up a whole lot further too. There's a whole range of Deco units and they will work together, whatever combo you mix them into (though it's a good idea at this point to stick with the AX range to get the full Wi-Fi 6 experience).
The positioning of the status lighting is nice, with a glow dropped onto the surface below the Deco router to give you the information you need without a sharp light that glows all too brightly all night long where you'd rather be left in peace (FYI you can control LED lights via the Deco app, including setting Night Mode that shuts off the lights during set hours overnight).
Each Deco unit offers a pair of Gigabit Ethernet ports so you can also plug in device nearby that might not support wireless or might prefer the extra stability of being run over Ethernet. If you need more than the two (and on your 'main' Deco router, whichever you choose, will need one of those connected to your fixed network point) you can get Gigabit switches very cheap these days to add some extras where you need them, like under the TV where loads of your devices live… if you like dealing with a rats nest or two…
The Deco Experience
To get your Deco units up and running, you download the Deco app and follow the steps. It's simple and comfortable and not remotely confusing, which shouldn't need to be said but I've seen enough to know it's worth saying.
Once you get the units up and running you can tweak various settings from the app, including performance settings like QoS to prioritise gaming or video streaming, for example, and you can also switch on parental controls at a device level -- create profiles for each person then define which devices are associated with them – and setup antivirus at a network level -- from malicious content filters to intrusion prevention and infected device quarantining. There's a lot of great features to explore in here.
I don't live in a big house, but there's the odd dodgy spot at far corners that I've had trouble with in the past. This kind of mesh setup definitely solves those issues, and I've found the Deco X60 units do an excellent job and hit solid speeds with minimal latency. It's a great experience overall.
Upgrading is worth it
Once again, I feel well reminded that it is an amazing time to upgrade your home Wi-Fi, or help your family members to get things freshened up for The New Normal (TM). Any home that is still sitting on an older Wi-Fi 4 (802.11n) and even Wi-Fi 5 (802.11ac) network is ripe for upgrade. Remember that Wi-Fi 6 isn't just faster internet – it's more efficient at sending signals to lots and lots of devices all at once.
That's the most important aspect of a modern network, and the biggest change in how we use home wireless in the past decade. A laptop or two was joined by smartphones, smart speakers, smart lights, game consoles and more. Always on has become always updating.
Which mesh?
An important element to keep in mind is that not all mesh technologies are created equal, and that includes those within the same company's network tech. TP-Link Deco range routers use a Deco Mesh technology that allows all Deco hardware to operate together, so you can extend and expand your setup to suit your needs.
But there's also an OpenMesh name for another part of the TP-Link family of routers and this does not cross over with the Deco range. So once you're Deco, stay Deco.
Conclusion
They look nice, they work well, they have plenty of powerful features tucked away in the easy to use app. All up, I'm impressed by the Deco X60 mesh system and I think it will be a winner for anyone tossing up which way they go for their mesh needs. TP-Link has a lot to offer here, so it's a worthy choice.
Byteside Newsletter
Join the newsletter to receive the latest updates in your inbox.