Stern Pinball shows us The Way to a Mandalorian pinball machine
Stern has delivered some great Lucasfilm tie-in machines over the years. We take a first look at what we'll get when we play The Mandalorian.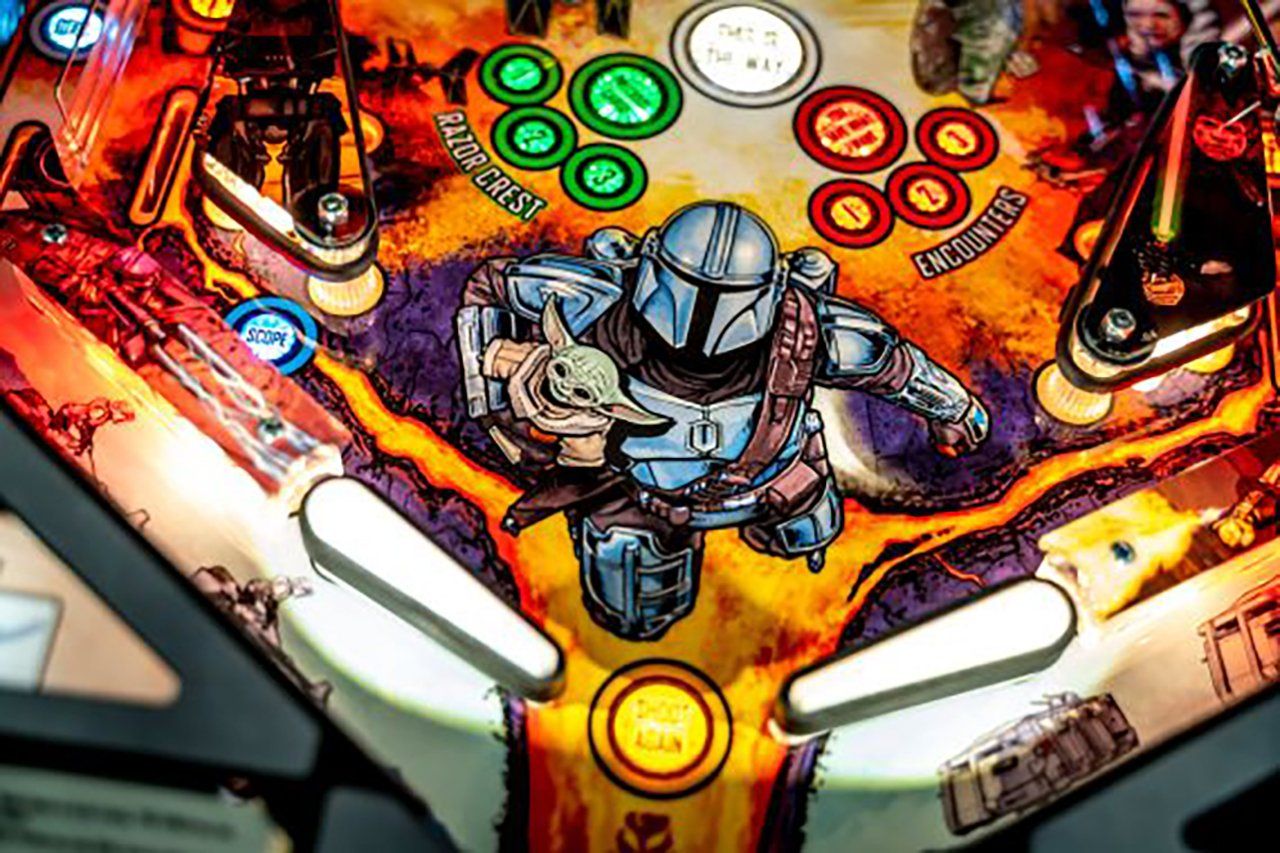 The Mandalorian has garnered critical acclaim among Star Wars fans and critics alike for good reason, it's an awesome TV series! Since it's the hottest property right now, it is no surprise that we find the Emmy award-winning show on all kinds of licensed products.
With Stern Pinball's great working relationship with Lucasfilm and their proven success with their previous Star Wars pinball machines, the two giants have once again collaborated to bring us the hottest streaming TV show in the galaxy into pinball form – introducing The Mandalorian range of pinball machines in Pro, Premium and Limited Editions.
The Mandalorian Pinball Game Trailer
https://www.youtube.com/embed/1IHurKQ7iMc
With a 16 month development cycle, Stern's Director of Marketing, Zach Sharpe tells us that Brian Eddy (Lead Designer), Dwight Sullivan (Lead Software Engineer) and the rest of the development team have worked hard to cram as much of The Mandalorian storylines into the machine.
Zach goes on to say that this game's development was unique (from previous pinball machine developments) due to the fact that the team was working on the machine while Season 2 was airing. Even though Lucasfilm was tight lipped about Season 2's storylines, they did provide input to Stern's team by advising them to leave some "space" whether it be in artwork or on the playfield for something that would be critical to the story they were trying to achieve in The Mandalorian pinball experience – and we are glad that they did!
For those new to The Mandalorian saga, the series is set after the fall of the Galactic Empire and before the emergence of the First Order and follows the travails of a lone gunfighter, The Mandalorian, in the outer reaches of the galaxy, far from the authority of the New Republic. Stern's new machine emulates the world of Mando by transporting players to a galaxy far, far away as they play as the titular protagonist, teaming up with key allies and protecting Grogu, while battling dangerous enemies and forces across their journey.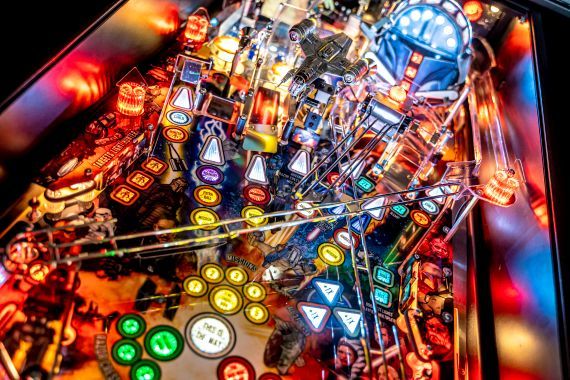 So what's in the three models of The Mandalorian pinball machines that transports the player in this awesome Star Wars universe?
Hold onto your Amban phase-pulse blaster and prepare for battle on the gravity-changing, rotating Encounter upper mini playfield available on the Premium and Limited Edition models. This innovative, motorised rotating playfield is packed with six stand-up targets, lights, and two full-size flippers for high intensity pinball action.
What bounty hunter doesn't like or watches out for ambushes?! Like the Mandalorian seen in the series, players can be ambushed by enemy forces. A dynamic inner loop shot activates an up/down horseshoe scoop ramp for fast, repeatable precision shooting, creating tense experiences on the Premium and Limited Edition models.
Players can navigate their way to multiball mayhem by hitting a unique hanging uplift target attached to a custom moulded Razor Crest ship – success in hitting the target qualifies a centre ramp shot on the Pro, Premium, and Limited Edition models.
The Mandalorian Pinball – Premium and LE features
https://www.youtube.com/embed/JvyS0fZc2zQ
The Mandalorian Pinball – Pro model features
https://www.youtube.com/embed/J8P52IOLKUw
Other features of The Mandalorian-inspired pinball machines include a large custom sculpture of Grogu, authentic video and audio from seasons one and two, and exclusive custom speech performed by actor Carl Weathers (Greef Karga). The game includes the iconic title theme song by Ludwig Göransson and stunning hand-drawn artwork by Randy Martinez, one of today's most popular comic artists.
The limited edition version includes an exclusive full colour mirrored backglass inspired by Beskar armour, iconic custom cabinet artwork, custom high gloss powder-coated pinball armour, a custom designer autographed bottom arch, exclusive inside art blades, upgraded audio system, anti-reflection pinball playfield glass, shaker motor, a sequentially numbered plaque, and Certificate of Authenticity. With only 750 Limited Edition (LE) machines available, we reckon they will sell out fast!
The Mandalorian Pinball – Pro v Premium playfield
As we leave Stern Pinball to bask in their new pinball glory, we ask Zach to tell us what his favourite shot is on this new pinball machine, he tells us, "On the Premium/LE models the dynamic inner loop almost acts like two shots as it can become a ramp shot by activating an up/down horseshoe scoop. It feeds the ball back to the left flipper for repeatable looping opportunities and can get quite intense, especially during ambushes!".
To say we can't wait to flip this new pinball machine would be a massive understatement. This is the way!
For those of you in the market for The Mandalorian pinball machines, this is what they'll cost you**:
Pro Model: US$6,199
Premium Model: US$7,799
Limited Edition Model: US$9,199
** For sales to USA end-users, before any VAT, GST, Sales Tax, Duties, or other taxes.
NOTE: Australian readers should contact Amusement Machine Distributors (AMD) or Zax Amusements for pricing and availability of The Mandalorian pinball machines.
This article first appeared at Ausretrogamer.com and is republished with permission. You can see LOTS more photos of the new tables at their original article here.
Byteside Newsletter
Join the newsletter to receive the latest updates in your inbox.