Intel NUC vs M1 Mac mini: which machine reigns supreme?
The new Mac Mini with an M1 chip has a lot of firepower. So how does it stack up against Intel's Hades Canyon gamer NUC? We run the tests.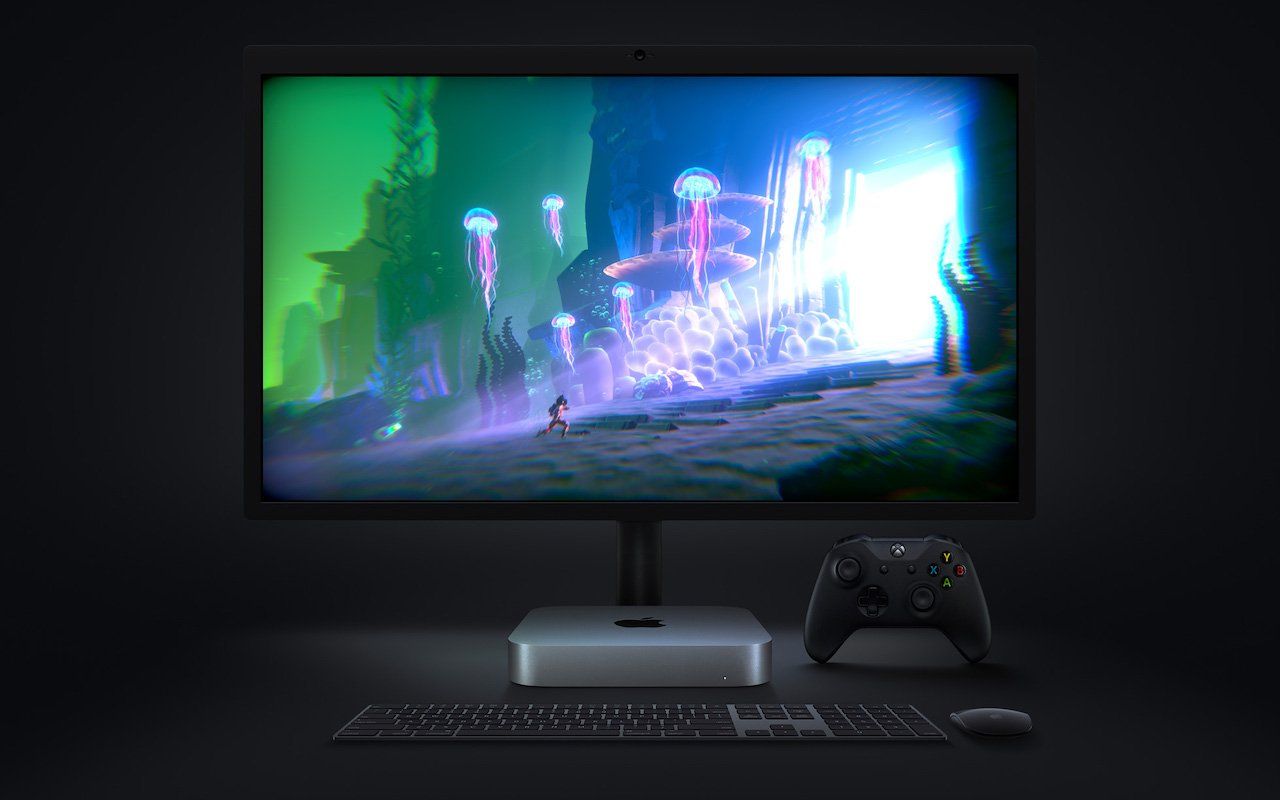 With the rampant hype surrounding Apple's new M1 processor, it's little surprise that some are already asking how the M1 handles videogames. You can already find plenty of videos on YouTube showing off how the new Macbook Pro handle titles from Fallout 4 to Crusader Kings 3.
However, where Apple's M1-based Macbook Pro and Macbook Air face stiff competition from gaming laptops by ASUS, Razer and MSI, the revamped Mac mini is another story entirely.
It's rare to find a PC so physically small yet capable. Since it doesn't have a screen, the new Mac mini isn't quite as portable as the Macbook Air and Pro. However, under the hood, the specs are almost identical.
Apple's relatively affordable mini-PC looms large, but it's not the only high-performance machine playing in the space. In some ways, the closest counterpart to what Apple is selling here is Intel's NUC range.
More recent Intel NUCs like the Phantom Canyon or NUC 11 Extreme come equipped with dedicated graphics cards and promise to offer significantly beefier performance than the Mac mini. Unfortunately, they're also significantly pricier.
If you're looking for a Windows-based alternative that matches the new Mac mini on price, performance and portability, it's hard to look past Intel's Hades Canyon NUC.
Some additional context: I'm a bit of a Hades Canyon stan. After reviewing it a few years back, I ended up being impressed to buy my own outright. Even if it means stuff like ray-tracing is out of the question, the combination of hardware inside Intel's Hades Canyon NUC is more than capable of delivering a decent experience with most modern titles. It lets me play the games I want to play while still keeping my desktop uncluttered and my office free of noisy fans.
I've drifted between the Mac and Windows ecosystems over the years. So naturally, the hype around Apple's new M1 processor got me curious. How does the new Mac mini hold up against other high-performance mini-PCs like Intel's NUC range?
Let's start with the specs.
Specs
Intel Hades Canyon Enthusiast NUC (2018)
| | |
| --- | --- |
| CPU | Intel Core i7-8809G |
| RAM | Up to 64GB |
| Storage | Up to 8TB (x2) NVMe M.2 SSD |
| Ports | USB Type-A (x6) + USB Type-C (x3) + Optical + HDMI Input + HDMI Output + SD Card Slot + Gigabit Ethernet port (x2) + 3.5mm audio + MiniDisplayPort (x2) |
Mac mini (2021)
| | |
| --- | --- |
| CPU | Apple M1 Chip |
| RAM | Up to 16GB |
| Storage | Up to 1TB |
| Ports | USB Type-C (2x) + USB Type-A (x2) + HDMI 2.0 + 3.5mm headphone jack + Gigabit Ethernet port |
Hardware
In terms of the physical space they occupy, there isn't a huge difference between the form-factor of the new Mac mini and Intel's Hades Canyon NUC. The former is a little more square, with rounded corners. The latter is a little more rectangular, with plenty of pointy edges.
As you'd expect from any product made by Apple, the new Mac mini is silver, sleek and featureless. In contrast, Intel's Hades Canyon is dotted by heat vents and a neon skull that glows into view when the machine is on. Even at this scale, the familiar tropes of the PC-Mac rivalry repeat themselves.
While a big part of these differences in hardware design is subjective, I'm inclined to give the Hades Canyon the edge here. It is slightly smaller, which does make it more compact. It also packs in more ports, including some important ones that the Mac mini outright omits, like the SD card slot. It does more with less, which is always easy to like.
Software
Software is probably one of the starkest differences between Intel's NUC and Apple's Mac mini. It's the thing that defines how you interact with either device. For Apple, that means Big Sur. For the Intel Hades Canyon NUC, that means the latest version of Windows 10.
In some ways, this is just a tired repeat of the usual Mac vs Microsoft discourse. However, both devices are pitched as all-in-one standalone PCs does lead me towards giving the Mac mini the edge here.
While the software possibilities of the Intel NUC extend and exceed far beyond the limits of the Apple macOS app store, the initial out of box experience of the Mac mini is hard to beat - especially if you already own an iPhone. It's all very smooth, clean and Apple's house-brand apps tend to offer a better user experience than their Microsoft counterparts.
In some ways, the fact that the new Mac mini has an M1 processor inside it doesn't mean as much as it should because "most" Windows-based applications and games just aren't released on Mac, let alone optimised to work with ARM processors. Workarounds like Crossover and Parallels exist, but there are no guarantees and plenty of friction. The
Mac mini offers a better baseline in terms of software UX than the Hades Canyon, but if you're planning to tackle anything ambitious, you'll be better off with the latter.
Benchmarks & Performance
When it came to gaming performance, I feel like Apple does deserve a fair amount of credit. Even if the results can't hold a candle to what you'll get out of dedicated graphics cards released in the past few years, the M1's integrated GPU held its own for the most part.
If you're playing something that's decently well optimised for Mac, like League of Legends or a Blizzard game like World of Warcraft or Diablo 3, you'll have a pretty decent time – even if you'd probably have a better time running the same game on Intel's Hades Canyon NUC.
Unfortunately, and at higher resolutions, the quality of experience degrades fast for more graphically intensive experiences like Total War: Three Kingdoms. Even if slightly older stuff like The Witcher 3: Wild Hunt (running via CrossOver) is perfectly playable, more recent releases are out of the question. There's a sense of compromise and clunkiness here that you won't get with the baseline performance of the Hades Canyon.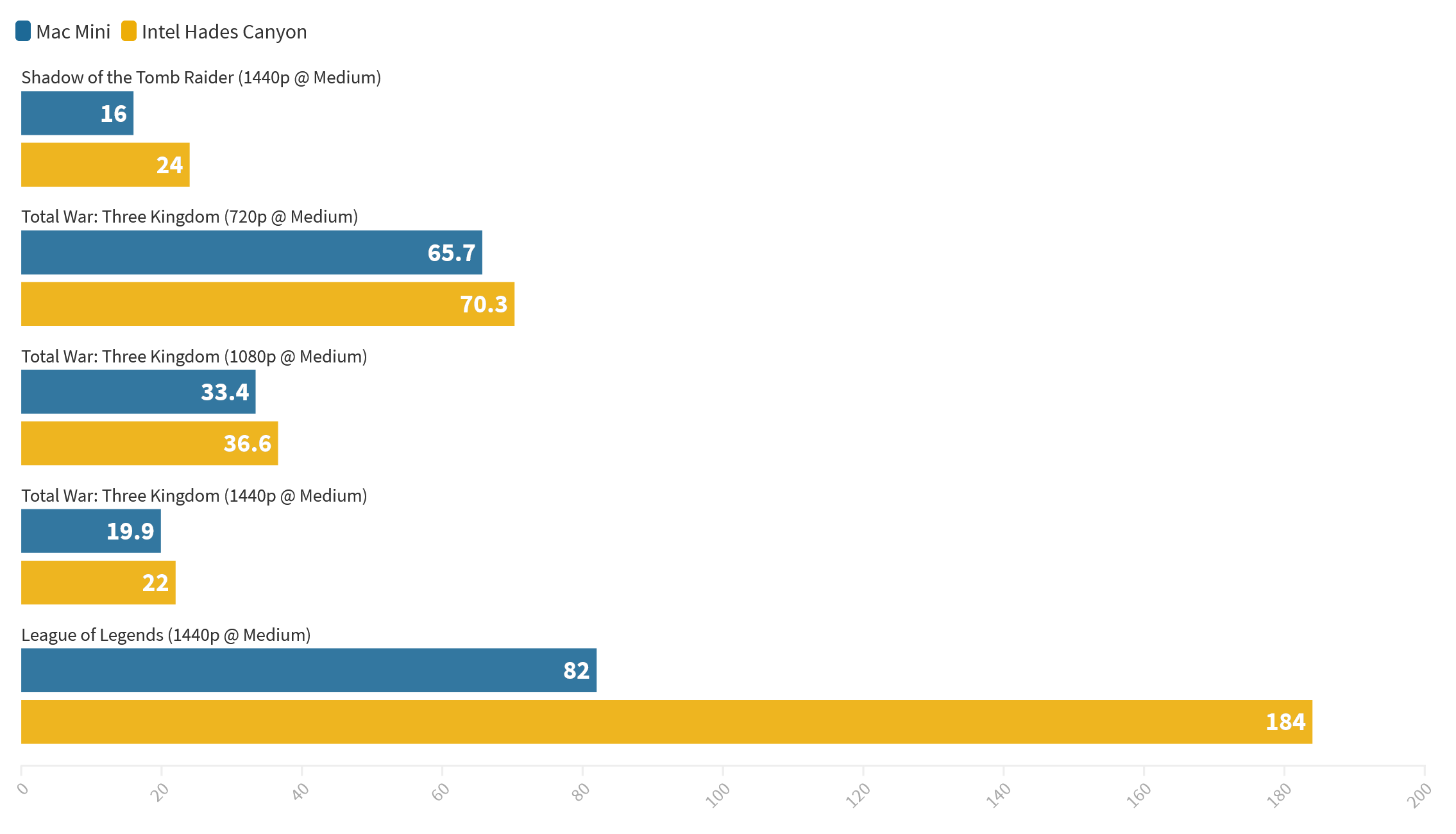 | | | |
| --- | --- | --- |
| | Mac mini | Intel Hades Canyon |
| League of Legends (1440p @ Medium) | 82FPS | 184FPS |
| Total War: Three Kingdom (1440p @ Medium) | 19.9FPS | 22FPS |
| Total War: Three Kingdom (1080p @ Medium) | 33.4FPS | 36.6FPS |
| Total War: Three Kingdom (720p @ Medium) | 65.7FPS | 70.3FPS |
| Shadow of the Tomb Raider (1440p @ Medium) | 16FPS | 24FPS |
When it came to more generic performance benchmarks, the results favoured Apple's Mac mini.  It did particularly well when it came to Geekbench's Compute test, where it absolutely crushed Intel's Hades Canyon NUC (which was equipped with 32GB of RAM).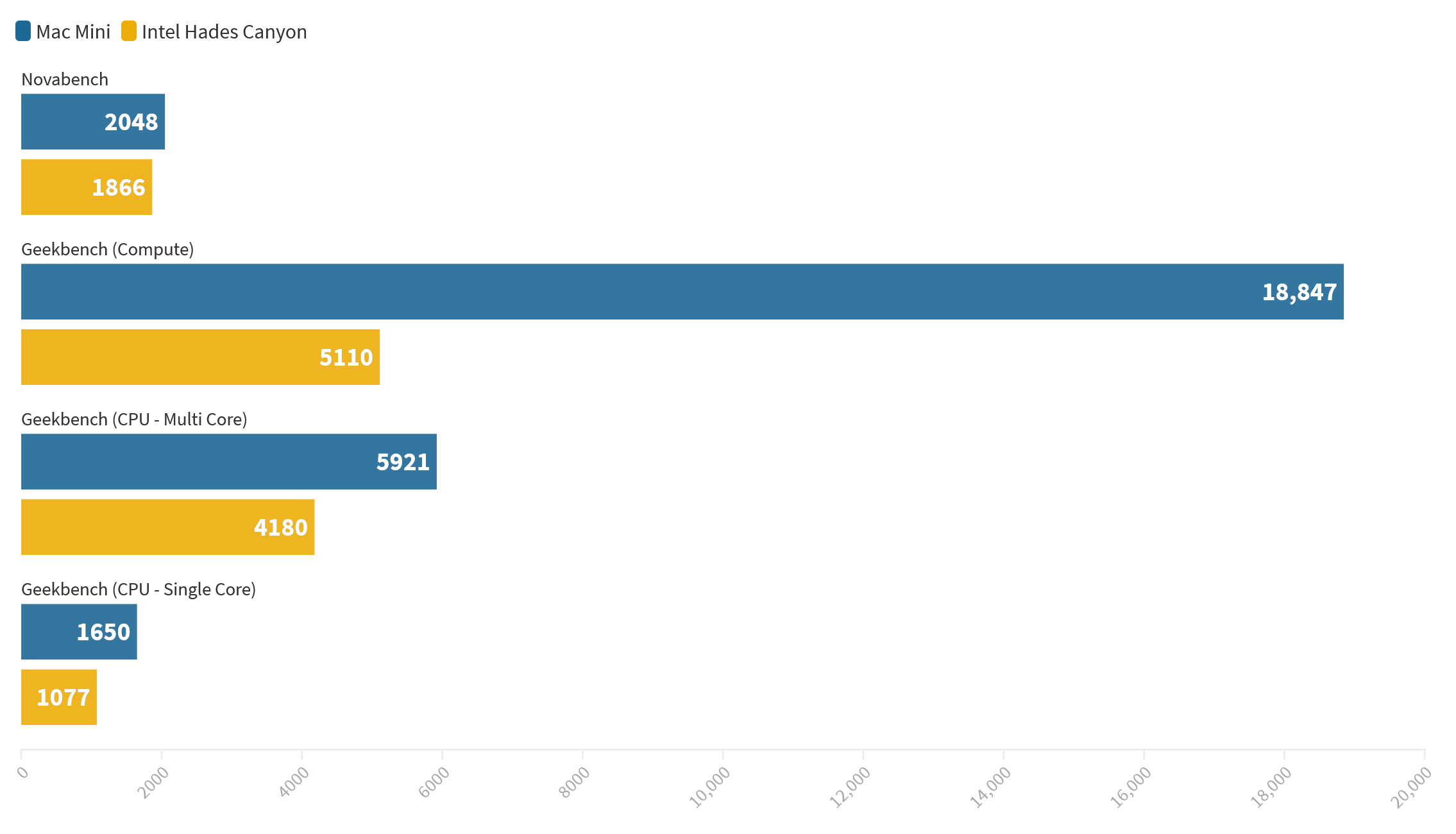 | | | |
| --- | --- | --- |
| | Mac mini | Intel Hades Canyon |
| Geekbench (CPU - Single Core) | 1650 | 1077 |
| Geekbench (CPU - Multi Core) | 5921 | 4180 |
| Geekbench (Compute) | 18847 | 5110 |
| Novabench | 2048 | 1866 |
The Verdict
If you're the kind of person who wants to buy a thing and then avoid thinking about it for a couple of years, the new Mac mini delivers a lot of bang for your buck. The set-up experience is superbly smooth, and while Microsoft has made strides with the latest versions of Windows 10, it simply can't compete with Apple on its home turf.
If, for you, value means not having to ever worry about any extras, then, by all means, the Mac mini is an excellent MicroPC option – even if the lack of software and gaming support is going to chafe before long.  Apple's new M1-powered Mac mini might bring with it a significant upgrade in terms of processing power, but it does little to solve the broader issues around gaming on macOS. It's not quite the same old story, but it's a very familiar one nevertheless.
If that matters to you or you're the kind of person who wants to strain every last moment of performance out of the hardware, chances are Intel's NUC will serve you better. It's much more modular and, thus, easy to upgrade or customise. You can even hook it up with an eGPU to make up some of the difference between them and a regular gaming PC over the long run.
Apple's M1-powered Mac mini is a gamechanger for processing power but the same old story of simplicity versus modularity on other fronts.
Byteside Newsletter
Join the newsletter to receive the latest updates in your inbox.