Sonos Roam review: the most Sonos experience yet
The Sonos Roam feels like the Sonos equivalent of an overnight sensation (thanks to 16 years of hard work). Buy one. You won't regret it.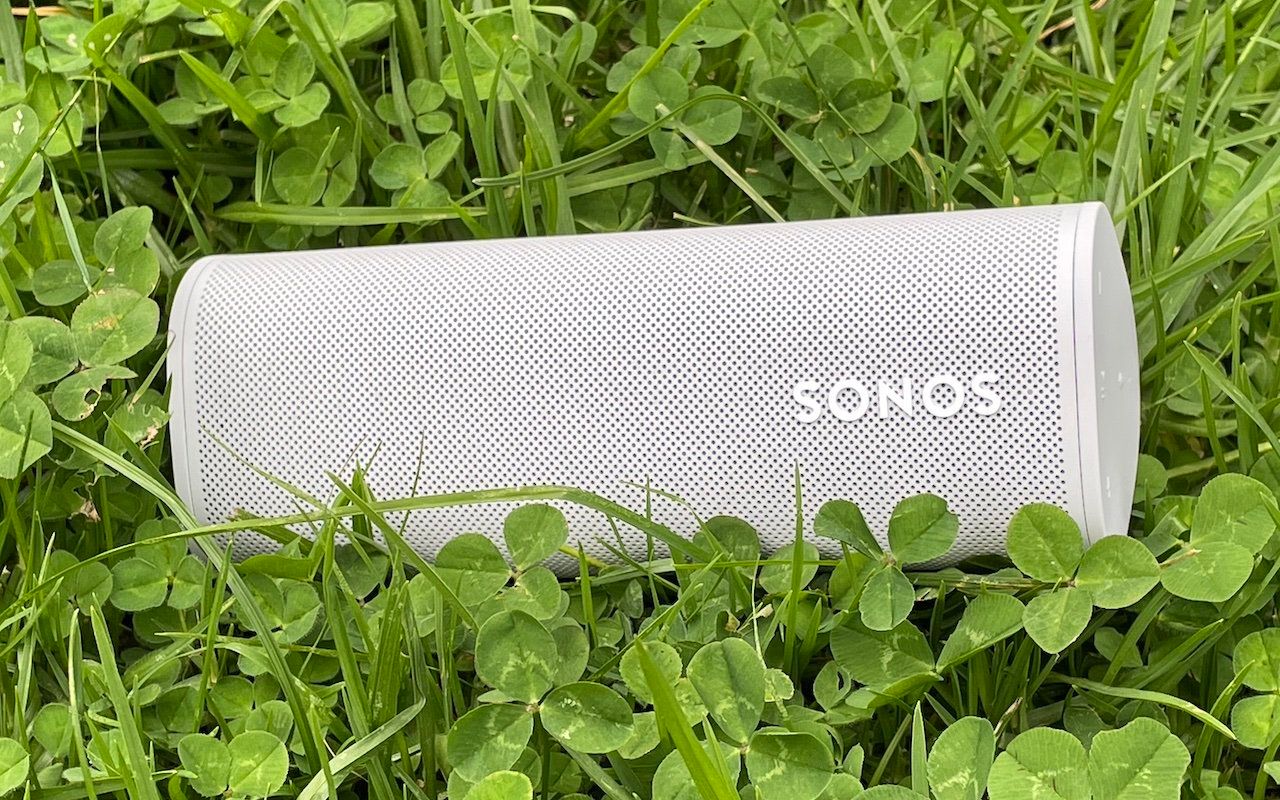 I'm in love with the Sonos Roam. It's that simple. I don't even understand why, but that's just what's happened over the past week of spending time with Sonos' first true 'portable wireless speaker'. It works, it works seamlessly, it works beautifully, and every excuse for not owning a Sonos speaker is now dead and buried.
Buy a Sonos Roam. You won't regret it.
Can I stop there? No? OK, let me explain a little more. The "I don't even understand why" definitely needs explaining.
I'm very on the record as being a big fan of all things Sonos. I have the company's speakers in many rooms of my house. Living room, kitchen, office, bedrooms… the only place I don't have one is the bathroom. And guess what? The Sonos Roam is PERFECT for bathrooms – it's IP67 rated so it is water and dust resistant. You can even take it into the shower with you and enjoy your music up close, or a podcast, without a fear in the world.
[I just remembered I asked them to make this speaker in a piece I wrote here two years ago...]
I've been wandering around the whole house with the Sonos Roam, even using it in those rooms I already have speakers in, and I can see how it really will become the perfect gateway speaker to the Sonos ecosystem. It feels like everything Sonos was always meant to be. All your music services, easily accessible, wherever you want them – in and out of the home.
The form factor is traditional Bluetooth speaker style, but it has the extra design cues I expect from this company's attention to detail. The scalloped cylinder, with a triangular style that points the speaker upward in a way that shoots the audio nicely into the room, or up into the air if you're enjoying it outdoors.
How it sounds
The soundstage of this speaker is nice too – it needs to be to compete in this market. At first I didn't really feel it sounded better or worse than any other Bluetooth speaker I've tested. Compared to bigger speakers the airspace just isn't there to really create amazing audio. But as the Sonos Trueplay Tuning system kicked in it did fill out its sound very nicely.
Trueplay started as a system where you wave your smartphone around in a room where you've installed a Sonos speaker and it plays a test tone (that freaks out your pets for two minutes) that bounces around the room, giving information to the speaker on how it should adjust its settings to give the best performance possible in the space it sits in. It's a very nice feature that is easy to use.
Since the first Sonos portable came along, the big and beefy Sonos Move, Trueplay has become an automatic feature. The speaker listens back to itself to work out what it needs to do to sound its best in the room it finds itself in – or the outdoor space you've taken it to. A few seconds after moving it somewhere, it knows it has stopped moving and it runs a test and reacts accordingly. It's clever stuff and I'm either taking part in a mass hallucination or it really works.
Sending it music
This is the easiest Sonos speaker I've ever setup. And it has to be, because more people who have never owned Sonos are going to buy this product than any before it.
Think about it. When Sonos first launched it was a niche weird little service you plugged your own speakers into. Then it launched speakers but they were big and had their limitations. There's been a slow roll of growth from there, but this? This has explosive potential for Sonos and I'm so pleased so many new people will get the chance to become Sonos users thanks to this gorgeous little unit.
Switch it on. Get the Sonos app. Tap your phone to make an NFC connection to pair. Then add your home Wi-Fi details if you're at home. If you have a bigger Sonos setup it all ties together instantly. If you've never used Sonos before then you can start adding your music service logins and discover the power of a fully operational Sonos speaker.
From outside the Sonos app, I could already just choose to send audio from any other app direct to the speaker as an option from my iPhone 12. So you don't have to use the Sonos app to make music happen. But where the 'gateway' comes in for many users will be the discovery that your Sonos Roam can enjoy audio direct from Spotify or Apple Music or Audible or Amazon Music or Bandcamp or Calm or Plex or SoundCloud or TIDAL or YouTube Music or dozens of other weird and wonderful niche streaming options. And whichever you choose, it will keep playing even if you leave the house with your phone and leave the speaker behind on the Wi-Fi for other people to keep listening to.
That's the dramatic difference between any Sonos speaker and any other Bluetooth speaker. It isn't just a conduit from your device to the speaker, it's integrated directly to the service thanks to the way it built its backend service to deliver audio from the internet to its network.
The Roam is designed so that if you take the speaker with you beyond the home, you can keep doing all things Sonos with it and it will seamlessly deliver that experience you expect via Bluetooth instead of Wi-Fi. It's a gem of a feature that, again, means nothing to someone who just buys this as a Bluetooth speaker having never owned Sonos – but that's the point. It works the way you think it should, it just happens to be that Sonos worked really hard to make it work this way but also make it feed into the wider Sonos ecosystem when you're back on your Wi-Fi.
It's one of those parts that often makes pundits suggest Apple should buy Sonos. The company has that 'magical' vibe 'that just works'. Apple should be so lucky.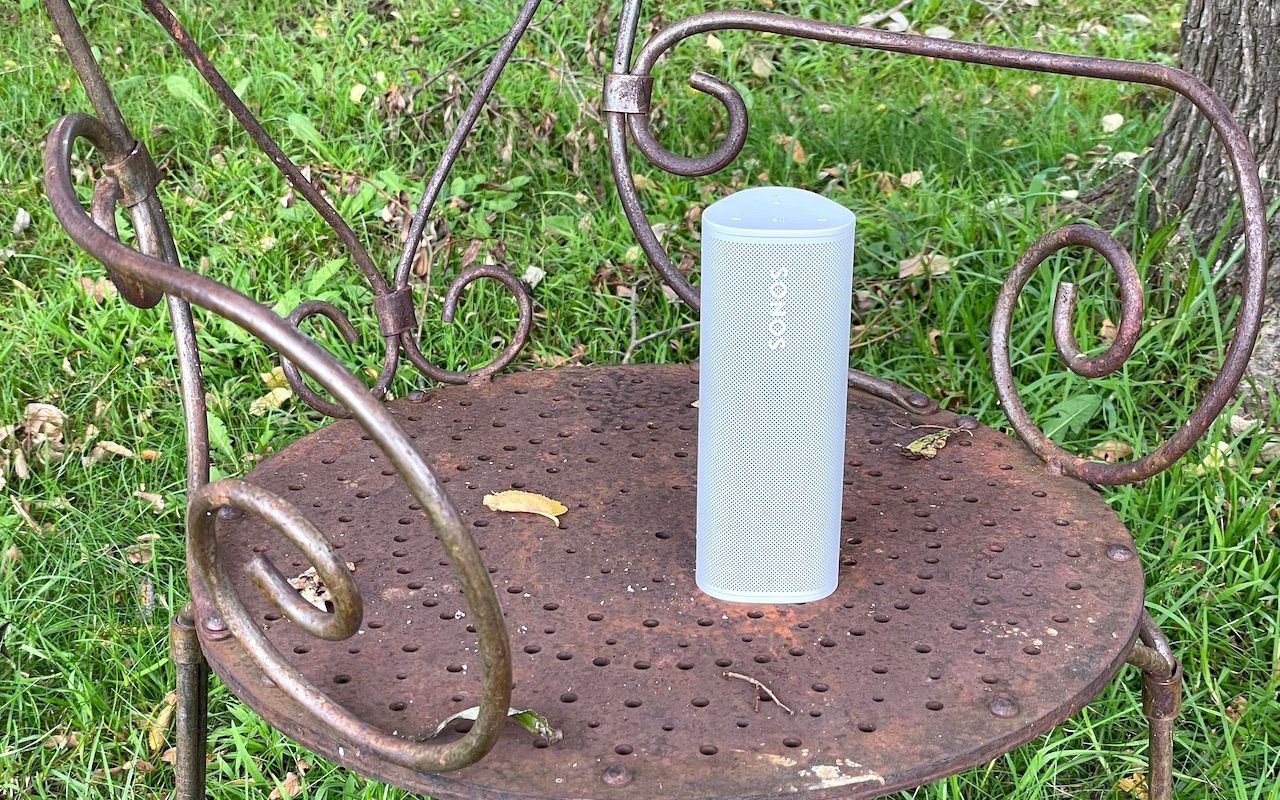 Subtle improvements over any other Sonos
The reason I've been enjoying the speaker even within a house full of Sonos speakers is some of the small changes that make a big difference.
For the past decade, Sonos has embraced touch sensitive buttons that control volume and play/pause features (they used to use pressable buttons). It's been fine for someone like me with mild ocular disfunction, but if you try to just reach over without looking it's not an ideal way to control a device. Our kitchen Sonos speaker is up on a shelf, which means we can't see the top – we end up reaching up and slapping it a few times hoping to hit the pause if we need some silence (or someone rushes to find a phone and use the app to turn it off).
The Sonos Roam uses rubberised embosses icons that are control buttons, which are very tactile. Reminiscent of Ultimate Ears Boom speaker controls. It's better for using the buttons if the device was wet – touch sensitive buttons hate damp conditions – but it's just a good accessibility upgrade in general. I hope future iterations of the wider speaker range use ridges or other tactile feedback elements to improve this aspect of usability too.
Even if you never leave the house with it, this is the additional Sonos speaker for a house that doesn't want to buy a Sonos speaker for every room in the house. Walk it to where you want to use it and it adapts to sound its best in the room you took it to. If I didn't already own a bunch of Play:3 speakers I'd have been thinking of the Roam as the right choice for kids' rooms – because then they can take it outside or use it wherever their life takes them, not just a private speaker that's just for their bedroom.
That's why I'm so enamoured with the Roam. It feels more personal than any Sonos before it, but it synchronises with your wider life in the home. It feels like how a family works.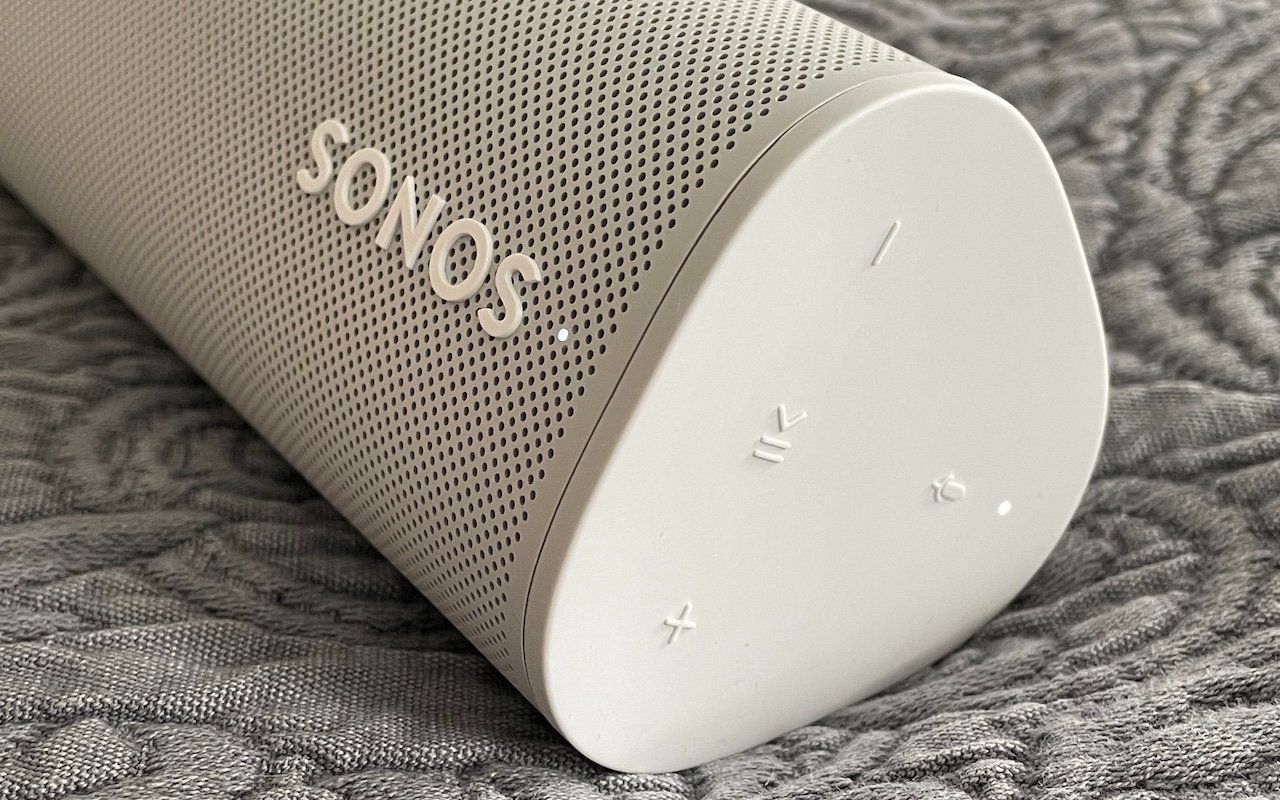 Wider features
The speaker out of the box comes with a single USB-C charging cable (with a USB-A power end to plug into whatever USB power plug or hub you prefer). As an option you can also purchase a wireless charging pad that it magnetically adheres to for easy on, easy off usability. The wireless life for the device is around 10 hours of use, which was pretty accurate from experience during testing.
You can also switch on Alexa or Google Assistant if you really want to. It's really not my desire to do this on devices I leave lying around the house, especially ones that I want to feed me excellent audio without ever pausing to interrupt because an AI assistant got confused and thought I asked a question. But if that's your thing, it's in here. Sonos has made a point of hardwiring the microphone to the light that shows if the microphone is on or off, so you know that if the light is off the microphone is absolutely not sending audio to anywhere you don't want it to.
Sadly, there's no stereo pairing out of the box (aka buy two and do stereo across the two), but Sonos has added this kind of feature to many other products in its range over the years so it's not a crazy theory. But some other speakers do that kind of thing (like the UE Boom mentioned earlier) so if that's your requirement, you can find it elsewhere.
Conclusion
I'm in love with the Sonos Roam. It's that simple. I don't even understand why, but that's just what's happened over the past week of spending time with Sonos' first true 'portable wireless speaker'. It works, it works seamlessly, it works beautifully, and every excuse for not owning a Sonos speaker is now dead and buried.
The price is $279. It's more than many other portable speakers, but the Roam really is more than many other portable speakers.
Buy a Sonos Roam. You won't regret it.
Byteside Newsletter
Join the newsletter to receive the latest updates in your inbox.