Gamer chair showdown: MSI MAG CH120 does kind of OK, I guess
MSI was brave enough to put up a chair for judgement in our ongoing gaming chair series. It wasn't very good, but had a key saving grace.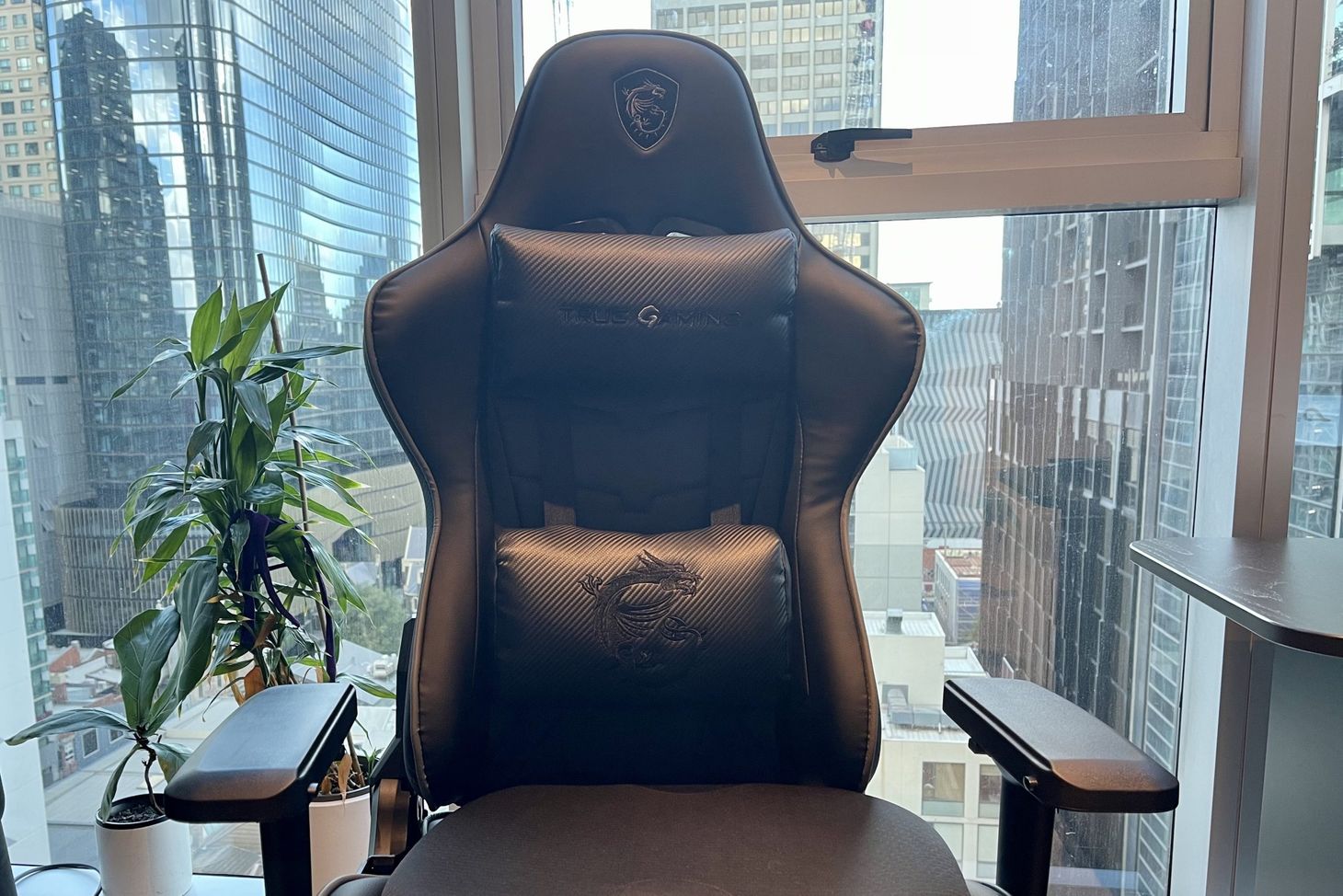 Last year I wrote about the terrible experience I'd had with my DX Racer gaming chair and put out the challenge to other gaming manufacturers to prove me wrong in my theory that all gaming chairs are bad.
Anda Seat was the first to put a chair where its confidence is, and I was super impressed – it's become my main chair and the longer I use it, the more I like  it.
MSI Gaming also put forth its challenger, the MAG CH120 Series ($499). But this time I'm afraid to say that it's not a winner. In terms of the materials, smell and cushioning, it's a couple of steps down from Anda Seat.
The good news, though, is that it's catering to an underserved group and doesn't appear to have an active vendetta against spines.
Construction
The first thing you notice when you open the box is the overwhelming smell of plastic. That's almost never a good sign. We had to have the air purifier on non-stop for a week just to reduce the smell.
I've built a lot of flatpacks in my time, and these instructions are some of the worst I've seen. There are three different lengths of screws, but at no point do the instructions specify which ones you should be using at that step. There are washers in the box, but none in the instructions, and not enough washers to use them with each screw, so when was I supposed to use them?
There are even spare parts in the box that aren't listed in the instructions, so at the end you're left stressed that you didn't put it together correctly. I appreciate having spares, but tell me they're spare so I don't waste time going back over each step to work out what I missed.
There are several key moments where things have to go on the left and right on the underside of the chair, but is it the left based on how you're looking at it now? Or when it's the right way up? It would have helped if the left and right had also been marked on the underside of the chair to make that clearer.
I will say that the Allen key tool in the MSI box was much, much more useful than the Anda Seat. It's a quality Allen key/Philips head screwdriver combo that I've now put in my toolbox for future use. So, thanks MSI.
What's included
The chair, lumbar cushion and neck pillow.
Observations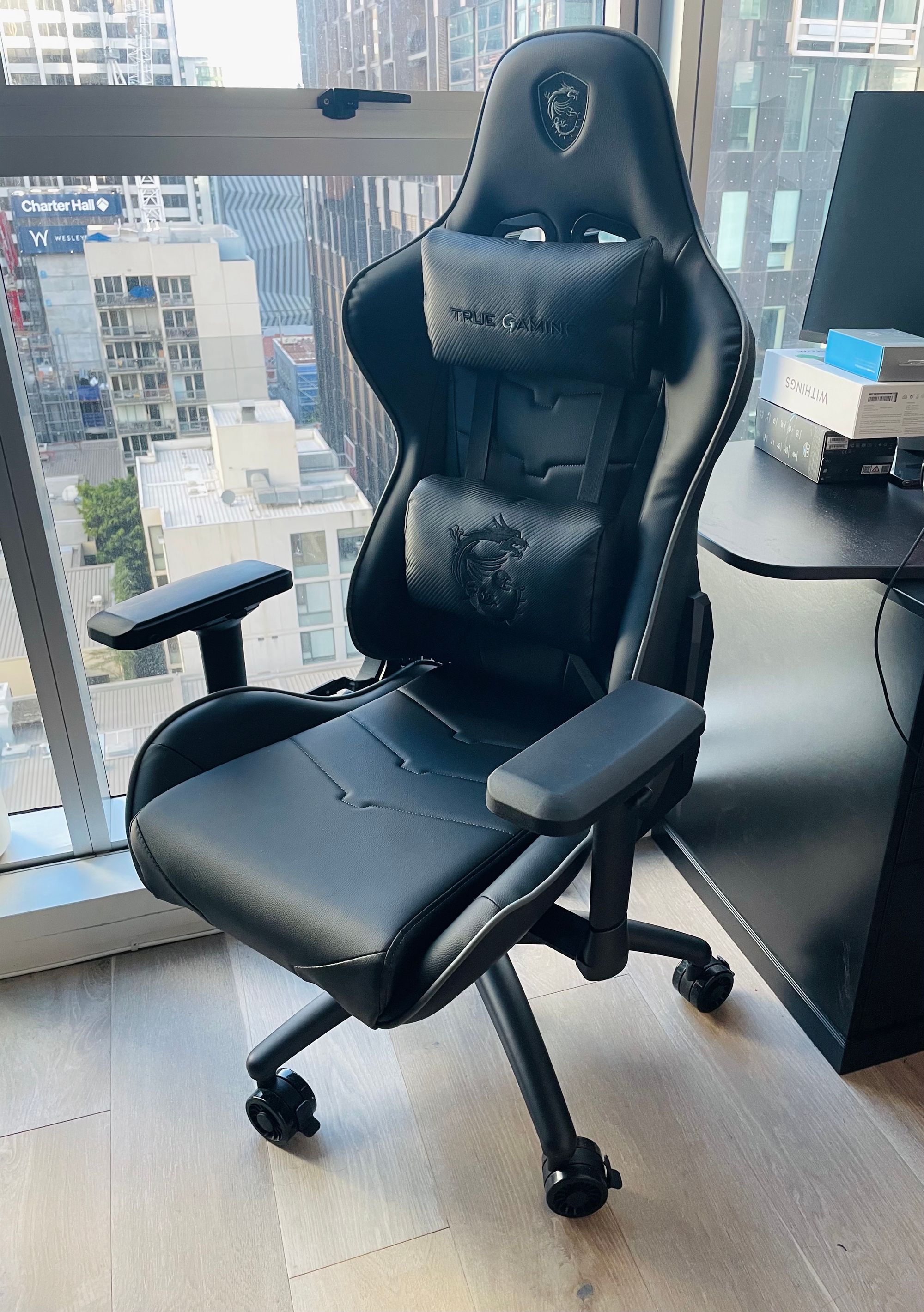 I am 175cm tall, and when I first sat in this seat, I felt like a giant trying to drive a VW Beetle. This is a chair that isn't designed for me. While that's kind of annoying for review purposes, I am always saying that there should be more gaming peripherals designed for smaller women. So, my 157cm tall wife, Karma Clarke, took over the actual chair review process from here and has been using the chair as her main work chair for several weeks, her thoughts are as follows...
The best feature of the chair is how good the pillow positions are. The lumbar cushion is perfectly positioned and easy to adjust, despite the ugly straps coming out of it, and the neck cushion doesn't push Karma's head out at a weird angle (unlike what the Anda Seat's neck cushion did to my neck). In fact, the entire chair is really easy to adjust to better suit her needs.
Because of the ergonomic design and good pillow positions, the chair itself is really comfortable. In fact, because it's the first gaming chair she's encountered that's made for someone her size, it's the most comfortable desk chair she's ever had. She greatly appreciates that finally, after years of playing games, there's a gaming accessory that seems made for her.
She likes the way it looks, with the all black pleather and little dragon details. I agree that it does actually look really cool.
Karma found this chair much more comfortable than the original DX Racer chair that started this whole quest. The cushioning in the seat of the Anda Seat is more generous, and the MSI does need the gel cushion for comfort, but once fitted with that gel cushion, it's actually pretty suited to Karma's comfort preferences.
Conclusion
It's great that there are gaming chairs made for smaller gamers, that's super important. I just wish they were either made out of better quality materials, or sold at a price that better reflected their quality. Sure, the Anda Seat is also expensive, but the Kaiser 2 is basically a Rolls Royce compared to the CH120's Toyota Camry.
If you are a smaller gamer though, and really want that gaming chair aesthetic for your set up, this is the best option we've seen so far.
Byteside Newsletter
Join the newsletter to receive the latest updates in your inbox.