Live music in Roblox and Fortnite — virtual concerts are here to stay
Royal Blood and Lil Nas X in Roblox, Travis Scott in Fortnite - how music artists are taking over the biggest games with virtual concerts.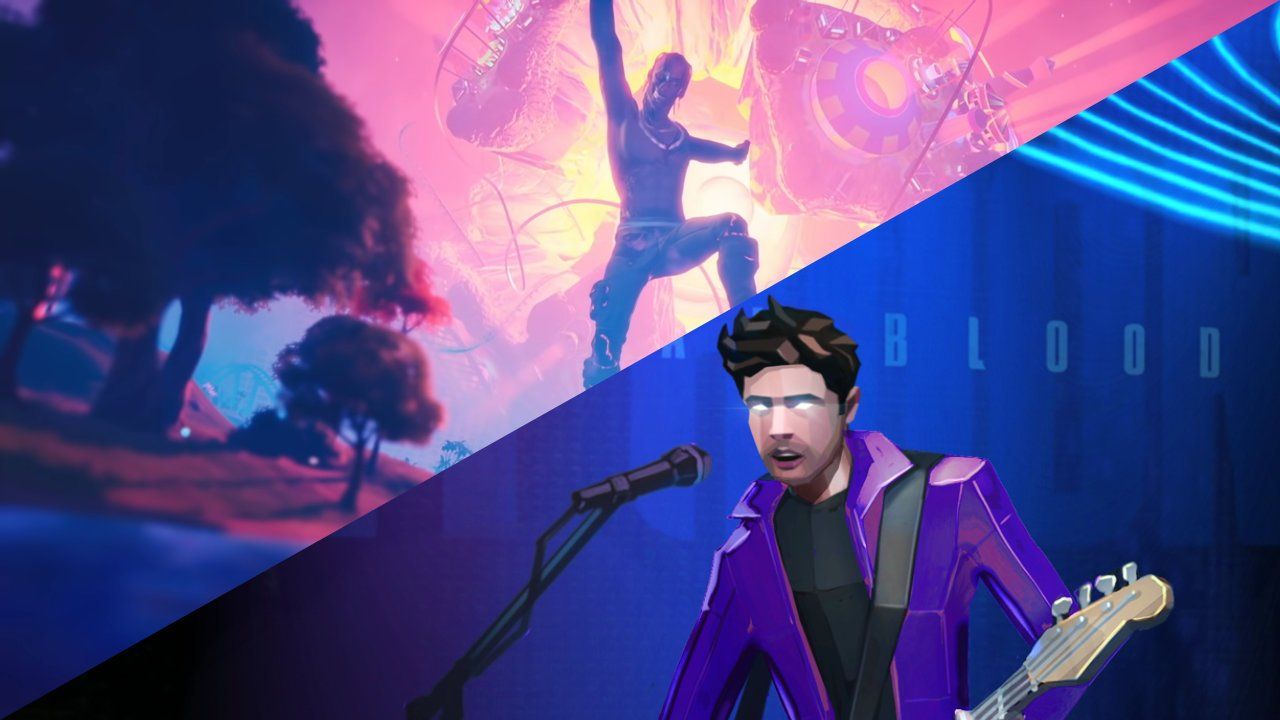 There's nothing quite like rocking out in your living room where no one can judge you.
Live music was one of many missing aspects of life during the 2020 pandemic, and is a loss still deeply felt worldwide in 2021.
A flow-on effect stemming from musicians unable to tour is a greater willingness to embrace technology to perform live shows in different formats.
Livestreamed gigs and special events in the virtual worlds of videogames have created more accessible experiences totally unique from what's possible in-person.
While the uptake of artists trying virtual performances increased following the events of 2020, large games like Fortnite pioneered the concept before it became a necessity.
Fortnite's astronomical concerts
Fortnite's ability to reflect cultural phenomena — and create its own phenomena — is unparalleled. Due to the popular game's capacity for sandbox experiences alongside competitive multiplayer, any number of things is possible.
Back in February 2019, Fortnite hosted a 10-minute set from EDM artist Marshmello, replete with a custom stage setup and flashy visuals. Plus, as is one of Epic Games' prime moneymakers, Marshmallow-themed cosmetics available for purchase.
The concert alone was entirely free, however, demonstrating a revolutionary way of how videogames can be leveraged as an entertainment medium beyond their initial purpose.
Then in April 2020, well and truly after the pandemic set in, rapper Travis Scott teamed up to deliver a Fortnite spectacle that was astronomical by name and nature.
Instead of performing on a virtual stage, Travis Scott's show took virtual attendees on a stunning audiovisual journey pushing the limits of what Fortnite's live events could achieve.
The "SICKO MODE" performer reportedly made $20 million from the Fortnite collaboration, which included nearly 30 million unique attendees across the three in-game shows.
More recently, Fortnite teamed up with Rocket League — developed by the Epic Games-owned Psyonix — to put on an in-game show featuring DJ sets from Kaskade, a Grammy-nominated artist.
In Fortnite, many of these events take place in the experimental mode called "Party Royale", acting as an area where combat is abandoned in favour of soaking in the entertainment.
It's easy to dismiss much of this as shameless cross-promotion of brands conspiring to sneak advertising in front of an audience who don't consume traditional media.
Part of virtual concerts is undoubtedly about promotion. This is not to say promotional content is inherently bad, though.
When a giant Nike sneaker-wearing Travis Scott stomps around in Fortnite as part of a unique concert not currently possible in any other medium, it's difficult to remain sceptical.
Epic Games' head of brand, Phil Rampulla told NME due to a changing landscape, branding opportunities need to adapt to the audience.
"You've got to bring something that's awesome," Rampulla said. "Otherwise it's 'that's just an ad.' And those things are just getting glossed over."
Roblox's old town road
Not to be outdone, Roblox, the creative online game focusing on user-generated content, has also hosted concerts of its own.
Roblox is no small fry, either. The Roblox Corporation recently became a publicly traded company, where it was valued at more than a staggering $40 billion.
Lil Nas X graced Roblox last year for a series of shows, in a similar larger-than-life setting to Travis Scott's Fortnite performance, generating 33 million total views over two days.
These numbers clearly indicate people are interested in what's being served up by artists in the virtual environment.
Where it can stumble is when the effort doesn't match the possibilities the videogame platform enables.
Just over the weekend, UK rock duo Royal Blood took to the Roblox stage to deliver a three-song set as part of the 8th annual Bloxy Awards.
The gig — which, at the very least, sounded like a live recording, unlike other artist's "performances" deriving songs straight from their LP recordings — was to cap off the awards and promote Royal Blood's new single "Limbo".
"Limbo" is a ripping track and fits with the rejuvenated hard disco rock sound the duo are going for with their upcoming third album Typhoons, but the production value of the set was lacking.
Opting for the static stage presence instead of a more dynamic approach made for dull viewing — conversely, the musical performance couldn't be faulted.
Granted, comparing Royal Blood's show to Travis Scott's is somewhat of an apples and oranges scenario. Where one was the main attraction, the other was simply a headline of a larger event.
Virtually there
Videogames aren't the only platform for virtual concerts. In October last year, Billie Eilish produced a livestreamed performance and sold tickets for fans to virtually participate.
It was a clever way of having a live show without needing to put everyone in giant bubbles, like The Flaming Lips did. Although that does sound like a lot of fun.
Eilish's multi-camera setup in a studio would've made for a more intimate experience than the grand show Fortnite enables, especially considering the performance was genuinely live.
Both formats have their place, however, and offer different methods of artistic expression.
On the other hand, Riot Games with League of Legends has experimented with different types of gigs via fictional K-pop group K/DA.
K/DA's members aren't restricted to the animated confines of their music videos or within League, they've also appeared as part of spectacular mixed-reality ceremonies at international esports tournaments.
With the sheer breadth of digital formats available, virtual concerts are here to stay — even when it's safe to pack into arenas once again.
Byteside Newsletter
Join the newsletter to receive the latest updates in your inbox.