Zack Snyder's Justice League has become sentient and self-aware
With four hours of Zack Snyder's Justice League on the way, and a revised Joker from Jared Leto, it's clear we live in a society.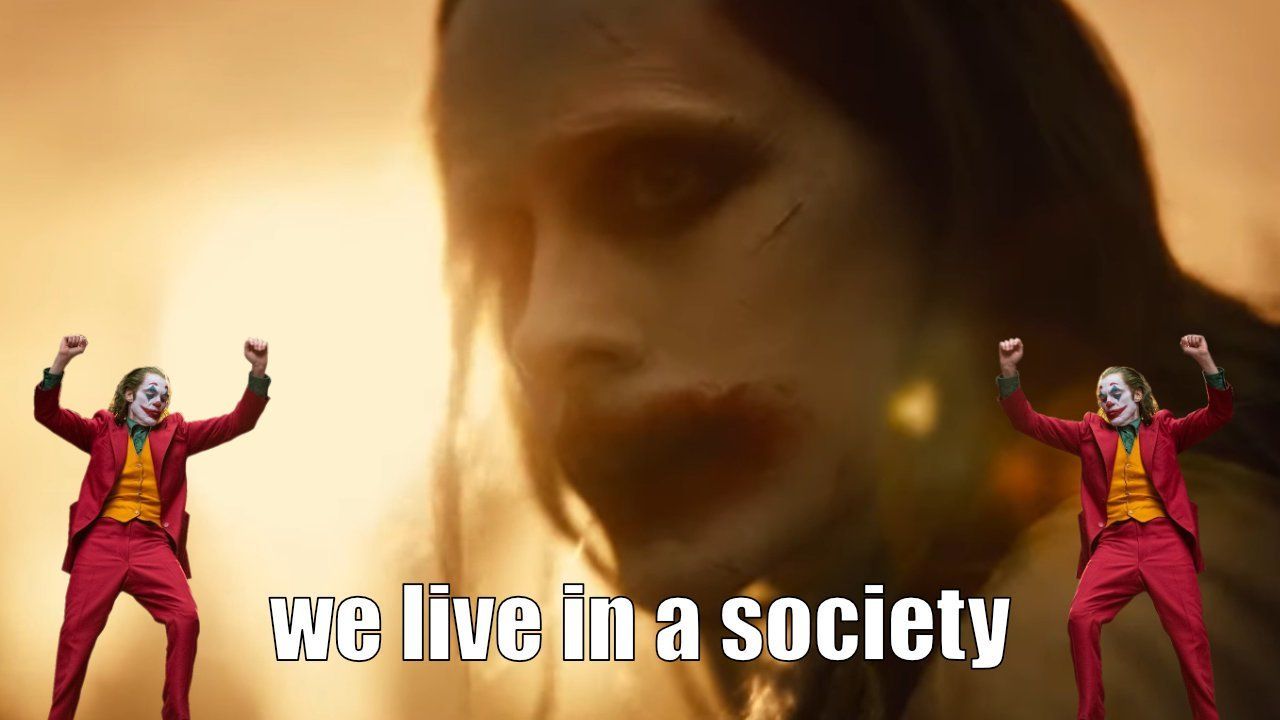 He said it, folks, he bloody said the line.
"We live in a society."
With the official trailer dropping for Zack Snyder's massive director's cut of the Justice League film, it's clear everyone involved has spent a lot of time online.
In among the flashy action and very serious brooding from each of the flagship DC Comics' heroes, a revamped version of the Joker played by Jared Leto has turned meme into reality.
During the trailer's closing moments, Leto breathes life into "we live in a society", pausing with a deliberate self-awareness — either through delivery or editing — before adding "where honour is a distant memory" as he turns to Ben Affleck's Dark Knight, revealing a distinctly tattoo-less version of the clown prince of crime.
"Isn't that right, Batman?"
Hang on, hasn't Justice League already released?
The Justice League film, DC's answer to Marvel's wildly successful ensemble Avengers movies, originally released in 2017 to mixed reviews and just over $650 million in box office takings, which is widely considered a disappointment for such a notable release.
One of the ongoing controversies plaguing Justice League was its messy production, including extensive reshoots by Avengers director Joss Whedon following Snyder's departure during post-production due to a family tragedy.
After years of online campaigning from dedicated fans, Snyder's original vision will launch via HBO Max — what Christopher Nolan dubs the "worst streaming service" — on 18 March.
Known as Zack Snyder's Justice League, the re-release will reportedly run for a whopping four hours, thanks to the director's added tinkering.
"We live in a society" explained
The phrase "we live in a society" has become an internet meme taking the piss out of ultra edgy types online, commonly associated with imagery of the Joker, who was something of a poster boy for online edgelords.
Junkee's Joseph Earp explains the meme is a response to those online who feel shunned by society and take to the internet to boast about how they are better for it.
In lampooning the self-aggrandising tone of these proclaimed outsiders who lack self-awareness, "we live in a society" stuck as a phrase designed to sound profound but ultimately say absolutely nothing at all.
To look further into its origins, I looked up the Know Your Meme listing, which was so crass, crude and cringeworthy that I couldn't bring myself to link it here. I'm sure you'll be able to find it if you're that interested.
Now that Snyder and Leto are on the record as being on the "we live in a society" train, expect to see plenty more of the meme from here on in.
Byteside Newsletter
Join the newsletter to receive the latest updates in your inbox.