Talking to Team Atlantis, the teen girls who just Kickstarted a new game
What were you doing at 14? After a win at a Girls Make Games summer camp, Team Atlantis funded its first game. We have a chat with them.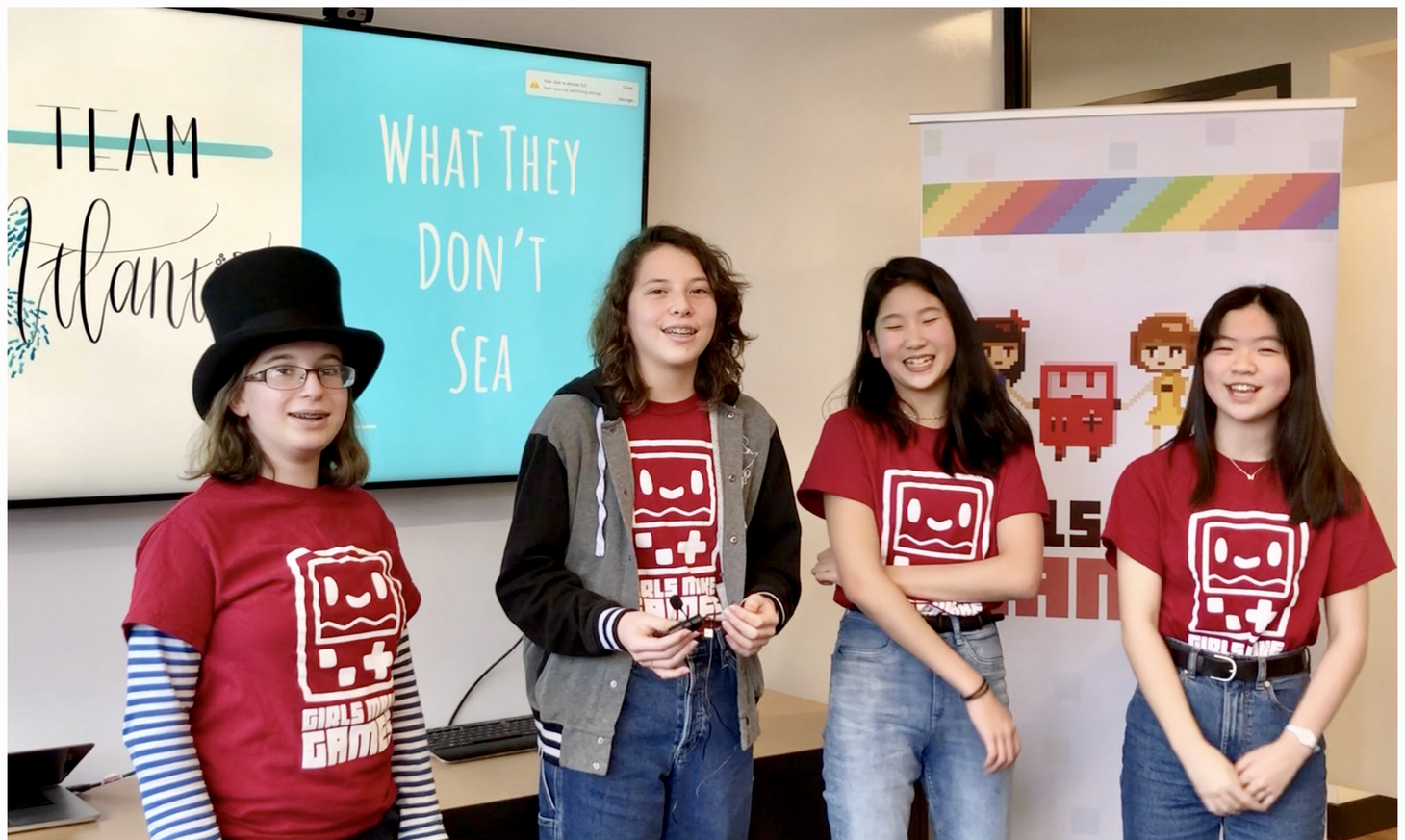 Making games is hard. You really have to want to do it and have a good idea that you want to bring to life. But more and more, that's the hardest part and if you have those two factors covered, the rest gets easier.
More and more, making games is becoming more accessible to achieve, letting more and more people choose to get into game development.
One such group is Team Atlantis, under the guidance of Girls Make Games, just wrapped a successful Kickstarter for its first title: 'What They Don't Sea'.
Described by the group as a "platformer based loosely on the fear of the unknown and the ocean that delves into finding the beautiful and where you found that fear."
The game puts players in the shoes of a marine researcher, aiming to teach its players about respecting the strange and beautiful ocean depths.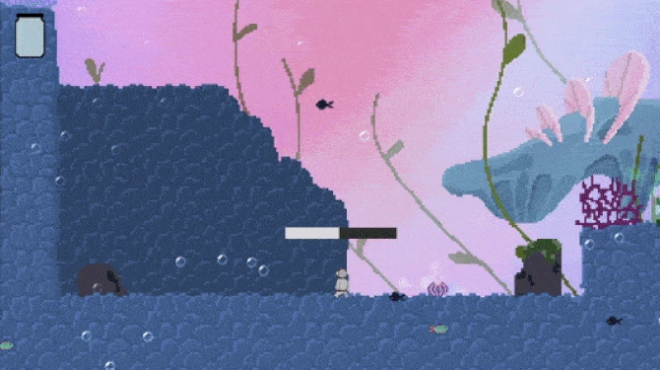 Twyla, Catie, Claire and Riley, the group of middle school students behind Team Atlantis, are responsible for this strange and delightful romp through the ocean floor. Long before the Kickstarter, they worked to put together a working prototype of three zones. Of course, this wasn't without its own learning curve.
"One of the first challenges was when we were trying to build levels," says Twyla, explaining each took a turn designing a level and constructing a tileset in Unity. "We actually ended up losing all the designed levels. So we had to rely on the sketches people had made and very quickly put all the tileset pieces together. It was so stressful!"
Thankfully, this was during week one of the project, giving the team plenty of time to learn from the mistake and prevent further issues.
For Riley, though, as a first time developer her biggest challenge came toward the end. "I had to build a level while I was away from everybody and had to send it all the way back so it was kind of hard to communicate."
In spite of these difficult early trials, however, Team Atlantis took away the top prize at the 2019 Girls Make Games Demo Day. It was this early version of the game that went on to be shown as a proof of concept on the Kickstarter, with Team Atlantis ready to expand the game with the help of a larger team to create a finished product and launch the game on Steam.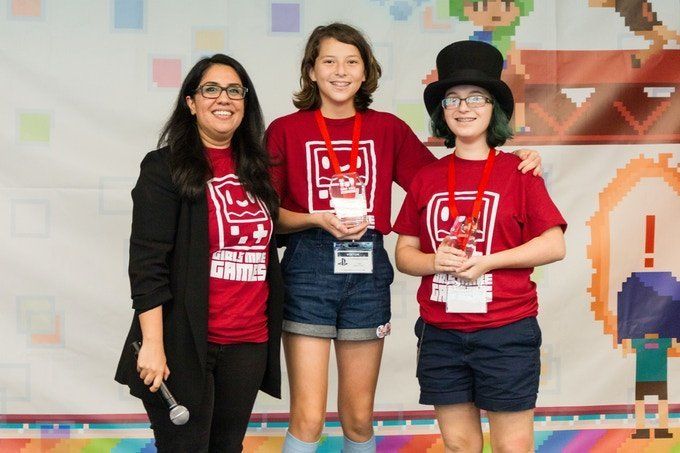 Girls Make Games provided the group with mentorship and walking them through the entire process of game development, from initial pitching through to the finer points of development and the wider games industry.
They each took away different skills and lessons from the experience. Twyla was delighted to have learned C#, Riley found big lessons about time management, Claire delighting in the research aspect and the marine life she's learned about, and three time Girls Make Games camp veteran Catie just soaked in every aspect of game development.
Friendship and teamwork, of course, were highlights for each of the girls and it shows in the cohesive final product.
One of the most important aspect of the product to the girls is the environmental message, though that wasn't the only message they wanted to get across in their game.
"We put a lot of emphasis, kind of in a subtle way, on gender bias. We wanted to make it so that anyone could find themselves in the game and we highlighted that in the presentation," says Twyla.
The lead marine researcher is completely gender neutral, with no name being given at any point or visual cue.
Though Twyla does also point out the slightly pudgy nature of the protagonist, purely because "it's super cute".
Which is very true. They are an absolutely delightful little protagonist.
Catie also points out the importance of how the message is presented. "We put in a lot of less popular sea creatures. We didn't put sharks in there because we didn't want to antagonise them."
Claire adds to this, explaining the importance of learning about the creatures you encounter on an accessible level, providing basic facts in a fun way.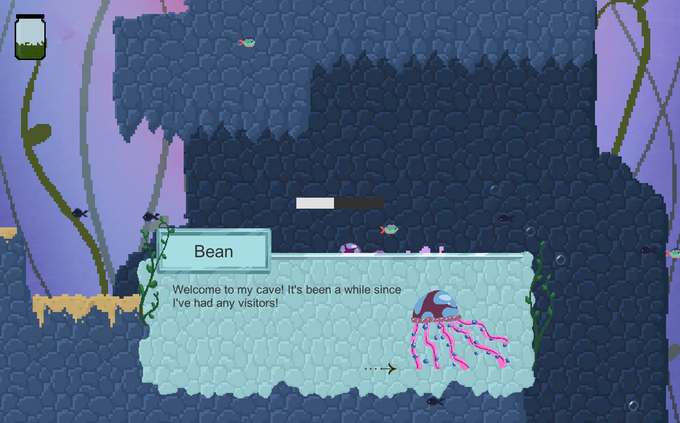 Curious, I asked about what kind of other games inspired them in developing their own project and was impressed by the interesting and diverse answers.
Twyla cites Supergiant Games, specifying Transistor as her favourite title. "Transistor has this very interesting combination. Sound plays into the game really beautifully and I wanted to bring in that aesthetic to the game."
Claire's inspiration came from Monument Valley, specifically the unique graphical style of it. "I have played it a couple of times over just because it's so pretty. Everything about the game is pretty but it's also simple because it's based on a geometric aspect."
Taking from this, the team tried to emulate the use of graphics in their own game, using colour palettes and pixel art in order to evoke emotion in their players.
Catie says pixel art was the obvious choice, "I mean, it was mostly because I mean it was clearly easier to animate everything," she says, before adding that it also added a nice feel to the overall game.
They took inspiration from a range of pixel art based games in order to create something that wasn't just easy to animate, but created a sense of emotion.
Even Minecraft and its art style and tilesets provided inspiration, with that having been the only game Riley had previously been into, with their art drawing inspiration from the colours and environments of the game.
As a kid, I remember being fascinated by game development, but thinking it was all just coding or things that were too complicated for me to wrap my head around.
I had to ask them, what would they have said to other girls in their position that would have felt similarly?
"Do it!" was the overwhelming message I received from these young ladies.
Even if it's just making a simple game from block code, that's still a finished product. That there are plenty of people who will be willing to help, whether that's through social media or through local schools or programs.
From a simple idea, Team Atlantis developed a concept, won an award, and are now set to release their first game on Steam in 2022. More importantly, they've all made an amazing friend group and developed skills that will help them for life.
If girls like these are the future of the games industry, then it looks very bright indeed.
Byteside Newsletter
Join the newsletter to receive the latest updates in your inbox.