Tado Smart AC Control V3+ review: makes your AC smarter, but no genius
With the Tado Smart AC Control V3+ you can turn your regular old aircon into a smart device. We check out just how clever it gets.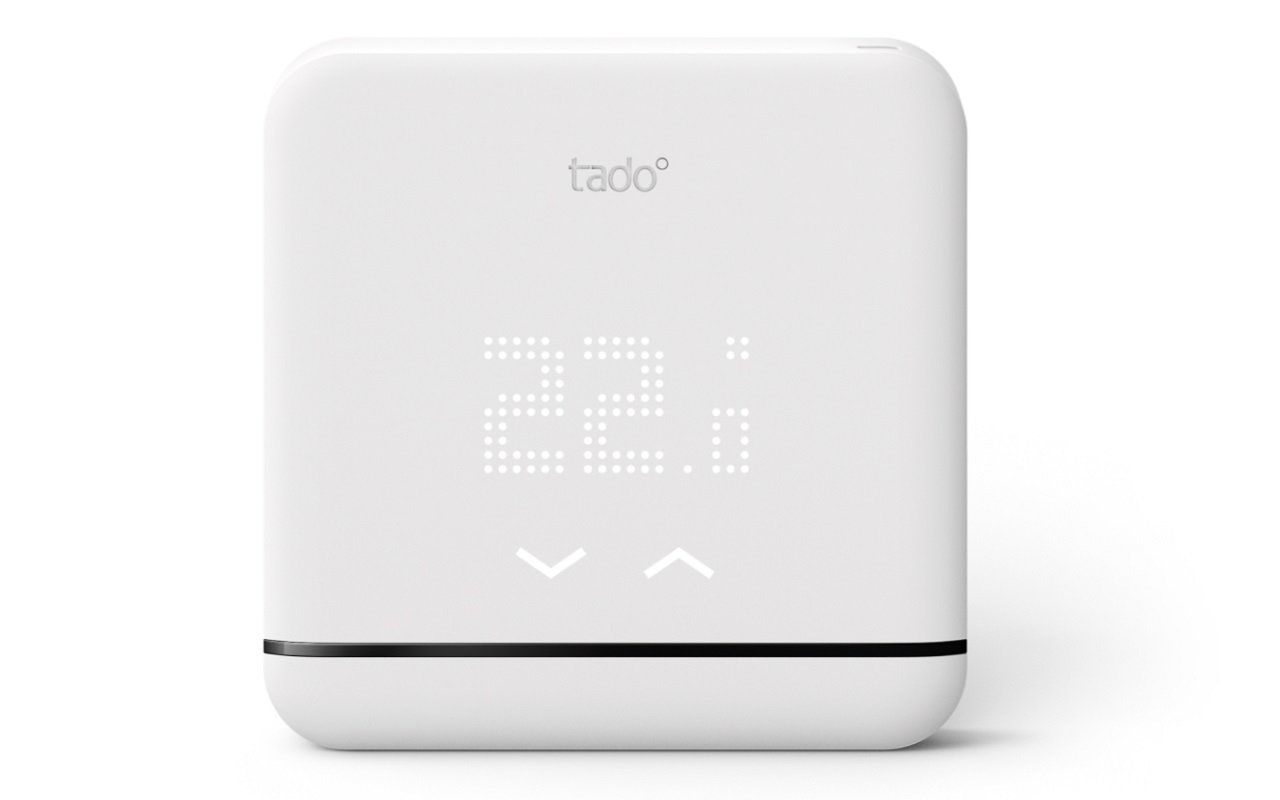 A few years ago, after much scrimping to put aside enough money, we bought a reverse cycle air conditioner for the loungeroom. It's a decent little unit, but at the time we had to make the choice whether or not to get a smart device or keep it stupid.
As it turns out, our wallet made the choice for us. We kept it stupid.
When we were looking, an aircon with smart capabilities such as Wi-Fi control added several hundred dollars to the cost of a unit. It was have a dumb aircon or no aircon.
And while our unit has been mostly fine, I've always been a bit sad it's not smart. I've really enjoyed the convenience of using my phone, or Google Assistant with our smart lighting devices like the Nanoleaf Canvas. Being able to control them – even when I'm not home – is surprisingly helpful. Doing the same with the aircon feels like a no brainer, but it's not so easy or cheap to simply replace your whole air conditioner with a smarter one.
That's why products like the Tado Smart AC Control V3+ units seem very clever. They turn your dumb aircon (or heat pump, but I don't have one of those) into something smarter, without needing a total upgrade.
A Tado Smart AC Control V3+ will currently set you back $179 at most retailers. When I consider the smart air conditioning unit equivalent of the one we now own was over $300 extra this feels like it could be money well saved.
Functionally, Tado is quite easy to set up and works with most brands of AC but you should check compatibility first. When setting up you'll need to download the app, sync the Tado, and find a place to install the unit where it can communicate with your Wi-Fi and AC. I moved this one around the room a bit to test and found it to be pretty responsive in most areas, though it did work best directly across from my unit, which makes sense.
Once it's all connected you can start using the Tado to control your aircon, either via the app or with the basic touch controls on the receiver unit. Personally I mostly use the app as it's the whole reason I was interested in the product anyway.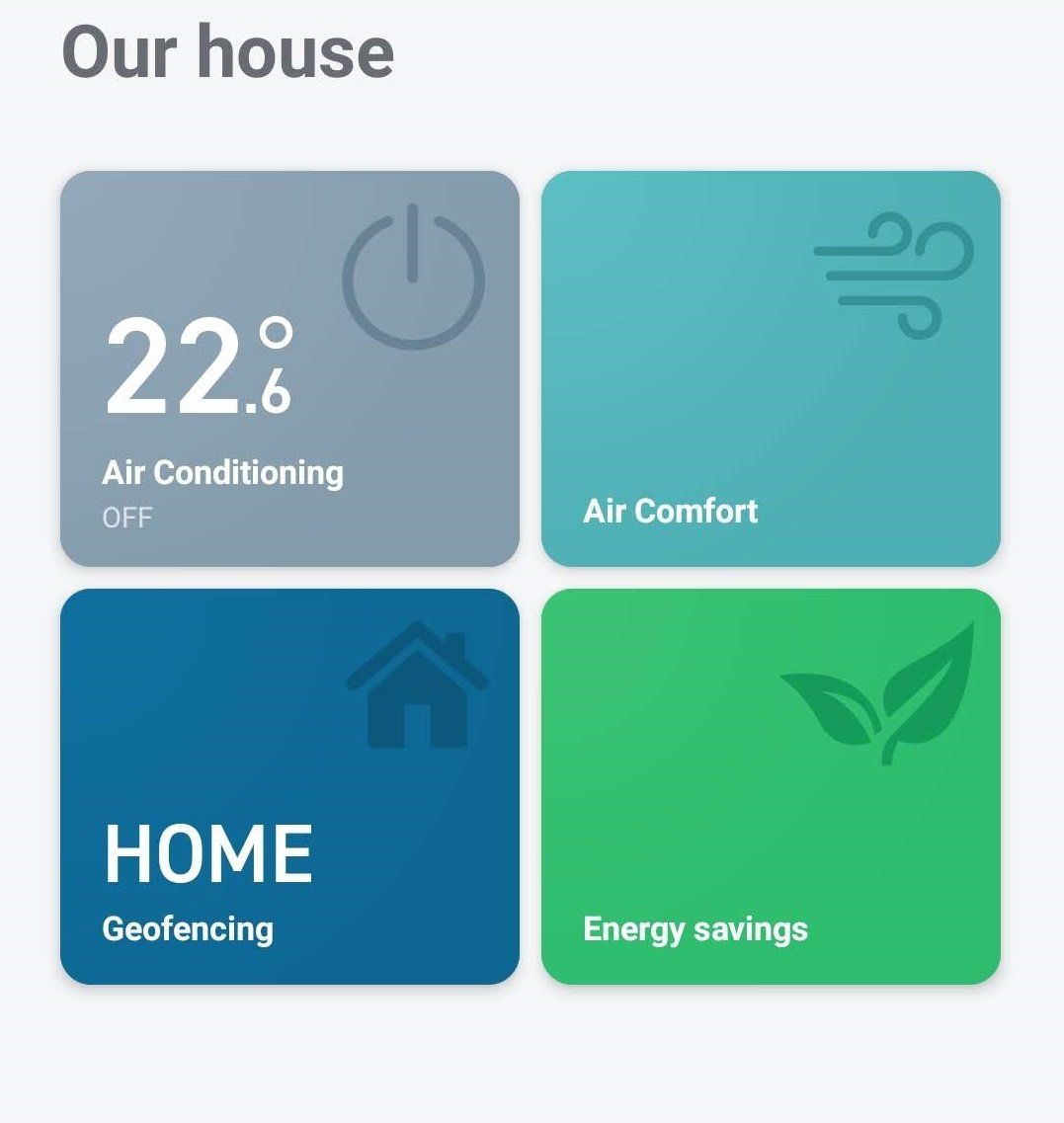 Sadly, the app is a bit hit and miss.
It took me a bit longer than I'd like to admit to get comfortable setting the temperature and just using the app controls. Everything is tied into the smart scheduling feature which lets you fully set up a calendar for climate control needs. This is a neat feature but can be quite confusing when all you want to do is turn on the cool.
From the home screen of the app you have to choose the "air conditioning" panel. This gives you a full screen display showing the current temperature and humidity, options to go into the smart schedule and a big button telling you what your aircon is currently doing.
If this is your first time using the app, it probably says off. You have to tap this to make immediate changes. This will open a window with your aircon controls. It's just odd in a few ways.
For example, you have to drag upwards to change the temperature before you can change any other settings. But even doing that wasn't immediately obvious to me. Now that I know, it is all very easy. But it's not something that felt intuitive while setting up, which was pretty frustrating at the time.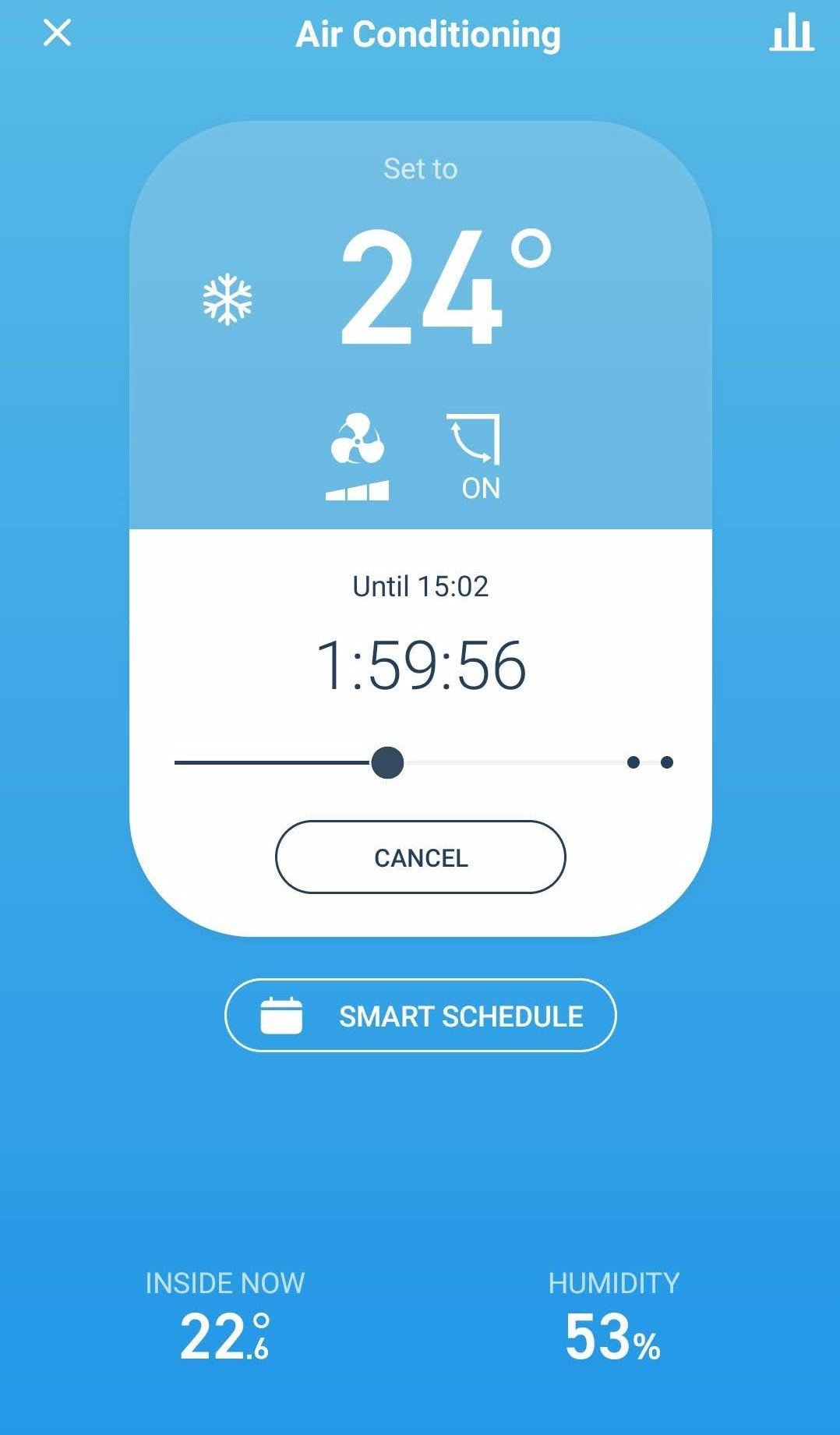 There are a few other nice features but they're also a bit confusing.
Tado will automatically apply time limits to how long the aircon runs for. This is great, because it means you're less likely to run up your bill but if you haven't noticed it can be a bit baffling as to why the aircon keeps turning off. This can also be adjusted, but doesn't take away from the initial confusion.
To this end the Tado app also features an Energy Savings panel, so you can see how much your scheduling, timed turn offs, and other features have helped you save. I'm not too sure how this works though. Mine thinks I've never saved any money, which is probably a true and fair criticism of my life choices.
There's open window recognition, geofencing you can link to your phones so your scheduling can know whether you're home and away, and air comfort readings.
Some of these features are supposed to get additional functionality if you choose to pay money and subscribe to Tado's Auto Assist function. After trying it, I don't think that's necessary. I was more than happy with the regular functionality, and honestly have a lot of trouble telling what the sub is even giving me.
The Tado Smart AC Control V3+ delivers everything I wanted out of a smart adapter for my already installed air conditioner. I can now control it completely via my phone, whether I'm at home or not and have even linked it to work with my Google Home devices. After a few months of use there's been a solid connection with no issues or drop outs, even after router resets.
Some of the additional features, like automatic turn offs and geofencing are also pretty cool but unfortunately others don't live up to their boasts or are just a bit over complicated or confusing to use.
This is a great device for turning your dumb air conditioner smart, but I wouldn't say it makes it a genius. That being said, I still think it's a great option for getting a bit more functionality out of your already established aircon for a fraction of the price of an upgrade.
The Tado Smart AC Control V3+ review unit was kindly provided by Rocket Comms.
Byteside Newsletter
Join the newsletter to receive the latest updates in your inbox.