EPOS GTW 270 Hybrid wireless earbuds review: amazing audio, poor 'hybrids'
These wireless earbuds designed for gaming feature amazing audio quality but lack seamless features worthy of 'hybrid' status.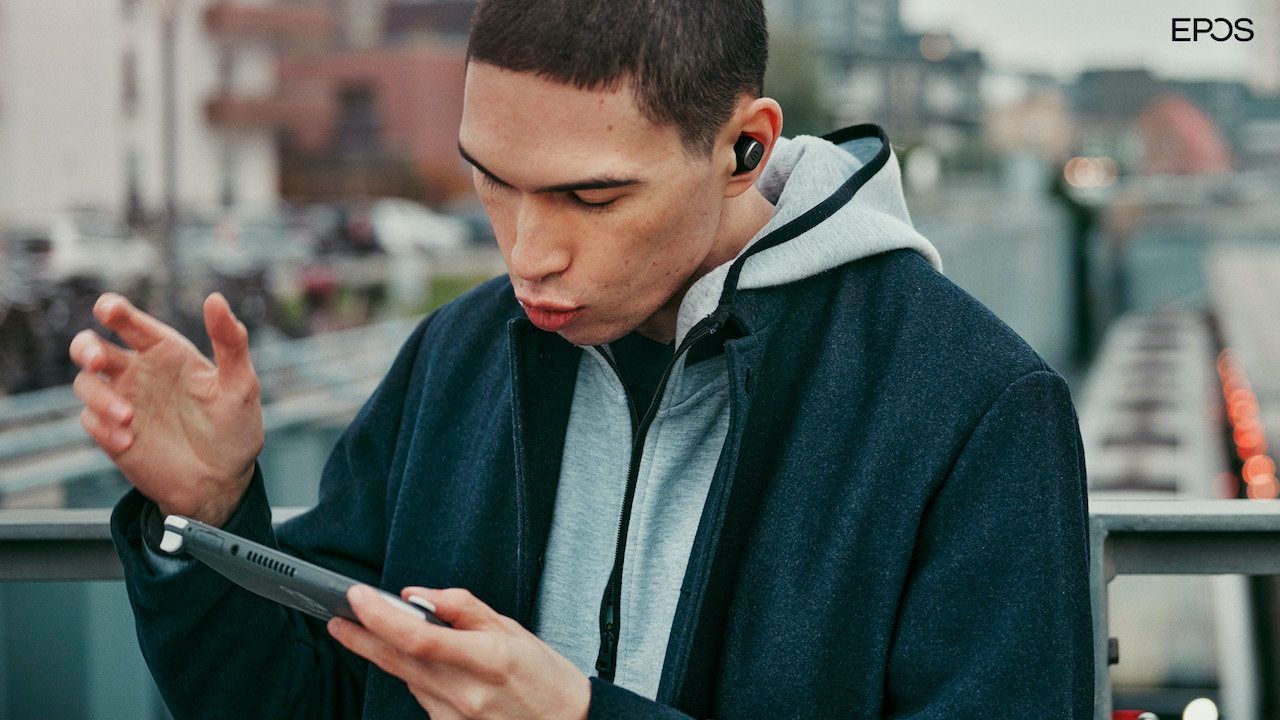 We've covered EPOS headsets here in 2020, and interviewed some of the chiefs behind the scenes on how the former Sennheiser Communications team has been building its own brand in recent times. So far the headsets have been classic gaming gear, and we've been impressed by the sound quality, the isolation and the mic quality overall.
With today's launch of the EPOS GTW 270 wireless earbuds the company enters new territory. It wants to become that everyday wearable for when you're out and about but also give you the full gaming quality a serious gamer would prefer whether they're on their PC, a Nintendo Switch, or a mobile.
To pull this trick off, the GTW 270 Hybrid kit comes with a USB-C connection dongle. When you're just chilling on your phone and not too fussed about lag-free audio, you can connect to your devices via Bluetooth 5.1. When you want to get high performance audio playback going you can use the USB-C dongle to connect over the aptX codec for low latency action.
The GTW 270 is IPX 5 rated, so it can handle your sweaty ears or a little drizzle of rain if you're out and about, and the company claims 5 hours of listen time and 20 hours total when you recharge in the included carry case. It's a 90-minute recharge to full.
But how do they perform? I've had the headset over the past month, putting them through their paces. And I'm just not sure they're solving a problem that a 'gamer on the go' is feeling the need to solve.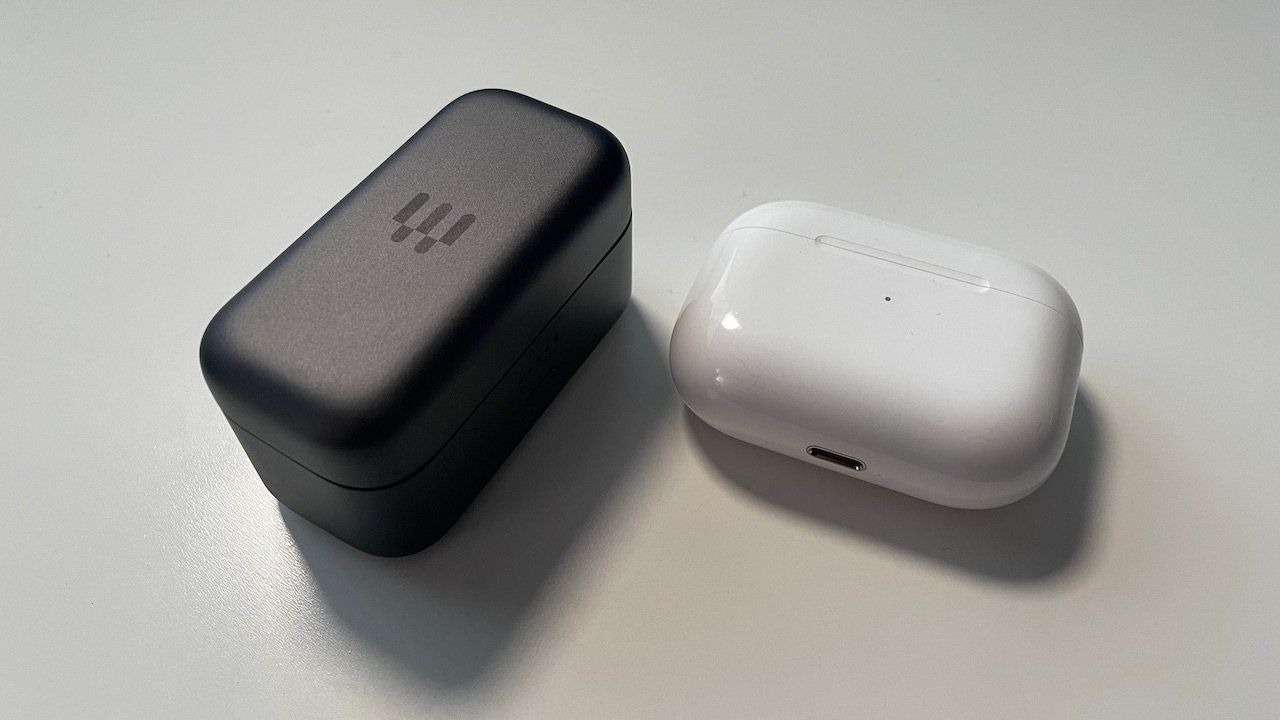 Fantastic audio
The main earbuds themselves look really nice, and the black/grey style is subtle but stylish. These use the fitting style that puts the main unit resting lightly in your ear cavity, sitting comfortably with a slight twist (and not the downward 'hanging' style of AirPods). You get four separate rubber ear pieces to find a fit that suits you.
I tried the various options and found that a not-too-loose fit was best, but not a full tight fit. The GTW 270 is a closed acoustic design, and that means that too tight a fit gave me a general sense of background rumbling due to my general body movement. That's not a unique problem here, but the slightly looser fit was my happy place.
The audio is fantastic. Genuinely very, very impressive. My selection of test tracks gave me excellent reproduction that was far better than my AirPods Pro – high ends in particular were beautifully represented. Bass was actually a little lacking compared to other units, but then I realised my choice for the looser fit was undercooking the bass, so once I squished them in a little more I got the full experience.
If you want superb audio, and even if you don't care about the gaming, these were great on the Bluetooth in this regard. (There is a version sold simply as the GTW 270 - no 'Hybrid' - that does not include the USB-C dongle and is purely there to be a Bluetooth headset).
I found that I almost forgot these earbuds were in after a while. I did have an occasional sense of discomfort if I'd been wearing non-stop for a while, but I'm not even sure why. Overall they were a pleasant enough experience to wear.
The recharger carry case is substantially bigger than the equivalent case for the AirPods Pro, and designed in a boxier shape that isn't as pocket friendly as I would have hoped. It's a great looking case, though, and very sturdy. If you tossed this into your bag you'd feel confident your earbuds are very safe.
The 5 lights on the carry case indicate remaining charge level, as you'd hope, and the case also manages the pairing for the earbuds. Hold the button for a few seconds and your earbuds enter Bluetooth pairing mode. You can have them synced to 8 different devices.
But it's at this point where a few things start to unravel for me in the quest to be this Hybrid that plays a role across both the dongle and your Bluetooth devices.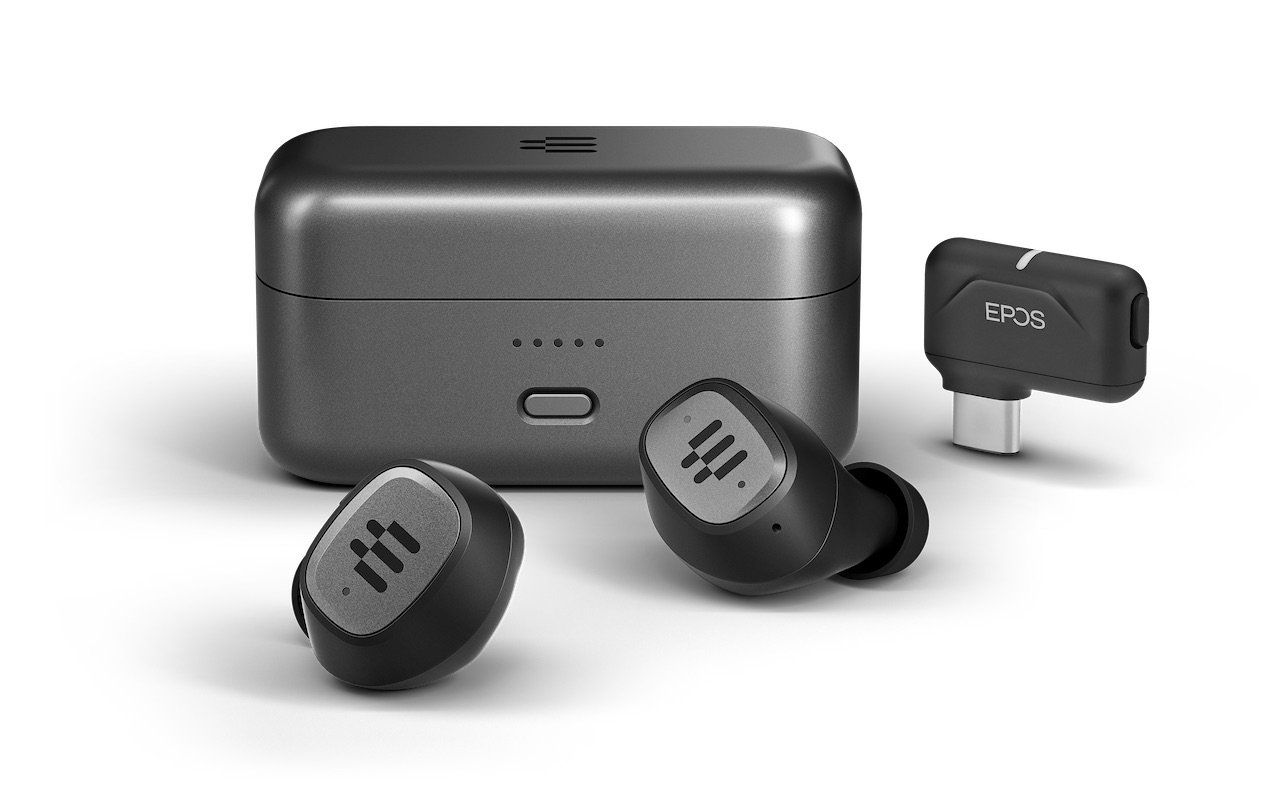 The seams are showing
The biggest problem for me was the lack of a seamless transition between devices, something that the 'Hybrid' pitch feels like it needed to get right.
If I'm wearing these for my Bluetooth usage on the phone, but when I return home I want to use them to do some gaming on my PC via the dongle, I don't want to have to fuss about to make that transition. But I have to make sure and get the phone to disconnect from the Bluetooth to make the connection to the dongle for gaming.
It's a normal part of life that my phone is sitting with me while I game on my PC, so it's a nuisance that I have to go anywhere near the settings to disconnect one thing to make a connection to another. In the reverse, I found I had to pull out the dongle if I was in the same room as my PC and wanted to reconnect to the phone.
If something is the opposite of seamless, this is it.
The other problem for many gaming purposes is that the Bluetooth mode includes headphones and microphone for duplex activity, the aptX dongle is for headphone audio only. The codec implementation does not allow for the earbuds to give you a return microphone channel in this mode.
I'm just not sure how many people are likely to miss this fact when buying a pair and will feel disappointed that they need an external mic when trying to use their 'gaming' wireless earbuds when playing online with friends.
Halfway to nowhere
The focus of the pitch is 'no compromise audio for gaming on the go'. I agree with the first half. The audio is fantastic. Truly more impressive than other wireless earbuds I've had regular experience with.
But the gaming components seem to be lacking when it comes to the pitch that it will suit being used on PC and PlayStation. Switch and Android on the go? Yes, totally. Makes sense. But… the lack of seamless switching makes it feel fussy, and fussy isn't what people are usually striving for when they're "on the go".
They also lack features of others in this space like active noise cancellation, and I've recently been testing a gaming headset (not earbuds) that can do Bluetooth to your phone AND dongle connection to your PC simultaneously so you get everything at once. I feel like that kind of 'hybrid' is the real solution many gamers might be looking for.
The GTW 270 Hybrid is priced at $349 and the GTW 270 is priced at $299.
If I was only testing these for their Bluetooth audio experience without the Hybrid discussion I'd be putting these into a strong contender category. So, if you are just after the earbuds, give them a very close look indeed. I don't think I'd miss the active noise cancelling all that much when these do such a great job of the overall audio delivery.
Byteside Newsletter
Join the newsletter to receive the latest updates in your inbox.