Byteside's favourite TV shows of 2020
Nice, weird, funny and fierce. From Lasso to Mando and more, these are Byteside's favourite TV shows of 2020.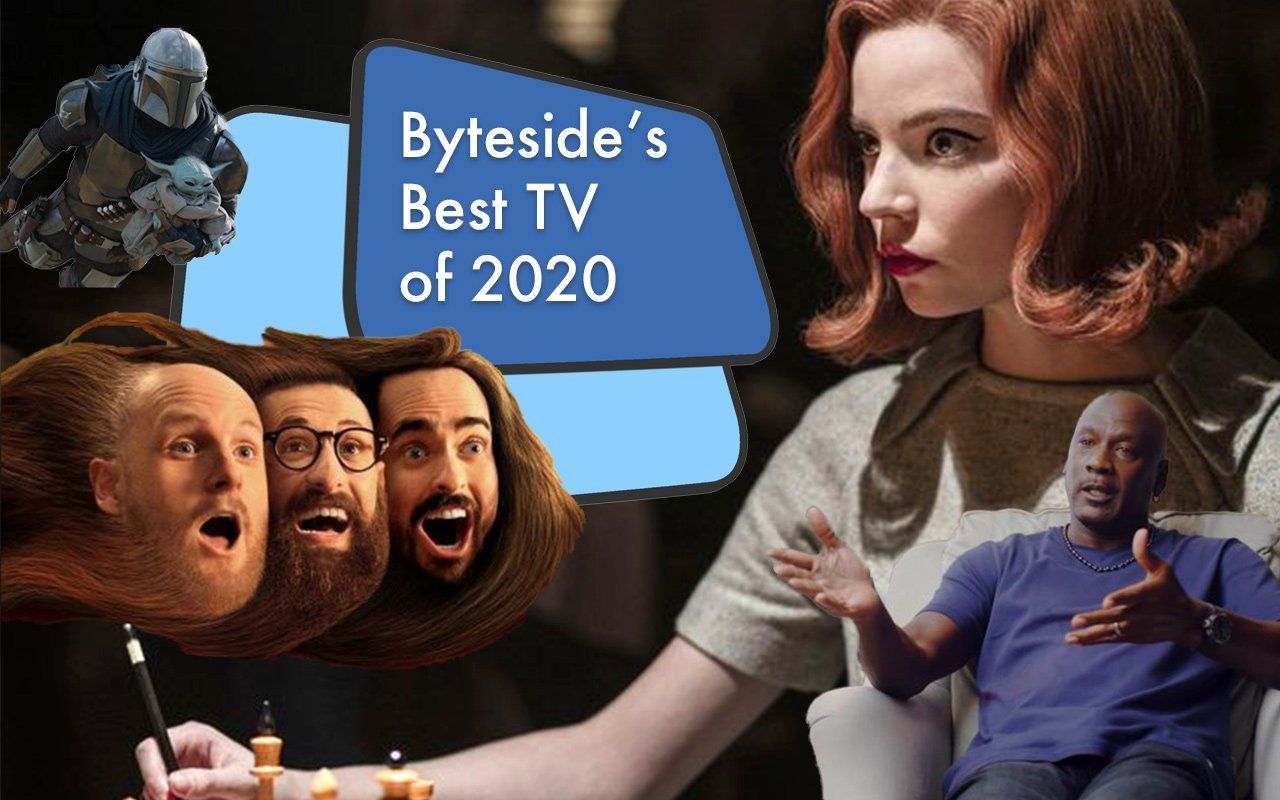 We've covered off our favourite AAA and indie games of 2020 and hope we've thrown you a few ideas for games you can add to your queue for the holidays.
Now it's time to explore the shows we watch when we're chilling in front of the screen without a controller in hand. From drama to comedy, action to documentary, we've got a great line up of the TV that blew our minds this year.
Let's dive in.
Hope's Picks
Schitt's Creek (Netflix)
Genre: Love teacher
What starts as an awkward fish out of water comedy will smash open your heart.
I'm a pretty stone cold creature. I don't often do emotions. Well, not good ones, anyway. Certainly not warm, openly weeping at a TV show ones. Enter Schitt's Creek, and me, a blubbery mess.
Schitt's Creek starts off a bit rocky. I wasn't really into the awkward humour but there was something cathartic about watching all these rich entitled people get a small taste of real life. Of course, they're still doted on beyond belief without realising it, but that's also part of the joke.
But this show grows.
It's superbly character driven, so you have to get to know all these wonderfully flawed people. As they learn and grow they become deeply compelling, especially in their love for one another. The comedy grows too with hilarious funny and self aware moments.
There's a few personally special touches too. David is pansexual, which isn't something we get to see in media too much. More than that is that he gets to be loved. Often us pan folks are seen more as flits in other people's lives, often only causing disruption and confusion. Never thinking about what we must feel within ourselves. It was nice.
I could talk about what makes this show so special for a much longer piece than this, but just know, it's simply the best.
Aunty Donna's Big Ol' House of Fun (Netflix)
Genre: Drum
Absurdist Australian comedy being thrown into the brains of global Netflix audiences? Yes!
I watched Aunty Donna's Big Ol' House of Fun on Netflix with no knowledge of what these boys were about. I honestly can't think of a better introduction. This is Australian absurdist comedy at it's best, and it's so wonderful to see it get a Netflix series.
Aunty Donna's Big Ol' House of Fun is better experienced than simply told about. Go in expecting nothing and have the ride of your life. Then watch it a few more times and make all your friends watch it so we can get a season 2.
The Boys (Amazon)
Genre: Wildly violent yet cathartic
See what happens when you mix superheroes with capitalism.
The Boys is one of those shows that has you cheering for the little guys, even if those little guys appear to be hyper violent revenge machines. And that's because the other side really is just that much worse.
But more, while obviously a hyper real imagining, I feel like The Boys isn't as far fetched as it can seem. Sure, I don't see us having superpowered humans any time soon (though, sign me up if you're onto something, please) but I do see some incredibly bad people with a lot of power destroying the world.
Plus, the acting is just phenomenal. You really believe these highly unbelievable characters. Especially the ones you don't necessarily want to.
The Boys certainly isn't a ride everyone should jump on, because it is pretty intense and there's a lot of things like bloodsplosions. But if you're looking for a glimmer of strength in a powerless world, it absolutely delivers.
Special Mentions: Picard (Amazon), Harley Quinn Cartoon (Amazon), Star Trek Lower Decks (not available locally), Watchmen (Foxtel) - and it only didn't make the cut because technically it only aired in 2019.
Chris' Picks
Ted Lasso (Apple TV+)
Genre: Sports comedy
An American football coach takes on the managerial role of a Premier League Football team in England despite knowing nothing about soccer.
Everyone needs a Ted Lasso in their lives. Someone who believes in them and will put time in when no one else will. Ted Lasso is a rare comedy that has genuine heart, starring a lead character who is so damn likeable and kind to everyone he meets.
That's not to say there isn't drama or conflict, much of which generates the frequent laughs throughout the series, it's just that it comes from a place of love for its characters. There's a sense of familiarity with Ted Lasso that deftly avoids cheesy territory because of the depth the production goes into to make each character feel genuine.
What I also love is how well Ted Lasso captures the heart of what it means to be a sports fan, to be part of something bigger and put so much of yourself into something you ultimately have no control over — as strange as it sounds. I'm so glad Apple has picked up an extra two seasons, as I can't wait to see more of Jason Sudeikis dishing out kind truths as Ted Lasso.
The Last Dance (Netflix)
Genre: Sports documentary
A behind-the-scenes look — using unaired footage and new interviews — at Michael Jordan and the Chicago Bulls during their dominant and turbulent 1990s era.
Even if you don't follow basketball, it's impossible to not know of Michael Jordan's legacy as one of the greatest athletes of all time. Even if you just know him as the guy from Space Jam.
The Last Dance is a phenomenal 10-part documentary series unpacking Jordan's rise to stardom, along with the Bulls' amazing run of NBA Championship wins through that decade (can they three-peat twice? That's part of the doco delivery and holds the secrets well for those who don't know the history). Bursting with style and swagger, The Last Dance beautifully captures the on and off-court drama, further proving that reality is more compelling than fiction.
One of the most interesting aspects of The Last Dance was the perspective it opened into the mythos surrounding Jordan. It's clear the man had a competitive drive and work ethic matched by few, but was he actually a good dude? One thing's for sure: he took up personal vendettas and petty feuds all too easily for motivational fuel.
We love a messy bitch.
Simulation Theory (iTunes, Google Play)
Genre: Concert film
Sci-fi and wailing guitars aplenty in this part-narrative, part-concert film, Simulation Theory is UK alternative-rock group Muse's live adaptation of the eponymous 2018 album.
Let's make one thing clear: Simulation Theory represents the over-the-top, grandiose direction Muse has rocketed towards for much of the 2010s, so your mileage with the latest concert film may vary drastically depending on your opinion of their recent work.
Simulation Theory, the album, is filled with all sorts of synthwave themes and motifs to the point of parody, but Muse's — particularly frontman Matt Bellamy's — relentless commitment to taking the topics of AI and being ruled by algorithms ultra seriously is too fun to dismiss.
As a film, Simulation Theory blends live concert footage with fictional elements that run eerily parallel to 2020's virus-related trajectory. It's all B-grade sci-fi film kitsch stuff, but it makes for plenty of pretty eye candy in between mesmerising guitar solos and spectacular stage antics.
Also, the mixing is far better than the dreadful Drones World Tour concert film that saw a limited theatrical release a couple of years ago. No coincidence Simulation Theory is available on iTunes while the Drones one still isn't.
Special Mentions: Aunty Donna's Big Ol' House of Fun (Netflix) is wickedly funny; it's so good to see some of their older work get the TV treatment and Aussie talent receiving well-deserved international success.
Seamus's Picks
Ted Lasso (Apple TV+)
Genre: Festival of faith in humanity
Just about the nicest piece of television of 2020, or any year. Even if you hate sport, this show will be a lovely experience.
I see Chris has covered it too but it bears repeating. Ted Lasso is the guy we all need in our corner, refusing to give up on you even when you've given up on yourself.
(And to change it up, the above clip is part of where the show concept started seven years ago with a nascent version of the Jason Sudeikis character).
The experience of this show was such a surprise, in the way that the previews I saw seemed to sell the wrong ideas of what I was going to get from this show. Luckily, I'm a sport fan anyway, and I had heard enough word of mouth that I decided to give it a try. I got so much more than I had hoped for.
By the end, it was the main show this year that I desperately didn't want to reach the end of. But was then eager to watch over again from the start this summer to feel inspired and motivated toward trying to hear Lasso's voice in my ear in 2021. Believe!
The Queen's Gambit (Netflix)
Genre: Chess prodigy '60s period drama
Beautifully shot, great scripting, and sure to put a chess itch into your life.
In that way that Ted Lasso is a show about football but not really about football, The Queen's Gambit is a show about chess but not really about chess. You'll want to play chess again by the end of it all, but if you're just here for a great and stylish drama you'll get that in spades.
What I loved about this show is that our protagonist has her struggles, but she is usually up to the task. There's drugs, there's alcohol, there's mean people around her, but I think the pervasive message is that she's strong and finds her way back to the rails through her own force of will and brilliance.
So many moments that you think are about to follow a clichéd or tropey path find a way to stay fresh and engaging instead.
The way the story presents a genius in search of challenge, the drive to be the greatest and the work it takes to get there, and questions of needing to find the right balance of self-reliance and camaraderie all give this show themes I don't feel I find explored in the same ways in many other places.
The Mandalorian (Disney+)
Genre: Proper Space Western
The perfect path to giving us confidence that the Expanded Universe Star Wars has great potential in weekly release formats.
The first season in 2019 helped give Disney+ some real firepower out of the gate, and gave Star Wars fans the most genuine 'space western' experience since OG trilogy. (That's a thematic judgment, not a qualitative one).
This second season has felt like a great evolution of the series. There are new stakes, we've still had 'monster of the week' vibes in an excellently pulpy way, and the exploration of wider Mandalorian tenets are creating lots of new opportunities for where the show goes in future.
There's some flaws, like the all-too-regular feeling that everyone is in on some joke that our hero must go from place to place, performing tasks for people in exchange for little help but another breadcrumb suggestions for where he should go next.
But by going with the flow and not worrying too much about the connective tissue from episode to episode and just enjoying the growth of the storyline and its characters and whatever 'of the week' scenario we find ourselves in? Pulp Star Wars fun ahoy.
Special Mentions: Normal People (Stan) was such a fascinating coming of age story set in small town Ireland, and the structure as characters moved through high school and into university was so good. It's disturbing and difficult at times, but delivers a satisfying wrap up that shows how people grow through love and friendship.
Byteside Newsletter
Join the newsletter to receive the latest updates in your inbox.