Byteside's favourite AAA games of 2020
Check out our picks for some of the best big budget AAA games we have played to avoid the real world in 2020.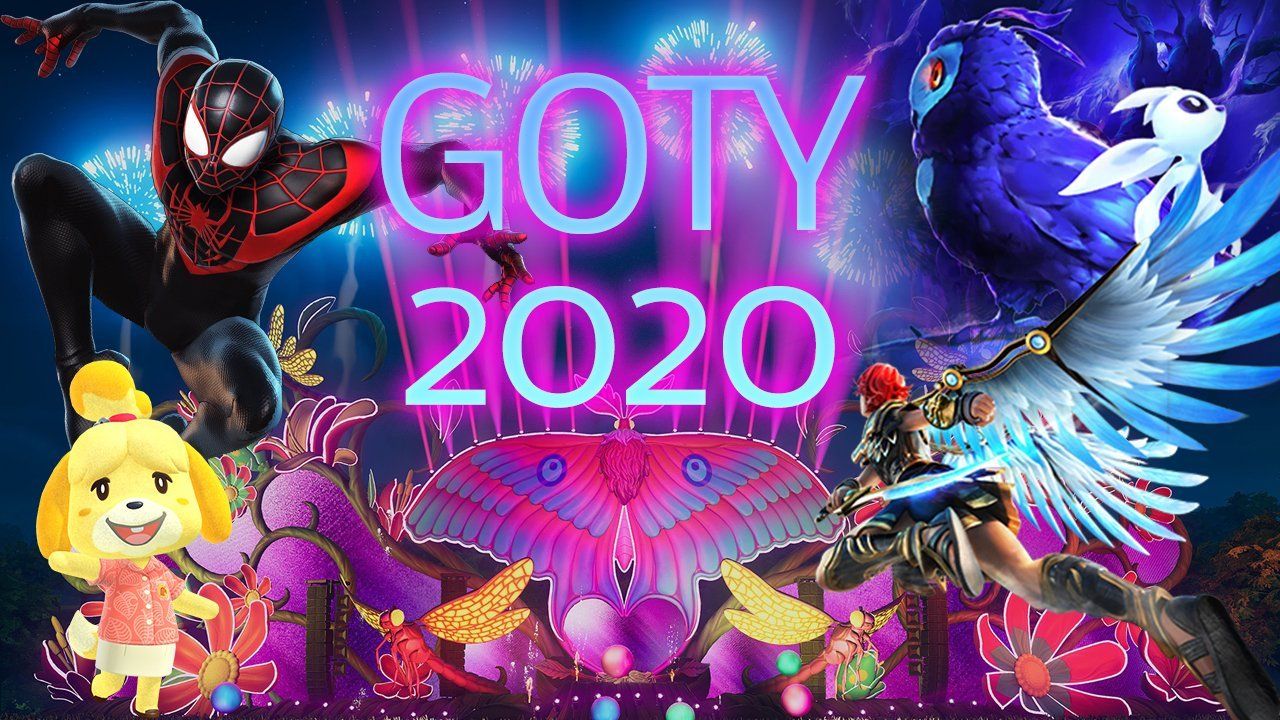 2020 has been, frankly, a lot. But it's also been a great year to get lost in nice chonky videogames and hope everything else is just a weird group fever dream. Here are some of our favourites.
Hope's Picks
Genshin Impact
Developer: Mihoyo
Publisher: Mihoyo
Genre: Co-op RPG
Platforms: PC, PS4/5, Mobile
WTF is Genshin Impact anyway? A weirdly great free to play game.
Genshin Impact is a game I've written about a tonne here at Byteside and I debated about whether or not this should go in the indie list, but it's got way too much money behind it.
Part of that is because it's a gacha game which is the thing I don't like. I'm fine with the style myself but knowing the model can actually harm people definitely puts a dampener on things.
However, if you're like me and can resist the urge to spend big money on those abysmal drop rates, Genshin Impact is some of the most fun I've had this year. The amazing open world, beautiful graphics, surprisingly good and funny writing, genuinely fun combat, and ability to play with friends has made this my go to game. In total I've only spent around $50 and hundreds of hours of my time on it.
Fuser
Developer: Harmonix  
Publisher: NCSoft
Genre: Music
Platforms: PS4, Xbox One, PC, Switch
Become an actual goddamned DJ, or at least feel like one with one of the best music party games in recent years.
In Fuser you slowly learn how to master the controls to become what can feel like the greatest DJ of all time. The game has a brilliant mix of ease and control which makes you feel like you're far better at it than you actually are.
There are so many fire tracks in here and all have been carefully sorted to give you the best drop points and mixing abilities a novice can have. It makes it really easy to make good sounding music. There's a tonne of tools to help but you can really dive into this one with very little knowledge and still have a great time.
Games like Guitar Hero and Rockband, and even DJ Hero gave us a taste of the rockstar fantasy. Fuser goes that step further. Just waiting to afford my own cube.
Immortals: Fenyx Rising
Developer: Ubisoft
Publisher: Ubisoft
Genre: Action Adventure
Platforms: PC, Switch, Xbox One/Series, PS4/5
It may have the worst name ever but this simplified Breath of the Wild-like is well worth a look.
This game is so much fun. The setting is a bright and fun world based on Greek mythology with distinct areas and so much to discover. There are surprisingly beefy puzzles, boss enemies, and other little mysteries to uncover that can keep you going for days.
It's the kind of game where half the fun is in getting sidetracked. Trying to level up your stats or just off exploring on the map often distract from the main quest lines in good and natural feeling ways. There's plenty of worthwhile rewards too, so even if you are wasting time it never feels like it. Plus the systems are all wonderfully simple and welcoming to engage with, so you're constantly encouraged to be doing something.
It's a light game that's low stress, low steaks, and has a really good sense of humour about it. And the somewhat apocalyptic land of the gods is a somewhat perfect world to get lost in to end 2020.
Special Mentions
Persona 5: Royal is an excellent new spin on an already fantastic RPG.
Spider-Man: Miles Morales is the best Spider-Man game ever but we have that covered.
Games I'm yet to finish/play that I feel could have been contenders are Yakuza: Like a Dragon, Half Life: Alyx, Assassin's Creed: Valhalla.
Chris's Picks
The Last of Us Part II
Developer: Naughty Dog
Publisher: Sony Interactive Entertainment
Genre: Action-adventure
Platforms: PS4
A harrowing tale of survival and wrestling with a history of violence, set against a backdrop of infected abominations.
The Last of Us Part II is a staggering game. The level of care and detail placed into all aspects of game design throughout is astronomical. But at what cost? It's common knowledge developers Naughty Dog put many of its staff through brutal prolonged periods of overtime — commonly referred to as "crunch" — to get the game shipped out the door.
That the end result was a game featuring such an engaging narrative and compelling cast of characters is nothing short of miraculous. Ellie and Abby's respective stories will stick with me for a long time, partly thanks to immaculate performances from Ashley Johnson and Laura Bailey. The Last of Us Part II's final hours still haunt me, such was its impact.
This glowing endorsement does not excuse the conditions under which the game was made. While the hard work from many skilled people is worth celebrating, the systemic production and management issues associated with game development is equally worth critiquing.
13 Sentinels: Aegis Rim
Developer: Vanillaware
Publisher: Atlus / Sega
Genre: Interactive visual novel with real-time strategy mech battles.
Platforms: PS4
Uncover a complex sci-fi mystery involving 13 intertwined characters caught in a world-ending threat, armed with futuristic mech units.
I'm a bit of a weeb – shorthand for "weeaboo", which refers to someone who obsesses over Japanese culture and media – so it shouldn't surprise that a very Japanese game was one of my favourites in 2020.
To detail what 13 Sentinels: Aegis Rim is about would spoil the fun of discovering it yourself. What I will say is that it delivers a grand story, clever mech battle sections, and absolutely gorgeous art. Every character interaction and plot reveal digs its hooks deeper into you the more you play, and the non-linear narrative structure is deeply intriguing.
13 Sentinels packs a lot into its mind-bending story, but what surprised me was how tightly written it was. Where many Japanese games are verbose and bloated, 13 Sentinels does away with a lot of the fluff without compromising on its high concept vision. There are teensy bits of fan service throughout, but nothing enough to detract from the stellar experience.
Ori and the Will of the Wisps
Developer: Moon Studios
Publisher: Xbox Game Studios
Genre: Platform-adventure
Platforms: Xbox One, Series X/S, PC, Nintendo Switch
A beautiful sequel sees Ori take on a quest to heal a dying land, encountering many perils along the way.
Ori and the Will of the Wisps is the best-looking game I've ever played. I loved the original, Ori and the Blind Forest, and Will of the Wisps only improves on the formula, with plenty of variations to keep things fresh.
There's plenty of challenge and well-designed platforming sections throughout Will of the Wisps, but that's not what solely grabbed me. The vibrant colours and depth of each vista combined with Gareth Coker's evocative soundtrack elevate the entire package to something truly wonderful.
Special Mentions
I adore Persona 5 Royal's remix of the original, but just wish it was a little more concise. Crash Bandicoot 4: It's About Time is a phenomenal return to the series' origins while implementing plenty of neat twists. I haven't played enough of Yakuza: Like a Dragon to fully deliver a verdict; what I have played, however, is extremely my jam. Paper Mario and the Origami King is worth playing for the brilliant writing alone.
Grace's Picks
Spider-Man: Miles Morales
Developer: Insomniac Games
Publisher: Sony
Genre: Spider-Cat
Platforms: PlayStation 4
Remember how much you liked Spider-Man on PS4? What if that, but Miles Morales, the cooler Spider-Man?
In a fairly regular and generally pretty good era of blockbuster third person view action games, Spider-Man was a refreshing action game that broke things up, and that stuck in my mind at the time. I'd never tried previous Spider-Man games (everyone has to start somewhere), apart from 10 minutes of a PS1 title, but the freedom of movement and the detail of New York City immediately struck me.
So, when Miles Morales was announced, I was understandably excited. It improves on the existing formula, while offering a new, if short, story and a completely different perspective. Miles has Venom, a bio-electricity, which lets me punch people really hard. Melee is a viable option, which is great, and a moveset which supports it, as much as it supports stealth.
It's certainly not the best, but it's a personal favourite because, once again, it breaks things up a little. Even if it's still a little bit of the same.
Animal Crossing: New Horizons
Developer: Nintendo
Publisher: Nintendo
Genre: Pretending it's not 2020
Platforms: Switch
It's Animal Crossing! It's befriending critters, forgetting about them in favour of perfecting your island, and then begging for their forgiveness in an endless cycle.
Animal Crossing, since the first release outside of Japan on the GameCube, has been a source of comfort to me. It's nice, knowing I can enter this world where a bunch of cute animals make me do chores that I'm avoiding in real life.
That's still true with the latest Switch release, though once again upgraded to encourage micromanaging, in order to further avoid real chores. This time, you get a whole island to craft to your desires. You're still in debt most of the time though!
But it doesn't matter, Isabelle is still there every morning to tell you what she saw on TV, the seasons change offering a new set of bugs and fish, and regular updates still make sure that even after you've put it down, there's something to come and take a look at.
Final Fantasy VII: Remake
Developer: Square Enix
Publisher: Square Enix
Genre: Fast paced nostalgia ruining/action
Platforms: PlayStation 4
I really liked the twist, actually. An interesting, modern, action-packed take on a classic.
Spoilers if you haven't finished it!
Though it was quite a few years coming, and certainly not to everyone's expectations, Final Fantasy VII: Remake certainly delivered in subverting expectations. Though only the first part in a future series, it sets up a look back at the origins of the game before rebooting the whole thing and saying 'okay, but then, what if this happened'.
The idea of having the exact same piece of media but It Looks Nice Now is one that's completely boring to me, which is why the sudden swerve caught my attention again. What would happen if things changed at key moments? And it was a nice to look at and fun to play action game? With kind of tedious at the end side quests?
It acts as a great prologue, with plenty of content to stand on its own and memorable takes on key moments that still kind of brought a tear to my eye. I made Cloud so pretty.
Special Mentions
The Last of Us 2 (It did a lot of things I thought were interesting, if fumbled. Also, crunch)
Paper Mario and the Origami King (EXTREMELY cute, hilarious writing)
Byteside Newsletter
Join the newsletter to receive the latest updates in your inbox.