17 indie videogame gems of 2020
For all its faults, 2020 was a fantastic year in indie games. While not everyone can win GOTY, here are 17 indie gems well worth your time.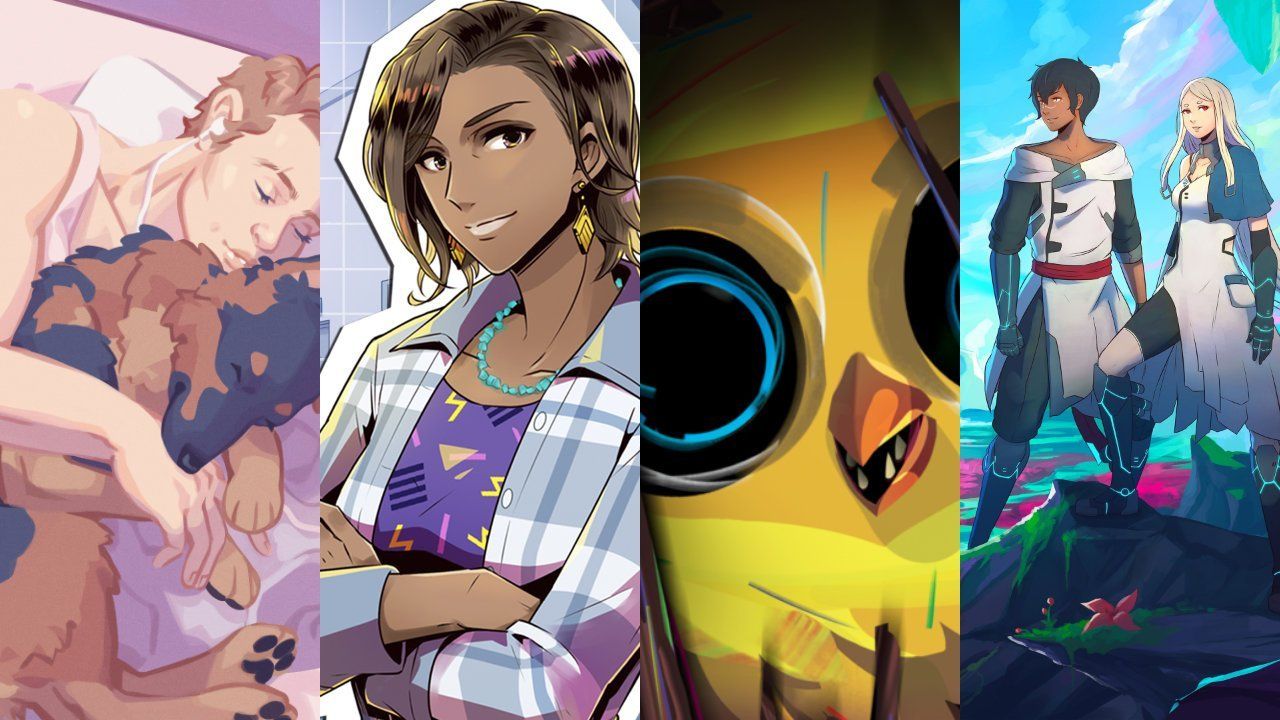 2020 was a heck of a year for indie games.
We saw everyone go wild for the Greek gods in Hades, enjoy an Aussie cafe for the dead in Necrobarista, and attempt to solve a vaporwave murder mystery in Paradise Killer — all titles we named among our indie games of the year.
This only paints a fraction of the indie landscape, however. Launching anything in 2020 was a grand achievement, and there was so much good stuff, too. Also, judging by what I played a lot of this year, roguelikes are so hot right now.
So, while these games may have just missed out on our game of the year shortlist, each of the following indies is absolutely a gem worthy of your time.
Haven
Developer: The Game Bakers
Publisher: The Game Bakers
Genre: RPG, romance
Platforms: PC, Xbox, PS5
Really the only thing preventing me from including Haven as one of my indie games of the year is the fact it only released this month and I'm still playing through it.
From French studio The Game Bakers — who also made the brilliant twin-stick action game Furi — Haven revolves around the relationship between its two protagonists Yu and Kay, who have fled their homeworld, eloping to an unknown planet to spend their lives together.
Haven is completely playable solo but is arguably best experienced in co-op with a significant other. I love how deeply relatable Yu and Kay's playful dynamic is, as Haven effortlessly conveys the mannerisms synonymous with heterosexual couples among the wider sci-fi mystery at play.
Not to mention the overall aesthetic is absolutely stunning, with the bright colours of a strange planet coupling beautifully with the synth-laden beats from composer Danger.
It's highly likely my partner and I will see Haven through to the end, and I'll continue raving about it into the new year.
Ring of Pain
Developer: Simon Boxer + Twice Different
Publisher: Humble Games
Genre: Card-based dungeon crawler, roguelike
Platforms: PC, Nintendo Switch
The Aussie-made Ring of Pain is bloody creepy, leaning into its distorted aesthetic alongside the punishing dungeon-crawling card gameplay, and also very good.
Card-based roguelikes that see you attempting to improve with each run are becoming increasingly popular, particularly in the wake of the phenomenal success of Slay the Spire.
With Ring of Pain, the point of difference is that the dungeons feel more alive, more out to get you than other games in the genre. In addition to collecting equipment to pimp out your loadout, cards actively chase you throughout the circular dungeons, adding a nice twist to the standard fare of encountering a static wall of enemies to fight.
Also adding to the unsettling aesthetic is a striking art direction inspired by aphantasia, a condition where the ability to mentally visualise objects exists on a spectrum, ranging from vivid depictions, to hazy almost-there visions, through to the inability to conjure images in the mind.
From this, Ring of Pain's look takes on a distorted style, adding to the overall foreboding atmosphere.
Including that bloody owl.
Fellow Bytesider Hope Corrigan reviewed Ring of Pain for GameSpot, saying it's a "delightfully disturbing mix of roguelike and card game genres that's worth stumbling in the darkness to discover."
ScourgeBringer
Developer: Flying Oak Games
Publisher: Dear Villagers
Genre: Roguelite platformer
Platforms: PC, Xbox, Nintendo Switch
ScourgeBringer is one heck of a game. Described by Eurogamer's Christian Donlan as "Dead Cells meets Celeste", it's tricky to think of a more apt comparison.
After an Early Access period which ended late this year, ScourgeBringer contains all the good stuff platformer action fans crave.
Snappy controls? Yep. Satisfying movement and abilities? Hell yeah. Cool artwork? In absolute spades.
It's also a roguelite — emphasis on the 'T' — which is one of my favourite genres when executed well due to the constant rewarding loop of building towards something with each run, regardless of success.
Celeste is one of the greatest platformers of all time because of how fluent its movement feels, and ScourgeBringer is right on its tail thanks to conjuring similar vibes with superb wall-jumps and dashes aplenty.
This is all before getting to such a hard-hitting dynamic soundtrack that ramps up alongside the on-screen action — it rivals the recent Doom games in the sick metal riff stakes.
Murder by Numbers
Developer: Mediatonic
Publisher: Irregular Corporation
Genre: Picross puzzle, mystery
Platforms: PC, Nintendo Switch
From the same company as Fall Guys, Murder By Numbers takes the wonderful puzzle game of Picross and combines it with the off-beat investigation stylings of the Ace Attorney series to wonderful effect.
In fact, if you think it bears more similarities with Phoenix Wright than just gameplay, you'd be right — Murder By Numbers is composed by Masakazu Sugimori, known for the catchy music behind Ace Attorney, Ghost Trick and Viewtiful Joe.
What elevates Murder By Numbers beyond a mere imitation aside from its genre mash-up is a delightfully diverse and eclectic cast of characters. There's a great deal of representation beyond the already-cool step of starring a woman of colour, and the story deals with a lot of social topics with love and sensitivity.
Murder By Numbers is further strengthened by its utterly charming writing and visual style, the latter of which looks like a clever hybridisation of manga and Western art.
In fact, Murder By Numbers was extremely unlucky to just miss out on being one of my indie games of the year — unfortunately, I can't include everything, and so many good indies came out in 2020!
Nowhere Prophet
Developer: Sharkbomb Studios
Publisher: No More Robots
Genre: Roguelike deckbuilder
Platforms: PC, consoles
This is cheating a little bit, as Nowhere Prophet originally came out last year on PC. This year marked its console release, however, so considering I was able to play it on my favourite indie machine — the Nintendo Switch — Nowhere Prophet counts as a 2020 game in my books.
As a roguelike deckbuilder, Nowhere Prophet impressed me with its narrative and light RPG elements as you travelled across a harsh landscape, trying to lead a caravan of pilgrims to technological salvation.
What hooked me on Nowhere Prophet was how strongly it justified its difficulty with the emerging story — there's no ludonarrative dissonance here. The units who comprise your playable cards can die if not treated after being beaten in battle, but also cost less to activate if left unaided, offering a compelling risk-reward element.
In my review of Nowhere Prophet's Nintendo Switch version for Vooks, I heaped praise upon the game:
"Far from being yet another deckbuilder, Nowhere Prophet cleverly innovates on established gameplay elements to produce a heartily challenging and compelling card game worthy of standing alongside the best of the genre."
Best Friend Forever
Developer: Starcolt
Publisher: Alliance
Genre: Dating and dog ownership simulator
Platforms: PC, Nintendo Switch
What a genius concept — a dating sim filled with dogs to love and care for. New Zealand-based Starcolt created a thematically and visually beautiful game in their debut title Best Friend Forever.
This is another example of strong representation in games, from meaningful depictions of LGBTQ+ relationships to even diverse body types, which is a lovely thing to boast.
Although I found the dog training sections to be a little thin, Best Friend Forever more than made up for it with charming writing and fun characters. Heck, even just having a dog follow you around everywhere was wonderful.
I played and reviewed the Nintendo Switch version at launch, which was a little bit behind the Steam version in performance, but there have been updates and patches since which means you'll have a great time on whatever platform you choose.
Art of Rally
Developer: Funselektor Labs Inc.
Publisher: Funselektor Labs Inc.
Genre: Racing
Platforms: PC
As a beautiful, artistic racer, Art of Rally certainly lives up to its name.
If you're into racing games with realistic car handling, gorgeous scenery, and synthwave tunes, Art of Rally is due to become your latest obsession.
Not only is Art of Rally great from a gameplay and art perspective, but it also serves as a history lesson of sorts, taking you through the 'golden era' of rally throughout from the 1960s to the 1980s period.
I've said it before but it bears repeating: Art of Rally is all style, all substance.
Sakuna: Of Rice and Ruin
Developer: Edelweiss
Publisher: XSEED Games, Marvelous Inc.
Genre: Action, farming
Platforms: PC, Nintendo Switch
One of the surprise packages of the year, Sakuna: Of Rice and Ruin features strong 2D action alongside meticulous rice growing.
It's an utterly charming game from a core team of two people, giving us Westerners a unique glimpse into Japanese culture and mythology.
To be honest, I would've loved Sakuna if the rice farming component was the sole focus, it's that impressive. As it turns out, the combat is a more than capable side dish to the rice main course.
Star Renegades
Developer: Massive Damage
Publisher: Raw Fury
Genre: Strategy, RPG, roguelike
Platforms: PC, Nintendo Switch, Xbox
Taking inspiration from multiple genres, Star Renegades is an ultra-stylish strategy RPG with a core looping concept reminiscent of Edge of Tomorrow — and its light novel origins as All You Need Is Kill — except instead of linear time-looping, your robot companion travels dimensions after failure to pass on knowledge from each attempt.
Aside from looking cool as hell, Star Renegades' battles take on a nifty turn-based approach where a timeline telegraphs the order of attacks. You need to use this to your advantage and queue up attacks that interrupt enemies, disrupting the timeline in your favour.
There's also an adversary system akin to what was popularised by the Middle Earth: Shadow of Mordor series, where high ranking enemies adopt unique traits to learn and exploit.
I'll be keen to play more Star Renegades into 2021 as Massive Damage continues with content updates — it certainly doesn't hurt that it's available via Xbox Game Pass.
Crown Trick
Developer: NExT Studios
Publisher: Team17
Genre: Tactical, RPG, roguelike
Platforms: PC, Nintendo Switch
As a synchronous turn-based RPG, Crown Trick is the thinking man's roguelike. Set in a series of nightmarish dungeons, Crown Trick uses a tile-based system where your foes only move when you move, so no focus on fast reflexes here.
Closer to Crypt of the Necrodancer than Hades in its roguelike gameplay, Crown Trick includes many of the equipment and ability-gaining elements of other games, but the fluent turn-based system really sets it apart as a tangibly different experience.
Crown Trick packs in lots of interesting weapons and playstyles, in addition to plenty of ways to spec out your character with upgrades, so there's a decent amount of variety as you seek to clear out each dungeon.
Going Under
Developer: Aggro Crab
Publisher: Team17
Genre: Roguelike, action, dungeon crawler
Platforms: PC, Consoles
Speaking of roguelikes, Going Under plays much closer to Hades than many others on this list that share the genre. Going Under, however, features a much different setting than the Greek underworld but is still hell by another name — an unpaid internship at a Silicon Valley start-up.
*Shudder*
What with the noodly-armed characters and the all-too-real premise of getting the intern to do the dirty work of killing the monsters living in the company's basement, Going Under is a heap of fun.
While it doesn't quite pack the same punch or challenge Hades does — which is actually a like-for-like comparison in this case — Going Under wonderfully takes the piss out of start-up and corporate culture.
You're constantly reminded of how fortunate you are to have the rare opportunity to be overworked and exploited for free, plus there's a psychic damage-inducing amount of office jargon integrated at every turn.
Which may sound way too real for many white-collar professionals, but Going Under does it in such an endearing way you can't help but be swept up into hitting all your KPIs.
Plus, there's something innately satisfying about using and destroying office equipment for weaponry purposes, so Going Under is quite the cathartic experience for those burnt out by capitalism and the corporate world.
Wildfire
Developer: Sneaky Bastards
Publisher: Humble Games
Genre: Stealth, platformer, action
Platforms: PC, consoles
A successful Kickstarter from former games journo Dan Hindes some years ago finally saw Wildfire release this year, and what a rewarding wait it's been.
Think of Wildfire as a 2D stealth-driven chance to channel your Avatar: The Last Airbender fantasies, and you're pretty well right on the money. The way in which you can manipulate elements to create solutions to problems is astounding.
Whether it be setting nearby environments ablaze to distract nearby guards, freezing water to create new paths, or generating dense foliage to hide in — there are so many clever ways to play Wildfire.
Wildfire cleverly leans into what makes stealth games great, all while brilliantly innovating with its own pixel-styled flavouring.
Rogue Legacy 2 (Early Access)
Developer: Cellar Door Games
Publisher: Cellar Door Games
Genre: Roguelite, action, platformer
Platforms: PC
Cellar Door Games is one of my favourite indie studios, creating Rogue Legacy and Full Metal Furies, two games I adore. They released Rogue Legacy 2 in Early Access for Steam earlier this year and it's already shaping up as a worthy successor.
Flaunting crisper graphics, more 'Metroidvania' elements, and greater variance between character classes than the original, Rogue Legacy 2 is pretty dang slick as far as Early Access titles go.
It's expected to be content and feature complete in 2021 but considering the year that's been, who knows? All I know is what's currently there is worth a look.
Disc Room
Developer: Kitty Calis, Jan Willem Nijman, Terri Vellmann and Doseone.
Publisher: Devolver Digital
Genre: Action
Platforms: PC, Nintendo Switch
A collaborative effort including some of the folks behind Minit, Disc Room is a quirky little game about exploring a mysterious Jupiter-orbiting disc housing countless deadly sawblades.
It's a tightly designed experience that feels great to control and rewards your many failures with new abilities and fun discoveries.
Here's something I prepared earlier as to why I liked Disc Room:
"Fast, tight and deadly, Disc Room is an equally challenging and rewarding game that encourages experimentation. Few games actively reward you for failure — Disc Room does so in a way that has you welcoming the sweet embrace of a sawblade to the face."
Moving Out
Developer: SMG Studio, DevM Games
Publisher: Team17
Genre: Party, action, co-op
Platforms: PC, consoles
Overcooked's success inspired various other games to emulate its unique brand of chaotic cooperative multiplayer action — Moving Out is one of the best of this particular ilk.
Not just an Overcooked clone, however, Moving Out implements plenty of its own goofy gameplay elements to stand out as an individual. Never before has moving house been so much fun; who knew all you had to do was not care about smashing every obstacle in your way?
Where Overcooked throws more variables at you faster in the form of recipes and kitchen layouts, Moving Out is more experimental in its design philosophy — giving you rich sandboxes, such as an apartment based on Seinfeld, to approach however you want.
There are lots of great accessibility settings and diverse characters to choose from as well, so everyone's welcome in this delightfully silly 90s setting. You love to see it.
Yes, Your Grace
Developer: Brave At Night
Publisher: No More Robots
Genre: RPG, kingdom simulator
Platforms: PC, Nintendo Switch, Xbox
My previous kingdom management experience is limited to the simple but brilliant Reigns series — Yes, Your Grace is far more involved and stressful.
As a monarch, one of your early decisions involves potentially shipping off one of your daughters for a political marriage, and the scenarios get progressively more complex.
From managing kingdom finances, listening to citizens' pleas, and keeping your family happy, Yes, Your Grace throws many decisions at you at every turn, all of it contributing to a deep story of political intrigue responding to your choices.
It's stressful but damn good stuff.
Monster Train
Developer: Shiny Shoe
Publisher: Good Shepherd Entertainment
Genre: Deckbuilder, tactical, roguelike
Platforms: PC, Xbox
Another roguelike deckbuilder? You betcha, and from the small slice I had the chance to play it's arguably my favourite of all the strong card-based games from 2020. In fact, it's a compelling alternative for anyone looking for something new to scratch that Slay the Spire itch.
Hell has frozen over and you're in charge of protecting the train carrying the pyre capable of reigniting the flames of eternal damnation. To do so, you play various monster and spell cards in your multidecker carriage to hold off heaven's assault.
What's so good about Monster Train is how fast-paced it feels. Enemies arrive in waves for each battle, giving you time to plan how to defend your hellish cargo. This yields a pseudo tower-defense element where after placing your monsters over subsequent turns, the action unfolds swiftly. Everything looks and sounds incredible, too.
Monster Train recently launched on Xbox Game Pass but if it (inevitably) comes to Switch, my life might just about disappear.
Byteside Newsletter
Join the newsletter to receive the latest updates in your inbox.