New Apple Watch gets blood oxygen and Fitness+ workouts
Apple today announced the Apple Watch Series 6 and the Watch SE, with blood oxygen tracking the big draw for the latest release.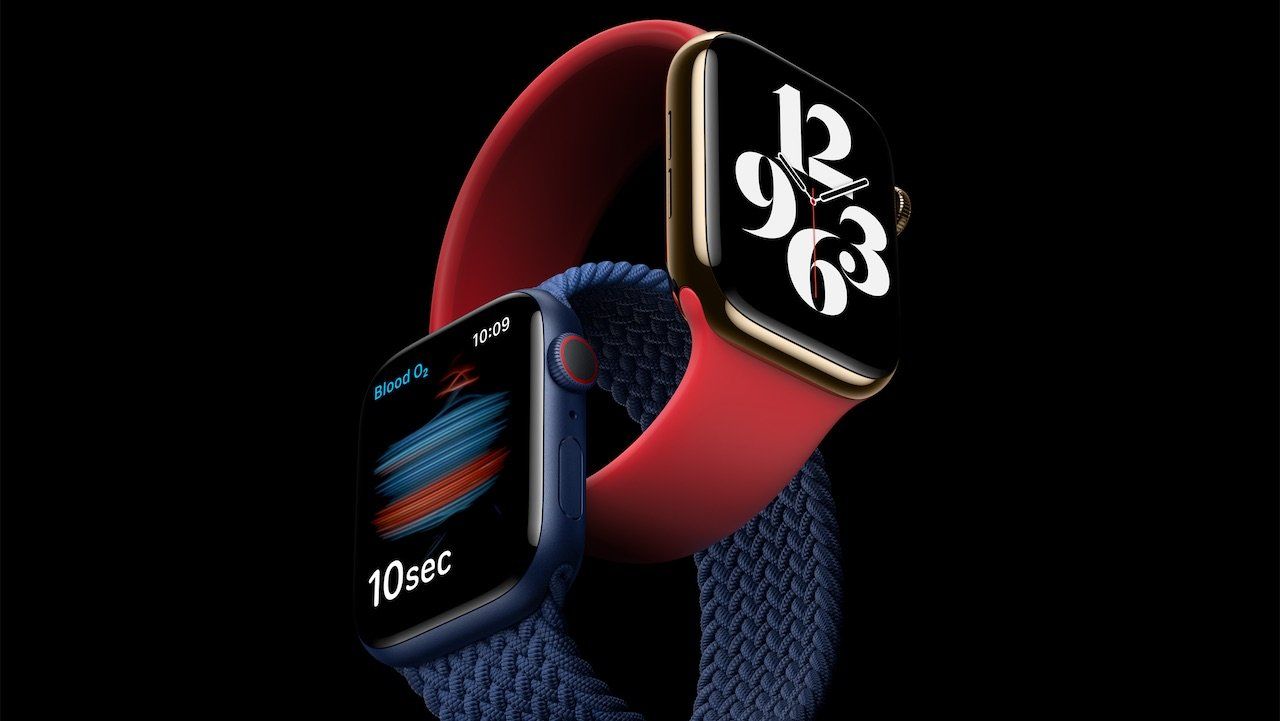 Apple today announced two new Apple Watch devices, the Apple Watch Series 6 and the Watch SE. The devices continue to laser focus on fitness features while also adding some new family options to help give people without phones a Watch to call their own.
Kicking off Apple's latest uber polished, pre-recorded online event, Tim Cook put every iPhone hopeful out of their misery by saying it was only covering Watch and iPad.
With that out of the way, we got the most colourful new range of Apple Watch options yet. Red, blue, grey, gold steel, and titanium are all in the mix now, and alongside new strap options you'll need a fancy watch drawer to manage your urge to mix things up. Two new 'solo loop' bands are the big pitch this year, with flexible straps to slip on and off smoothly. They come in nine sizes to help make them the right fit for you (good luck picking the right size when buying online – though why do I get the feeling Apple will have a good size guide to help you).
Onto the new Series 6, the big leap forward is the arrival of blood oxygen tracking. Alongside heart rate and ECG tracking, blood oxygen fills out the list of big ticket health metrics to build a big picture of overall fitness. Apple made a feature of the fancy new red LEDs that help deliver the new readings, which work alongside the existing green and infrared sensors to get the job done.
Like heart rate, the Series 6 will both let you take direct readings but will also take background readings to build a picture over time of your SpO2.
There's a new Apple Watch SE too that is making 'the largest display' a selling point (30% larger than Series 3, with larger and more readable watch faces optimised for the larger screen) while being based on the previous S5 chip.
That larger size is the same as the Series 5 sizing, so overall the SE is like an update on the previous generation with a view to setting a new 'entry' baseline for the future. Missing compared to Series 5 is the always on display features too. It also gets the latest motion sensors to give up-to-date tracking features – but no blood oxygen fancy times.
Fitness+
"But Seamus, how will I push myself further to get the most from all these new fitness tracking features?" I hear you ask. If walking, running, swimming, cycling or whatever else you might do on your own isn't enough, Apple just dropped its new workout video service, Fitness+.
Fitness+ is an "any screen, anytime" service to give you a workout in a style and time length of your choosing, which tracks your heart rate in real-time and records all the workout data into your workouts history. The videos cover yoga, HIIT, strength, cycling, core, and more. But yes, it's a paid subscription after a trial.
It will cost $14.99/month or $119.99/year on its own, or it will be in the new Apple One subscription bundle. Fitness+ will be available "in the Spring" which – checks Apple Watch – is kind of now so sometime before December?
Apple Watch Family Setup
The new Family Setupo option for Apple Watch will let you buy a device for someone who doesn't have a phone of their own. A nice new option for getting an Apple Watch for a kid or elderly family member that can help them stay connected without needing to get a phone too. You set it up on your account, but they will get their own phone number for the watch. So that'll be GPS + cellular models only then.
Haven't seen the details for Family Setup on the Australian info yet, so this might not be coming here yet. Given it will need phone networks to allow the added phone numbers to be tied exclusively to an Apple Watch, it definitely needs them to say OK to the concept.
New Apple Watch S6 and SE Pricing
Apple Watch Series 6 GPS: from $599
Apple Watch Series 6 GPS + cellular: from $749
Apple Watch SE GPS: from $429
Apple Watch SE GPS + cellular: from $499
Apple Watch Series 3 GPS: from $299
Byteside Newsletter
Join the newsletter to receive the latest updates in your inbox.