Godzilla and friends are coming to Magic: the Gathering
Wizards of the Coast and Toho Co have partnered to bring a special Godzilla series of cards to the next Magic: the Gathering premium card set.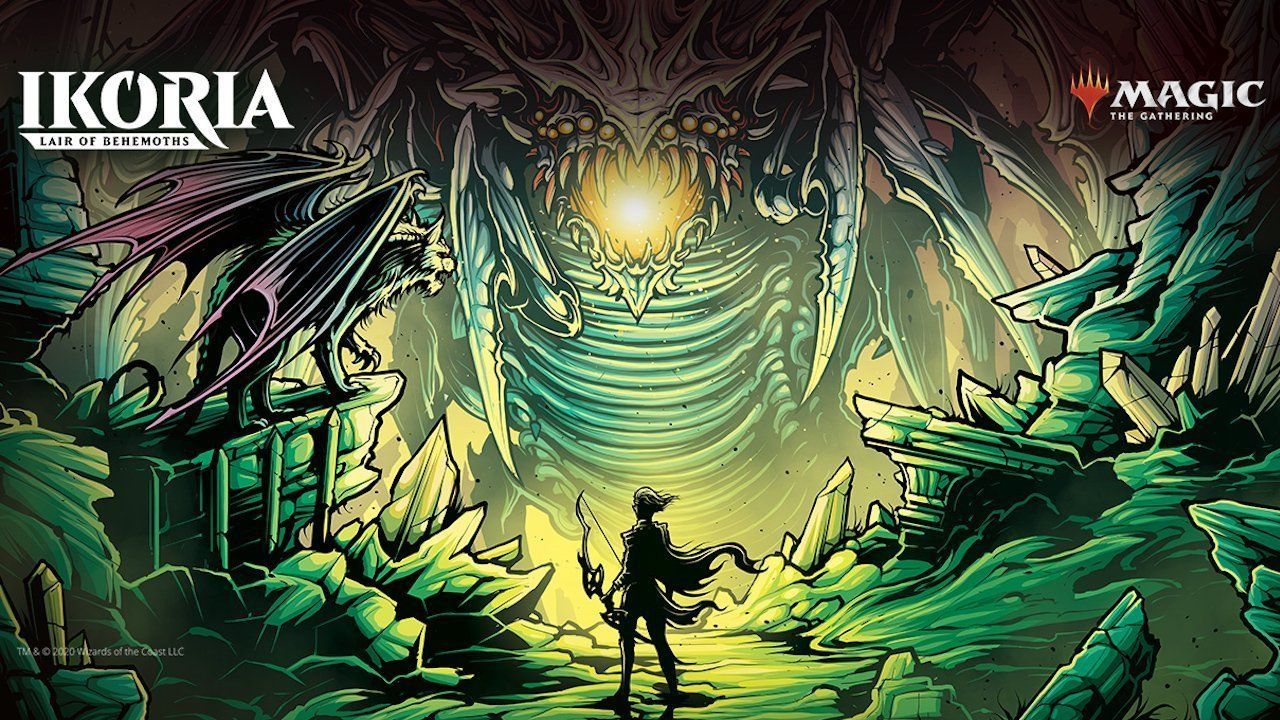 I imagine any Godzilla attack is rather unexpected until it happens. So, yes, colour me deeply surprised to see Wizards of the Coast work with the kings of kaiju, Toho Co, to bring us the crossover we never knew we needed in the new Ikoria: Lair of Behemoths premier card set.
Here's the trailer, which is perfectly up to par on all the recent amazingly well executed MtG trailers until things suddenly take two wild twists.
One is the bizarre choice of Joan Jett's Bad Reputation where we really would have been expecting the usual epic orchestral vibes or something moodier than a rocking cool track more comfortable in a retro teen movie sequence. But let's set that aside.
The second is the real stunner. After a cool fight sequence with mega roach and flying spirit cats, our featured planes walker Vivien Reid whistles for extra backup. And dammit I was hoping we'd actually see Godzilla make an appearance in the clip, but instead we get a flash of the 'Godzilla, King of the Monsters' Legendary card that will appear in the set. WHAM.
No doubt the time it takes to develop these trailers was on a much longer timescale than the final pen went to paper on the licensing deal between Toho and Wizards.
We will be getting a lot more than just Godzilla in the set. But… and it's a big 'but'… the Godzilla Series cards will NOT be appearing in draft booster packs.
Fans will only be able to obtain Godzilla, King of the Monsters (while supplies last) by purchasing a draft booster pack display through a Wizards Play Network store. Each sealed draft booster pack display will contain a random Godzilla Series Monster card. Ikoria: Lair of Behemoths Collector Boosters will also contain two random Godzilla Series Monster cards. The Godzilla Series Monster cards will not appear in draft booster packs.
Read on for the full list of 16 classic monster cards heading into Magic.
Anguirus, Armored Killer
Babygodzilla, Ruin Reborn
Biollante, Plant Beast Form
Bio-Quartz Spacegodzilla
Destoroyah, Perfect Lifeform
Dorat, the Perfect Pet
Ghidorah, King of the Cosmos
Gigan, Cyberclaw Terror
Godzilla, Doom Inevitable
Godzilla, King of the Monsters
Godzilla, Primeval Champion
King Caesar, Ancient Guardian
King Caesar, Awoken Titan
Mothra, Supersonic Queen
Rodan, Titan of Winged Fury
Spacegodzilla, Void Invader
決戦兵器、メカゴジラ (Crystalline Giant – Japanese only)
暗黒破壊獣、バトラ (Dirge Bat – Japanese only)
モスラの巨大な繭 (Mothra's Great Cocoon – Japanese only)
Ikoria: Lair of Behemoths releases April 16, 2020 on Magic: The Gathering Arena, with full retail store worldwide release on May 15, 2020.
Byteside Newsletter
Join the newsletter to receive the latest updates in your inbox.