How Bob Ross saved my sanity
After an accident last year, Seamus couldn't sleep for months. Bob Ross's Twitch channel was just what the doctor never ordered.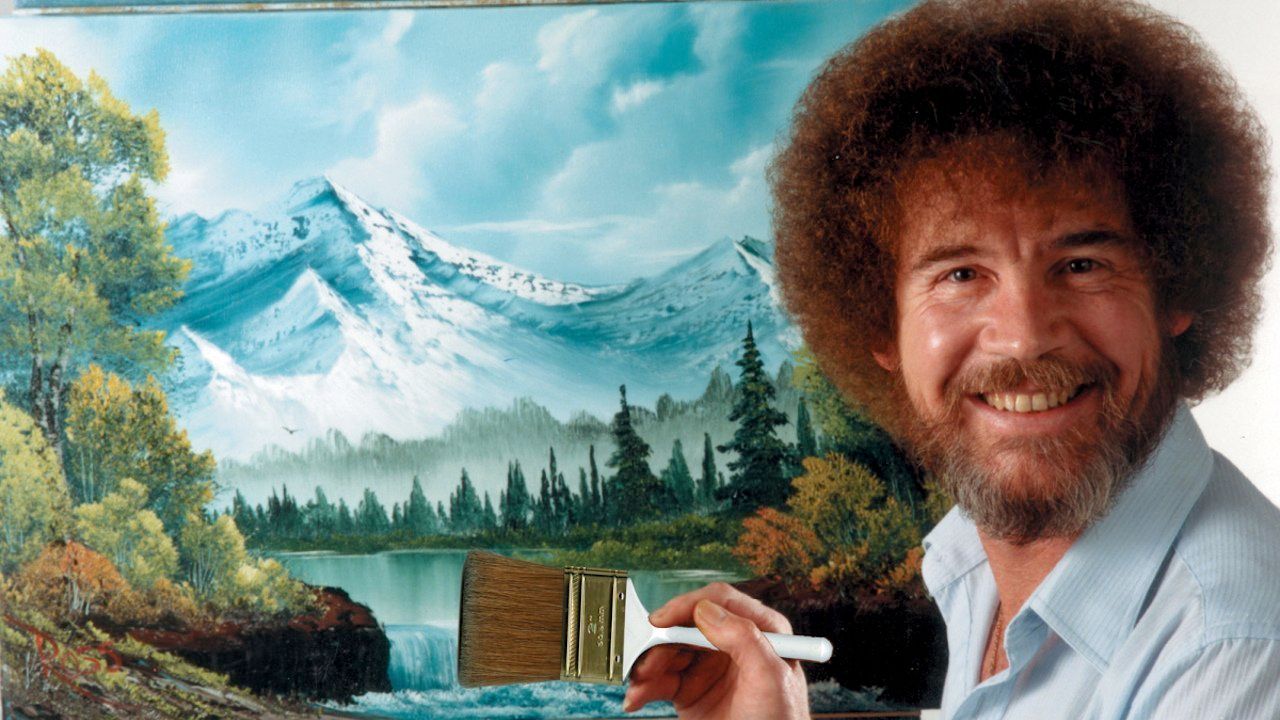 One year ago to the day, I stacked it getting off a bus.
Tripped over. Had a fall.
It hurt.
I jumped up quickly, looked around embarrassed, dusted myself off and wandered off.
Half an hour later my shoulder was pretty sore. 10 hours later I was in agony and took myself to emergency.
The story has a few more twists and turns. To get to the point, I had a broken collarbone and, shortly thereafter, a very badly frozen shoulder. I'd never had anything like it. The collarbone took three weeks to heal, the shoulder has taken all year.
In those first weeks I couldn't sleep. I'd wake up in agony if I tried to lie down, even with a heavy dose of prescription painkillers. It literally ruined Christmas, and my summer was turning into a waking nightmare.
---
Bob Ross hosted a TV show, The Joy of Painting, that ran on US public broadcasting for 31 seasons from 1983 to 1994. The final episode aired on May 17, 1994, and sadly Bob died due to complications from lymphoma on July 4, 1995.
His show was designed to encourage others to paint, and to show that anyone can create landscape art through his use of a wet-on-wet oil painting technique. But its popularity was thanks to Bob's incredibly positive, joyful presence, his soothing voice, and the way the whole experience becomes repetitive in both its warmth and pleasantness.
When the show ended, the web was still just emerging. Six months after the show ended, Netscape 1.0 launched. When he passed away, the idea of watching video streamed online was a pipe dream. As far as he would have known, his impact on the world was limited to a devoted but niche audience of American viewers who would admire his legacy of spreading happiness through art.
---
On what would have been Bob Ross's 73rd birthday, 20 years after his death, streaming platform Twitch.tv launched its Twitch Creative platform with a marathon stream of every episode of The Joy of Painting. Over nine days, 5.6 million viewers tuned in to enjoy the stream and ever since the twitch.tv/bobross channel has streamed seasons of his show every weekend as well as running marathons again most holidays.
The channel now has 1.4 million followers, and a devoted community of fans who tune in each weekend to chat as if Bob was still with us, streaming in real-time.
---
While I hunted for anything to help me rest, I ended up propped on the couch at night, looking for shows, videos and streams to soothe my brain a little if sleep was not going to find me.
It turned out Bob Ross was the salve I was looking for.
His voice – so calm, silky smooth, deeply comforting. I'd seen Bob before. He was a meme well before I'd spent any serious time actually watching his show. But to let Bob wash over me, one pleasant 30 minute episode at a time, was a balm for my brain.
Alongside his wonderful voice, it was also the way the recordist on the show also picked up every brushstroke. Tapping, swishing, gliding sounds as the bristles crossed the canvas.
I suddenly realised Bob Ross is like an OG ASMR guru. And I was far from the first to grasp that idea. It turns out the custodians of his legacy at Bob Ross Inc were well ahead of me.
"He's sort of the godfather of ASMR," says Joan Kowalski, the president of Bob Ross Inc. "People were into him for ASMR reasons before there even was an ASMR."- Newsweek
---
Bob soothed my mind and sent me into a kind of meditative state. I felt rested as I dozed in and out of conscious thought. Part painkillers, part dulcet tones and sounds coming from the TV.
But the marriage of Bob Ross and Twitch was essential to my bliss.
Every episode of Bob Ross is available on YouTube. And there are some collections of episodes available on Netflix. But both of these put the onus on me to choose something I want to watch. Where do I begin? Which episode? Which season? I don't want to see the same thing every time, so I have to actively make a choice.
Bob Ross on Twitch is a stream in the same soothing way Bob talks about painting a stream. When you need it, it's just there, ready to flow over you and refresh the mind. Sliding into stream, finding Bob in full flight is exactly what I needed. Not choosing what to see, just being surprised by whatever it was that weekend had to offer.
The internet needs more serendipity in this algorithmically controlled era. Everything is being programmed to immediately serve our taste for active engagement.
Bob is serendipity incarnate – the perfect passive engagement. The thing I didn't choose, that wasn't pre-programmed to suit my specific algorithmic tastes. It was the thing I never knew I needed and wasn't being asked to lean into.
---
For the first 10 weeks of my recuperation, three nights a week Bob carried me to rest. Sleep was still fleeting, but Bob placed my mind into a meditative ASMR space that helped me get up in the morning and feel like I had enough energy to participate in life.
Now my whole family adores Bob. We tune in for at least an episode or two most weekends. We quote him when we're not watching. But when we do, we sit back, we smile, and we let the Bob Ross experience wash over us.
Byteside Newsletter
Join the newsletter to receive the latest updates in your inbox.