Factory Default Suckage
Happy Friday! It's been an interesting week after I spent the weekend down in Melbourne covering the Melbourne Esports Open.
The big tech show IFA has been taking place in Berlin. I realised it's been about five years since my last visit. Sad face. I was invited, so don't feel too bad for me. I just couldn't carve out the time.
I haven't had time to deep dive on any of the news so far, but you can catch some of the best coverage at the IFA sections on CNET and The Verge.
NEW: I'm also going to do a bonus 'cool things' edition of the newsletter once a month, which will kick off in a few weeks.
I think that's a nice way to follow interesting news trends each week and then a special product-focused edition to look at new stuff that has been released and other new things we know are on the horizon.
I've had a lot of hands-on here at my office with some cool hardware lately so a monthly look at all that will also be a good way to put it all in one place - tech, toys, games, all the good things.
Don't forget to tell your friends about your favourite new newsletter. Forward it, link it… share the joy of curated weekly geekery.
My MEO Coverage
Culture Angle: MEO Is Like A Music Festival For Nerds
With multi-stadium festivals like the Melbourne Esports Open, it's clear esports are as much about the entertainment as they are about the competition.
Business Angle: MEO Reflects Growth & State of Australia's Esports Market
A dive into the partnerships and participation from fans and esports communities that shows how this event proves there's a lot of promise in the local scene.
Please Don't Get Your Kid This Bed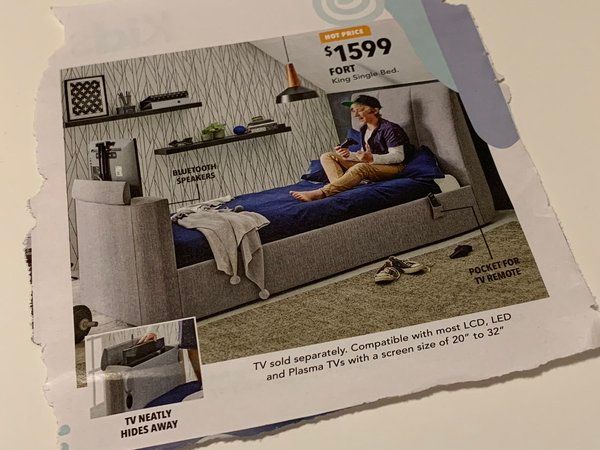 15 year old me would have loved this which is precisely why I think it's the worst piece of furniture ever invented. https://t.co/IhTsIiqkXG
Hmmm...
An AI first: Voice-mimicking software reportedly used in a major theft
Software was used to impersonate the CEO of a German company to convince a colleague to send money to another company.
www.washingtonpost.com  •  Share
Ninja's Gears 5 exclusive stream exposes the messy ethics of his Microsoft and Mixer deals
Tyler "Ninja" Blevins raised some eyebrows yesterday when he announced an exclusive first look at Gears 5's campaign.
Some folks are super hardline about this stuff. I kind of think his statement that he "partnered with Microsoft" to bring an exclusive first look is reasonable. But I also get that it would be good if there was a clearer sense of how deep his 'partnership' runs since his defection from Twitch to Mixer (which Microsoft owns).
Google has secret webpages that feed your personal data to advertisers
More details and allegations emerge on the search engine's tactics. An interesting spot of research from the makers of the Brave browser (that I now use as my daily privacy-oriented web browser - it's based on Chrome so all Chromey things still work, it's just blocking a lot of tracking by default).
Here's the Brave brain dump on the subject. They see it as all about dodging GDPR requirements, which could mean it is a pretty major breach of some big European privacy rules.
The Google Shakedown?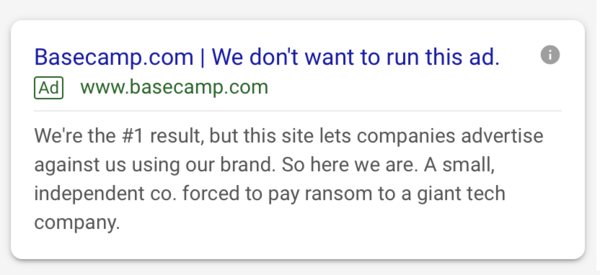 When Google puts 4 paid ads ahead of the first organic result for your own brand name, you're forced to pay up if you want to be found. It's a shakedown. It's ransom. But at least we can have fun with it. Search for Basecamp and you may see this attached ad. https://t.co/c0oYaBuahL
Nice Things
Volkswagen Announces It Will Convert Classic Beetles To Electric Power
VW is partnering with German EV conversion company eClassics to do conversions of classic, air-cooled Beetles into EVs with modern electric drivetrains. The first one they're showing is a 1973 Super Beetle convertible, and it looks fantastic.
New "Filmmaker Mode" announced for a better movie experience on your TV
The idea is to switch off all post-processing - like motion smoothing - and shift to a true 24 frame mode when it detects a 'cinematic' movie or TV show is starting.
The craziest stat: 85% of TV owners never change the factory default settings. Yeesh!
Here's the UHD Alliance Filmmaker Mode announce site, with lots of Hollywood royalty talking about why this matters.
Android 10 is now available, and Pixel phones get the update immediately
The immediacy of getting the latest OS and all its shiny new bells and whistles is the biggest sell for me on wanting to have a Pixel phone.
You can get largely the same experience if you choose an Android phone that follows the Android One program - in Australia that's mostly Nokia and Motorola phones.
Here's a good Android 10 feature breakdown, also from Ars Technica.
Bill Hader Opens Up About Anxiety in Heartwarming Video for Children
This is great. We have a perfectionist kid in our household and we know she has that same list of everything that could go wrong running through her head a lot. It's great to see folks like this share their story in a way that can speak to kids about dealing with such problems.
Also, I love Bill Hader in everything he turns up in. And Barry is amazing.
Untitled Goose Game will waddle out this month, still officially named Untitled Goose Game
Nature's perfect bully, the goose, terrorises an English village in this delightful stealth game. A new trailer reveals it's finally coming later this month.
This is from an Australian team and it is just the most gorgeous concept. Can't wait to play it.
Byteside Newsletter
Join the newsletter to receive the latest updates in your inbox.