Tangled Webs

I heard a great podcast over the weekend speaking with a journalist about his time covering technology. The host actually hit on an interesting concept - that the history of technology in recent times is one of a shift from science to business to politics.
It rings very true. But in a sense it's a story of maturity as research became product, and product took over the world. And right now, the world is wildly political.
I want to throw a bit more fun in here. More focus on what's fun and what's next. Ultimately, I want this newsletter to reflect what I think is interesting and exciting and important.
As ever, let me know what you think and what you'd like more or less of. What about if this newsletter went twice or three times a week? Would you see that as valuable or too much? Mon-Thurs? Or Mon-Wed-Fri? Let me know!
Thanks to everyone who has taken the survey on tech education coverage. It's been a great help.
Winners Are Grinners
OG went back-to-back International Champions
The biggest prize in esports, The International, finished last night and for the first time a team has won it twice - and did it back-to-back. Featuring Aussie Anathan 'Ana' Pham, OG won the title and the five players on the team went straight to the top of the all-time prize earners in all esports history thanks to the two-time win.
You can see all of Australia's top esports prize earners on this list. That list doesn't include any salaries they may receive from teams they belong to.
Not Grinning: Six Australians Arrested Over Counter-Strike Match Fixing
Are esports sports? Betting markets think so, which means now we've got situations like these.
/Facepalms
If Monopoly wasn't already a terrible game that isn't fun and is essentially a commentary against capitalism (own everything until you bankrupt your friends and take all their stuff), this awful new edition of Monopoly will be a surefire hit with the #MAGA crowd.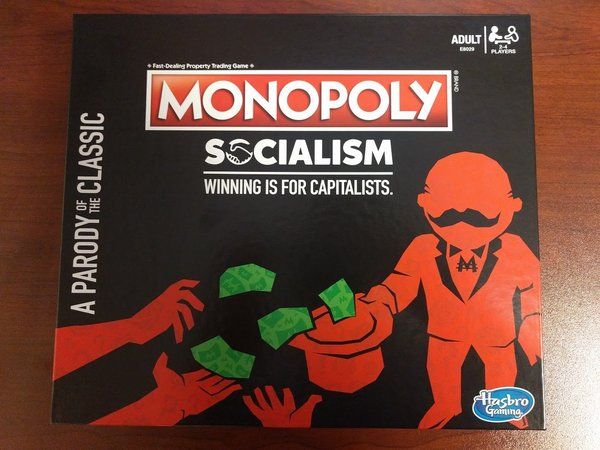 I bought a copy of Hasbro's mean-spirited and woefully ill-informed "MONOPOLY: SOCIALISM" board game so you don't have to - a thread 1/ https://t.co/YhZWDjkAnj
The fight against toxic gamer culture has moved to the classroom
In the five years following Gamergate, sites like YouTube, Reddit, and Twitter shifted the power dynamics between student and teacher.
"Students now arrive with agendas…"
For Young Female Coders, Internship Interviews Can Be Toxic
In a survey conducted by Girls Who Code, teen female engineers report that even their very first encounters with tech companies raised red flags.
For companies so focused on making the world better (allegedly), it'd help if they open the door properly to more diverse employee pools.
Tangled Webs
An Old Instagram Hoax Fools a Bunch of Celebrities
Instagram users like Usher, Martha Stewart, and Rick Perry posted a meme warning about a new rule that doesn't actually exist.
Pepe the Frog: an unlikely ally of Hong Kong protesters at the world's largest gaming tournament
Pepe the Frog is one of the most notorious and complicated memes on the internet. Most recently, the meme has been adopted by the protesters in Hong Kong as a symbol of resistance, which makes its appearance during The International in Shanghai, China, a big deal.
Why These Social Networks Failed So Badly
An interesting look back at the failed social networks we met along the road to today. If only a few more had succeeded in carving out a niche we'd have less of the monopoly issues we're facing today.
Netflix Tests Human-Curated 'Collections' in iOS App
I think this is exciting. Add some human curation to all that content - it'll give me more opportunity to be surprised or see something I didn't know was in the library. Algorithms alone don't cut it!
Need to catch up on your occult reading? The Ritman Library is now digitised!
One of the world's great occult libraries, The Ritman Library in Amsterdam, has digitised massive amounts of the roughly 30,000 volumes on offer. The library is home to the oldest illustrated copy of Dante's Divine Comedy (1472), so it's quite the repository of esoterica to be able to explore without flying all the way to Amsterdam.
Blind Me With Science!
Prototype house is 3D-printed in just 12 hours
Still early days, but as this improves in speed, fidelity and design options it could be a revolution in affordable housing.
Sphero Acquires littleBits to Bring Next Gen STEAM Learning to Life
This is an exciting team up for anyone who wants to see even better toy-slash-education-robotics in future.
Fresh Hardware
Sonos Bluetooth-enabled, battery-powered speaker leaks ahead of official launch
As a big fan of Sonos, I am so psyched by the impending arrival of a portable option. A Sonos I can use anywhere around the house (including outdoors) plus take it on holidays is an exciting prospect.
Samsung Galaxy Note 10 Plus reviews
The reviews are in and they're saying this is probably the best phone out there right now. It looks gorgeous. I missed a chance to see it last week, but it sounds like it's delivering the goods at the most premium end of the market. See also the Gizmodo and CNET reviews.
Intel Unveils Comet Lake Processors, 14nm Chips Join 10nm in 10th-Gen Lineup
New chips really do matter. It takes a little while, but they're the bedrock of new form factors, especially laptop designs.
CutiePi, a Raspberry Pi-based tablet
Raspberry Pi keeps showing how clever it can be. Here's a tablet mod to add another to the list.
Guy On Electric One-Wheel Skateboard Thing Eats It, Breaks His Case Of Beer
Ouch.
Hear THX's new Deep Note right here
The THX Deep Note is changing. The iconic audio track has long proceeded movies certified by THX and features the now-familiar crescendo that showcases the movie's audio capability.
Byteside Newsletter
Join the newsletter to receive the latest updates in your inbox.