Fortnite World Cup Feels
The hallmark of every kid succeeding at the Fortnite World Cup is supportive parents who saw their talent for a videogame was worthy.

I'm still in New York, wrapping up after covering the Fortnite World Cup at Arthur Ashe Stadium, home of the US Open.
The stats on the ages of the finalists here are amazing. The age window is 14-24, with the average age being 16 years old. A lot of kids here fighting for a US$3M winners ticket, with all the top placed players going home with over a million, and the worst they go home with is US$50K.
From the interviews I've witnessed here, both in press conference and as part of pre-packaged interviews, the hallmark of every kid succeeding here is supportive parents who saw their talent for a videogame was worthy.
Some have been home schooled to allow for a heavy training schedule, others are parts of esports teams with coaching staff to support their training, as well as their mental and physical health. Just as kids who pursue elite sports are surrounded by support networks to chase their dreams, those making the Fortnite World Cup are giving thanks to parents who did the same.
One well known pro, Aydan, explained that his parents gave him one year at the end of high school to pursue his dream. He made earning as much as his father his target for the year. And he made that target in one month.
I did a live cross to Weekend Sunrise on Saturday (Facebook link) and while the segment was mostly positive, some questions were still framed around the antiquated stereotype of gamers locked in bedrooms with no social skills. Rather disappointing in the heat of the moment when I'm over here seeing just how positive it all can be.
Games like this are now inherently social. And even if you're not playing as part of a team, you need a team and support network around you to become a top tier player.
I never want to see kids chasing videogame dreams if they don't have the gift to be great. But it takes supportive families around them to find out if the talent is there to be nurtured into becoming one of the best.
The ultimate winner of the Solo tournament, 16-year-old American Kyle 'Bugha' Giersdorf, had his family in the room who were cheering and crying as he won the title. It was an absolute top-quality sporting moment.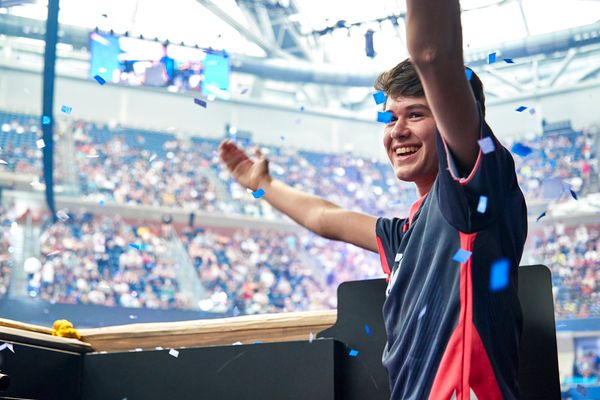 Congrats Bugha, Fortnite World Champion! (Credit: Epic Games)
Latest From Seamus
Fortnite: Battle Royale – The History of a Perfect Storm
I wrote a four-part series for Esports Observer this week about the first two years of Fortnite. It covers all the key moments across the pop culture rise and the esports evolution, and how Epic Games leveraged the success to improve the position of the entire company. If you've wondered how this all happened, here's the full story. (Part 2 / Part 3 / Part 4)
Anki Vector is dying slowly - what can you do about it?
Poor Vector. The company behind this smart little robot, Anki, has gone bust. The servers live on for now, but for how long? If the servers shut off, can you get a refund? Its AI brain needs the servers to work properly. And why is it still OK to sell Vector without explaining what's going on? I got Choice to offer some thoughts - and their consumer rights team agrees there are questions to be answered.
High-tech
Gallium: China tightens grip on wonder metal as Huawei works on promising applications beyond 5G
Gallium could replace silicon in super small chips and China controls almost all of it. An interesting insight into what comes next for chip technology.
DeepMind and Waymo collaborate to improve AI accuracy and speed up model training
Interesting that they're talking about learning from evolutionary biology as a new research area to improve self-driving AI models.
Tokyo 2020 medals will be made from recycled smartphone materials
The Tokyo 2020 Olympic and Paralympic medals by Junichi Kawanishi are made from old electronic devices donated by the public.
Changing digital culture
The internet is rotting – let's embrace it
Forgetting is beneficial for the human brain. But the internet has made it harder to let go of painful or problematic memories.
Will Reddit un-quarantine its biggest pro-Trump community? CEO Steve Huffman isn't holding his breath
/r/The_Donald was punished for hosting "violent content," and Huffman isn't convinced the community's moderators are taking that problem seriously enough.
Young Instagram Users Give Up Privacy in Search of Metrics
Millions of young people are turning their personal Instagram accounts into "business" profiles to learn more about how their posts are performing. That also means they're making their phone or email address publicly visible.
Fixing digital business
Nerdy Craigslist founder is investing his fortune into fixing news
Nice profile from one of my old pals at CNET. Self-professed "reformed jerk" gives an interesting insight into what he's trying to do to help fight the problems of the current media environment.
ACCC report on digital platforms inquiry has been released
From privacy laws to media and competition concerns, the final report offers the ACCC take on the state of digital platforms in the current environment.
Content moderators at YouTube, Facebook and Twitter see the worst of the web and suffer silently
These people - this story focuses on offices in Manila - should be paid properly but, most importantly, treated with dignity and given the best mental health support possible.
www.washingtonpost.com  •  Share
Fixing broken toys
Internal Nintendo Memo Tells Customer Service to Fix 'Joy-Con Drift' for Free
Has this happened to you? Joy-Cons starting to 'drift' weirdly? After some avoidance of the problem it seems Nintendo is ready to fix it for every user, including those technically out of warranty.
Byteside Newsletter
Join the newsletter to receive the latest updates in your inbox.